It's the end of the year again and time to wrap stuff up as we all usher in 2019. This year really has flown by. Most of us have tons of family plans over the next few weeks so I hope you all have a great end of the year and find a way to ring in a happy new year!
Before we get into my favorite posts, I also want to mention that in 2018, I wrote an eBook called "Mastering vSphere: Best Practices, Optimizing Configurations & More" that Altaro released. I had a blast writing it and we followed it up with an interview which you can watch below.
One great way to wrap up for the year is to do a recap of some of our most popular content on the blog. It's been a challenge to narrow my favorites down to five posts, but that's what I'll stick to!
Let's take a look!
5. How to Configure ESXi Unattended Installations
This is a two-part blog, (part 1) and (part 2) by Luke Orellana that I enjoyed reading. He deep dives into an unattended installation and provides some great sample kickstart scripts.
"Automating your ESXi builds is a great way of gaining efficiency and standardization. We'll go over the steps on how to configure ESXi unattended installations within your environment in this 2-part series. I'll demonstrate doing this for scenarios when ESXi is on a network and when ESXi is on no network at all. There are pros and cons of each way, with a networked unattended install we can modify our ESXi configuration relatively easy by editing the kickstart file that gets referenced each time, however, we are constrained to the requirement of having to be connected to the network at the time of the install. Let's go over the steps we must take in order to set up an unattended install for each scenario:"
I'm a big fan of automation. I deploy lab environments all the time and anytime you can automate things, you save time. Sure, you have that initial time that it takes to put the script together but once it's done, you are streamlining and improving it.
4.  What's New in vSphere 6.7? Should I Upgrade?
2018 was a great year for VMware releases. vSphere 6.7 finally gave us some truely great updates. Most importantly a fully functioning HTML5 client. In this post, we take a look at the release, upgrade paths, new configuration maximums, new CLI tools, quick boot, etc.
Currently supported migration paths to version 6.7:
vSphere 6.0 to 6.7
vSphere 6.5 to 6.7
vSphere 5.5 to 6.7 is *not supported*.
If you're on any of the above-supported releases, finish off your 2018 with an upgrade. Get it done and usher in the new year right!
3. How To Monitor Your vSphere VMs On The Go
Jason Fenech wrote a great post on VMware's "Watchlist" mobile app. If you've never heard of it, don't feel bad. I had never messed with it until I read his post either. I had no idea what I was missing! It's a total challenge to manage your environment on your phone or tablet. This tool is pretty cool.
It turns out there's quite a number of VMware mobile apps available for download. So, for today's post, I've chosen this one app called vSphere Mobile Watchlist. My goal is to assess its functionality and determine whether it's worth adding to your bag of tools.

To test it out, I used an Android emulator running on Windows as well as my phone. The emulator allows me to take screenshots quicker but I'm still using a smartphone to make sure I don't miss any gesture-driven functionality.
2. How it Works: Understanding vSAN Architecture Components
One of the hot topics over the last year, and frankly, a couple years now, has been VMware vSAN. For people who are new to the technology, it may almost seem like magic. Is your data really safe? How can you handle multiple host failures, etc?
I wrote a post about some of the underlying vSAN architecture. It covers some of the stuff that you don't use every day. You don't get pretty interfaces for stuff like vSAN, but it's s true core component and this article clears up a lot of confusion about how the "magic" happens.
1. How to Build a VMware vSphere 6 Home Lab Series
Ok so I'm going for my own article for the first position. Is that fair? Probably not, but I'll do it anyway 😉
This is always one of my favorite topics to write about. My lab is always in some kind of disarray because I'm constantly upgrading. The series starts off with storage options, moves into host options and we also have an installment about network options.
One of the first topics I will post on will be some of the storage options that you can use. We'll stick with free or cheap options because while some of us have monster budgets, a lot of us are doing home labs on very limited budgets.

There will be several routes we can go. You can use a dedicated machine for a shared storage solution, a virtual machine that is acting like a shared storage solution, a solution like vSAN, or some other form of appliance.
The best part about this series is you can go as far or as little as you want to in terms of budgets.
Wrap Up
To wrap up, I hope some of these posts help you expand your knowledge on VMware. I've had a blast writing this year and learned a few new things myself! Don't hesitate to comment if you have any ideas for posts. I'm always looking for new ideas.
Bring on 2019!!
[the_ad id="4738″][thrive_leads id='18673′]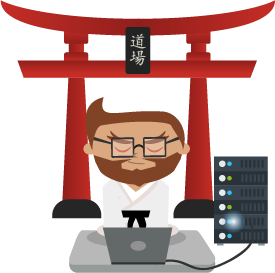 Not a DOJO Member yet?
Join thousands of other IT pros and receive a weekly roundup email with the latest content & updates!