Learning has never been so easy, from eBooks to YouTube, CBT nuggets to online labs, the possibilities are endless. There are however a couple of hurdles you might need to overcome. The first is putting in the time. This applies to anything, really, from learning to play an instrument to mastering a language. The second obstacle is figuring out where to start from. The Internet, by its very nature, provides us with an endless stream of information. Filtering the chaff from the wheat is very time consuming and it often takes us a while before we can get down to the business of actually learning something.
So today, I've put together this post to give you a head start if VMware is completely new to you. For those with VMware experience, you might be interested to know that vSphere 6.5 Update 1 has just been released. 
Without further ado, let's dive in.
Which VMware products should I learn about?

---
If you're just getting to grips with what VMware is all about, vSphere is probably what you'll come across first.
To start with, VMware vSphere is not a product per se but a suite comprising the ESXi hypervisor, which is where virtual machines are hosted, and vCenter Server this being the management software that brings together a number of ESXi hosts and enables advanced features such as clustering, HA and distributed shared storage. The vSphere suite is also complemented by a number of tools, APIs and plugins.
There are a ton of other VMware products to learn about. The list can be a little overwhelming and even though in-depth knowledgeable across the whole spectrum of products is very hard to achieve, the fact remains that knowledge is power and the more you know the greater the rewards.
Let's however focus on ESXi (Hypervisor) and vCenter Server (Management) first.
Getting started with VMware. Frequently Asked Questions

---
My favorite mode of learning is through experimentation. In my opinion, it's impossible to learn anything thoroughly without getting your hands dirty. This, however, raises a number of issues which I've formulated in a question and answer format.
Q1. Where do I install the software or products I need to learn about?
A1. You have a number of options.
Build a home lab. If you have some extra cash, Ryan's excellent Building a vSphere 6.5 Home Lab post gives you the details about lab hardware you should be looking at.
If strapped for cash, you could always upgrade your home PC. Circa 20GB of RAM and an i5 processor will do just fine for now. This allows you to run one ESXi host and vCenter Server as VMs using desktop virtualization software such as Oracle's VirtualBox or VMware Workstation.
Do some eBay shopping. You'll find excellent deals on used equipment including servers and networking gear.
Lastly, if you have authorized access to hardware and resources at your workplace, use them.
Q2. Which VMware product should I be learning first?
A2. This is a no-brainer. ESXi is what you should strive to learn first. Of course, I'm assuming you have some insight on virtualization basics, servers, etc. You will learn how and where to install ESXi as well as how to configure and manage it. Once you are comfortable using ESXi, you can progress to vCenter Server and the many features it unlocks.
Q3. I want to dive straight in. Where do I start from?
A3. Start by installing ESXi. There are two installation methods you need to know about.
Bare metal Installation: This is the only VMware supported method. Bare metal means installing ESXi on a server or computer that has nothing installed on it, pretty much like installing Windows or Linux on a new computer you've just built. Here are a couple of links to my posts that guide you through the process of installing ESXi 6.0 and 6.5.
Nested Installation: This method is generally unsupported by VMware since we are virtualizing ESXi. Yep, you can run ESXi as a VM hosted on another hypervisor such as Hyper-V, ESXi itself or a desktop virtualization product. Incidentally, I've written about this method in some detail as well.
Make sure to read part 3 carefully as it goes through the steps of installing vCenter Server for Windows 6.0 as well as adding ESXi to it. Even though vCenter Server for Windows is still included with vSphere 6.5, vCenter Server Appliance (vCSA) is now the VMware recommended deployment option.
Q4. I only have time to learn at home. Any tips on how to do this?
A4. This depends on whether you want to go for a full bare metal lab, in which case you need to spend money. To be honest, I don't see the need to go full bare metal unless your aim is to pass advanced VMware certifications. If that's the case, your investment could encompass additional equipment such as switches or routers, shared storage (NAS/SAN), SSDs, possibly a server rack and cabling coupled by a hefty power bill.
Personally, I'd look at beefing or putting together a computer that allows you to comfortably run a virtualized (nested) vSphere environment. Any modern computer with a recent processor such as an Intel i7 with a minimum 16GB of RAM and preferably a good SSD drive will suffice. While all the latest processors and motherboards generally support virtualization straight out of the box, it's best to check if your computer is actually capable of running virtual machines especially 64-bit OSes.
If on the other hand you want to get a feel of what installing ESXi on bare metal is all about, you can follow Ryan's advice or simply pick a server or beefed up workstation from eBay. The only gotcha you need to be aware of, is that ESXi hardware must be compatible and supported by VMware. This can be easily verified using the online VMware compatibility tool as explained here.
Refer to Q1 to see examples of how you would go about getting used or new hardware.
Note: I have a decently specced computer at home with an Intel i5 processor, 24GB of RAM and a couple of SSDs. I run vCenter Server alongside a couple of ESXi hosts all virtualized under VMware Workstation. This setup should give you enough mileage to learn the basics of vSphere. The downside is that you will not be able to run many nested VMs (hosted on nested ESXi hosts) unless you add more RAM and processing power. You'll also find it somewhat difficult to test advanced features such as vSAN and fault tolerance. Small footprint and non-resource hungry Linux distros are ideal VM candidates you can play around with to learn about features such as vMotion.
Q5. Where do I get VMware software from?
A5. VMware will allow you to evaluate most of its popular software. Some components like ESXi, Converter and Player are completely free.
First, get yourself a VMware user account from here which will enable you to download the required software.
Secondly, grab a copy of VMware Workstation Player from here. You'll need it to run ESXi and vCenter Server as VMs on your home computer or bare metal setup.
Thirdly, download the free version of ESXi from here. You must register first before downloading ESXi.
OR

Download the evaluation version from here.
Fourth, download the evaluation version of vCenter Server from here.
Note: The difference between the free and evaluation versions of ESXi is that the free version lacks some functionality. One such restriction is that inability to manage ESXi using vCenter Server. The evaluation version unlocks all the features for a 60-day period after which you will have to purchase and apply license. This is equivalent to having an enterprise plus license.
How to install ESXi for free

---
If you have a home computer with decent computing power, have a look at the set of videos below to get you started.
How to install VMware Workstation Player on your PC

This link will teach you all there is to know about VMware Workstation Player. In the following video, I've reinstalled VMware Workstation Player on my work computer. This is why you can see a number of virtual machines listed at the end; the configuration and existing VMs are retained when Workstation is uninstalled.
How to install ESXi 6.5 using VMware Workstation Player

In the next video, I demonstrate how to install ESXi 6.5 under Workstation Player 12. The settings selected for the VM abide by ESXi's minimum hardware requirements. Make sure to add a larger drive if you plan on hosting VMs on the nested ESXi host.
After the installation completes and the host reboots, I ping and SSH the host just to make sure all's good on the networking front. I then connect to ESXi using the embedded host client, which is one option you can use to configure ESXi. Once in, I create a bare VM as a test. If you look carefully, you'll notice that I ran into an out-of-disk space error. A larger drive next time!
Remember that you can choose between the free or 60-day evaluation full version.
Online VMware Resources

---
Whenever you're stuck, the VMware documentation site is your best shot at finding an answer. It includes everything from how to install ESXi and vCenter Server, the software and hardware requirements, troubleshooting guides and so on. Some other online resources are listed as follows.
Blogs and Fora

Labs and nuggets

Product Walk-throughs, Demos and How-Tos

VMware Training and Certifications
---
Certifications are arguably a good thing to have. Some jobs specifically ask for them independently of how knowledgeable you are. The downside to VMware certifications is that an entry level cert will set you back a couple of grand towards an obligatory 5-day course. You can still sit for the exam but you won't be certified unless you attend an approved course. I personally think that VMware should drop the course requirement at least for entry level certifications.
If done properly, certifications are a great way to learn as you're pushed to explore the product in great detail as opposed to memorizing answers a.k.a. brain dumps.
There are a number of associate certifications which, as far as I know, do not carry course requirements. VMware also provides some excellent training material, the bulk of which is free. It's definitely worth a look even if sitting for exams isn't your thing. All you need is a myLearn account to enroll or register for training and courses.
Here are a few related sites you should know about:
Conclusion
---
Hopefully, you now have all the information to get you started on the right track. You should start experimenting with vSphere ESXi right away and eventually transition to vCenter Server. We've also explored a few options by which you can build a lab whether at home or at work. Coupled with the tips, videos and online resources provided, you should master vSphere and other VMware products in no time at all as long as you're willing to put some effort into it.
[the_ad id="4738″][the_ad id="4796″]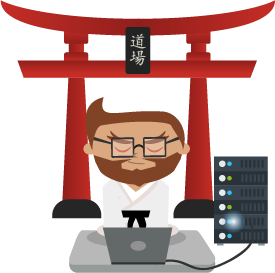 Not a DOJO Member yet?
Join thousands of other IT pros and receive a weekly roundup email with the latest content & updates!