Since the deprecation of the Windows based vCenter, vCenter Server Appliance (vCSA) 6.5 is the preferred and only way to install vCenter Server. The latest 6.5 release, brings with it a bag-full of goodies that include native HA, embedded Update Manager and inbuilt backup / restore functionality, features you won't find in vCenter Server for Windows.
When vSphere 6.0 was released, vCSA and its Windows counterpart stood on equal footing in terms of the features set offered. This, however, is no longer the case with vCSA now leading the race which is why I now tend to opt for the appliance version of vCenter.
Today's post deals with the task of how to install vCenter Server. I have gone through the essentials and requirements in my How to install vCenter Server 6.5 for Windows, so I'll spare you the details as the bulk of it equally applies to installing vCSA. So instead of repeating myself, I put together a series of 3 videos outing the installation process. Hopefully, this should make the post a little bit more interesting.
In particular, I cover how to:
Set up DNS using a Windows DNS server.
Install an external Platform Services Controller (PSC) – Deprecated in vCenter 7.0.
Install vCSA 6.5 using the external PSC just created.
Note that you can find up to date information in our blog about vCenter Server 7.0.
Preparing DNS
Before we install vCenter Server, the first step is to come up with hostnames and corresponding IP addresses for the PSC and vCSA, something like this:
psc65-a.vsphere65.local –> 192.168.16.50
vcsa65-a.vsphere65.local –> 192.168.16.51
Using a DNS server running on a Windows box within my test lab, I went ahead and created a new DNS zone called vsphere65.local. In addition to this, I also created the above listed Forward Lookup (A) records. The Reverse (PTR) records are created automatically if the corresponding tick-box is left checked.
The DNS setup process is captured in the next video.
Deploying the PSC and vCSA
To install vCenter, both the PSC and vCSA can be deployed using any of two methods; a command line-based installer or a GUI-driven one. Since simple is generally better, I've opted for the GUI installer. The steps are as follows:
Step 1: Download the latest vCSA 6.5 ISO from my.vmware.com (now Customer Connect).
Step 2: Mount the ISO on the Windows box from where the installation is carried out.
install vcenter 6.5: Mounting the ISO installer in Windows
Step 3: After the ISO is mounted, drill down to the vcsa-ui-installer\win32 folder and run installer.exe to start to install vCenter Server.
Important: Make sure that the Windows box from where the installation is carried out is able to resolve the DNS records previously created (see Prepping DNS).
Installing the Platform Services Controller
Select the Install option from the installer's opening screen. It's then just a matter of following the installation wizard as shown in the upcoming video.
Double-check DNS resolution i.e. make sure that the DNS records created beforehand can be resolved from the Windows box. In the video, I verify this during the installation process but in practice, it's better to do this before you actually start installing. This way, you avoid stumbling halfway through the install vCenter process just because you misspelled the DNS name.

The installer will automatically create the vCSA VM and assign to it the proper resources.

Note that the installation is a two-stage process where the appliance is installed first and configured later.
0Once the installation of the vCenter Server finishes, the appliance may be further configured by visiting https://psc65-a.vsphere65.local:5480 and logging in as root.
For all other management operations, such as adding identity sources, users and groups, and so on, use https://psc65-a.vsphere65.local/psc/.
Note: URLs will obviously differ in accordance to the DNS names chosen for the appliance and PSC.
Install vCenter Server Appliance
With the PSC out of the way, we can go ahead and install vCenter Server. Yet again, the install is a two-stage affair as per the next and final video. The same checks and installation procedures apply. During the second stage, you have to specify the details entered for the PSC. This is required since we've opted for an external PSC rather than an embedded one.
After the installation completes, the vCSA can be managed using the vSphere Web Client or the HTML5 client, which, as mentioned many a time, is still a work in progress. Also, remember that the thick (C#) vSphere client can no longer be used to connect to vCenter Server. You can still however connect and manage ESXi 6.5 with it just to add a little bit more to the confusion when it comes to which vSphere client to use!
Post configuration steps
At this point, you can start creating datacenter and cluster objects, connect hosts and just manage your environment in general. However, after you install vCenter appliance, there are a few things you can do to make sure smooth sailing in the lifecycle of your environment. As always, it will obviously depend on your environment but these should apply to most of you out there unless you have specific processes in place:
Configure the file-based backup of the vCenter Server Appliance. This

feature

is embedded in the VAMI interface and you can send file-based backups of the VCSA to various types of file shares. Note that you can also leverage Altaro VM Backup to save the whole virtual machine.

Check for updates of the appliance after deploying it. Because you deploy it from an ISO file that was created at a certain date, it is likely that a number of patches (most importantly security patches) have been released since then. It is important to check for updates right after deploying the appliance.

Ensure you have monitoring in place. vCenter server is great at self-monitoring and monitoring vSphere hosts and other components managed by it. However, you want to be notified in case something goes wrong with the vCenter Server appliance itself, as it won't be able to send you an alert if it goes down for instance. In which case, third-party solutions like vROPS, Nagios, Zabbix, and others will help.

Make sure you have documentation around the environment. While this is not directly related to VMware, it is an important step of any SDDC deployment as it will be used by your colleagues.

Connect the vCenter Appliance to a Syslog server if you have one to ensure that the logs are stored securely. This will provide auditing and troubleshooting capacities. You can use

vRealize Log Insight Cloud

to externalize the journals or if you don't have a solution already in place.

Install a backup solution to ensure your workloads are constantly protected, even the new ones, as they are created with

Altaro VM backup

. This will allow you, at the very least, to create VM folders that are watched by Altaro VM backup, so every virtual machine that is in it is automatically backed up.

To properly protect your VMware environment, use Altaro VM Backup to securely backup and replicate your virtual machines. We work hard perpetually to give our customers confidence in their VMware backup strategy.
To keep up to date with the latest VMware best practices, become a member of the VMware DOJO now (it's free).
Conclusion
Deploying vCenter Server Appliance using an embedded or external PSC has never been so easy to install vCenter appliance. In addition, vCSA now comes with an embedded Update Manager (VUM) – no need for a separate Windows box – and a plethora of assorted features not in the least native HA, features that are absent in the Windows version of vCenter. This makes picking vCSA 6.5 a no-brainer, for me at least, when it comes to which version of vCenter to deploy. As always, however, make sure to weigh in all your options and requirements before you install vCenter.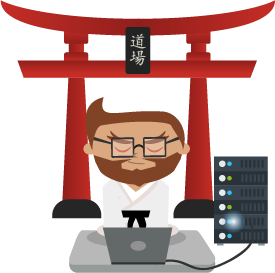 Not a DOJO Member yet?
Join thousands of other IT pros and receive a weekly roundup email with the latest content & updates!
Frequently Asked Questions
How do I install vCenter on Windows 10?
vCenter cannot be installed on Windows 10. However, you can start the vCenter appliance deployment and configuration process from a Windows 10 machine using the vCenter server appliance ISO file that includes the installed. The workstation must have access to the vSphere hosts on port 443, where the appliance will be deployed.
Can you install vCenter on a virtual machine?
vCenter can only be deployed as a virtual appliance, which in itself is a virtual machine.
Where should I install vCenter?
The best practice is to deploy vCenter to a dedicated management cluster where you only run the components that are used to manage the environment. These include vCenter, NSX manager, monitoring solutions, logging servers, vROPS servers, domain controllers, and such. However, you can deploy it to any vSphere host as long as it has portgroups available with access to the right network resources.
Is vCenter free?
No, vCenter requires a license which can be either Standard or through an Essentials kit.