UPDATE: This post has been updated (20-July-2017) to reflect the changes in vSphere 6.5
This post highlights the similarities and differences between vCenter Server for Windows and vCenter Server Appliance (vCSA) for both vSphere 6.0 and 6.5. I'll also touch briefly on the features common to both and those exclusive to vCSA 6.5 as well as the pros and cons of going for a specific version.
Differences and Similarities
---
Base Operating System
The most glaring difference, as implied by its name, is that vCenter Server for Windows runs exclusively on a Microsoft Windows server operating system. My article shows you how to install it. The appliance version (vCSA), on the other hand, is based on SUSE Linux Enterprise Server 64-bit and comes as an OVF appliance lock, stock and barrel ready for use. I covered the installation of vCSA 6.0 here and vCSA 6.5 here.
UPDATE: vCSA 6.5 now runs on VMware's propriety Photon OS and not on SUSE Linux.
Database Options
There's a difference in terms of the database options available when installing vCenter Server especially in terms of scalability. This equally applies to both vSphere versions 6.0 and 6.5.
vCenter Server for Windows: For environments with no more than 20 hosts and 200 virtual machines, use the bundled PostgreSQL database. In case of larger environments, use a Microsoft SQL or Oracle DBMS for better scalability and performance.
vCSA: The bundled PostgreSQL database now supports environments of up to 1000 hosts and 10,000 virtual machines which will suffice in most cases. You still have the option to use an external Oracle DBMS if you want better performance and scalability.
vSphere Update Manager (VUM)
If you have vCenter Server for Windows deployed, you probably know that VUM can be installed on the same server as vCenter. The same is not true for vCSA 6.0 as a separate Windows box is required if you want VUM deployed to your environment. My prediction is that VUM will be embedded in vCSA a couple of vSphere updates down the line. If not, it will be addressed in the next major release of vSphere.
IMPORTANT UPDATE: As predicted, VUM is now embedded in vCSA 6.5! You no longer need to install a separate Windows box.
Hardware Requirements
The hardware requirements are identical irrespective of vCenter Server flavor and vSphere version. Figure 1, reproduced from VMware's documentation, depicts the minimum hardware requirements per type of deployment and environment size.
vSphere Clients
Both flavors of vCenter 6.0 can be managed using the thick (C#) client or the vSphere Web Client. Note, however, that you can no longer manage vCenter Server 6.5 using the thick client.
With the appliance version (vCSA), you can also SSH or use the Direct Console User Interface (DCUI) for administration purposes. Additionally, if you upgraded to vCenter 6.0 Update 1, you can use the HTML 5 based client instead of vSphere Web client. However, bare in mind that it does not provide all the latter's client functionality.
Also available since vCenter 6.0 Update 1, the Appliance Management client (https://<vCSA IP address or host name>:5480) can be used to configure settings related to networking, access and more. One pretty nifty feature is the ability to patch or upgrade the appliance via ISO or URL based patching as shown in Fig. 2.
Scalability and Feature Parity
In the past, vCSA presented some serious scalability issues that held it back from being deployed to production environments. With vSphere 6.0, both vCenter Server versions enjoy the same set of scalability metrics and features as listed in Fig. 3 kindly reproduced from the What's New in the VMware vSphere 6.0 Platform whitepaper.
This is no longer the case with vSphere 6.5 which is set to be a game changer in terms of which version of vCenter Server to deploy. Simply put, vCSA 6.5 is superior in terms of the features offered and is the VMware recommended way forward.
New features exclusive to vCSA 6.5
---
As I just mentioned, vCSA 6.5 offers features not available in vCenter Server for Windows 6.5. I cover these features in my Say Hello to vSphere 6.5 post. To reiterate, here are the main ones. I've also included links to posts I've written on each.
1 – Native UI Installer and Migration Tool
2- Native vCenter High Availability
3 – File-Based backup/restore
Deciding on the flavor of vCenter to go for!
---
vCenter Server Appliance
Pros
Quicker to deploy since vCenter is readily configured. Simply run the installer and supply a few details. Compare this to setting up a physical server or VM, installing Windows, etc.
Less hardware (and costs) since vCSA runs exclusively as a VM (OVF appliance)
The embedded PostgreSQL database is sufficiently scalable and robust to cater for most environments; 1000 hosts and 10000 VMs.
No need for extra MS licenses. Even better with vCSA 6.5 since VUM is embedded meaning no need for a separate Windows box. Overall, a cheaper option.
Intrinsically more secure since it presents a smaller attack surface as vCSA 6.0 and 6.5 run on SUSE Linux and Photon OS respectively.
vCSA Cons
vCSA can be somewhat of a black-box if your Linux skills are not up to scratch.
With vCSA 6.0, you need a separate Windows box to run VUM. This is no longer the case with vCSA 6.5.
vCenter Server for Windows
Pros
Easier to troubleshoot, if anything, due to a larger user base and because fixing Windows related issues is generally simpler, from my experience at least.

VUM can be happily be installed on the same server running vCenter so you don't need to worry about managing two servers. This only applies to vSphere 6.0.
 Cons
For larger environments, you need an external database meaning more license and hardware related costs.
If you go physical, more hardware needed, more costs.
More prone to security issues due to the underlying OS which necessitates of regular patching and on the OS being a popular attack target.
Deployment may be easy but it definitely takes longer to install and configure.
Verdict: I would personally go for vCSA 6.5 not only because it is recommended by VMware but also because of the extra features offered. If you're Linux shy or the type who'd rather wait for one or two major updates before taking the plunge, then stick with vCenter Server for Windows 6.0. You can always use the migration tool to move to vCSA 6.5 at a later stage should you change your mind.
Conclusion
---
The bottom line is that VMware are moving towards relegating vCenter Server for Windows to the history books of virtualization. This is evident since the release of vSphere 6.0 with both vCenter flavors having identical feature parity and, lately, vSphere 6.5 with vCSA taking the lead. It's only natural to assume then, it's only a matter of time before VMware drops the vCenter Windows version altogether.
Finally, here are a few more links if you wish to dive in deeper.
[the_ad id="4738″][the_ad id="4796″]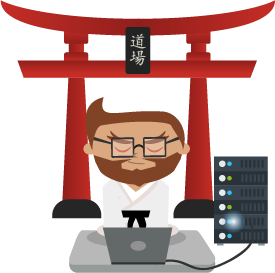 Not a DOJO Member yet?
Join thousands of other IT pros and receive a weekly roundup email with the latest content & updates!