With 2018 just around the corner, I'm always surprised at how fast time flies, faster than I would like it to. This year has been a great one for VMware having closed off Q3 with $1.98 billion in revenue, an increase of 11% over the same period last year. More importantly, VMware users had plenty of new toys to play with and very little to complain about. I'm hoping 2018 will be as exciting. So, for those of you who are new to this blog or to VMware in general, here are a few highlights from 2017 and a brief assessment on what to expect in 2018 tucked in at the end.

vSphere 6.5 Unleashed
Released end of 2016, vSphere 6.5 tops my list as one of the major VMware events. This release delivers a number of very interesting features and enhancements, too many to mention; vCenter Server native HA, built-in backup and restore, encrypted virtual machines and vMotion traffic, RESTful APIs and much more.
The addition of vSphere Update Manager to vCenter Server Appliance was certainly most welcome making vCSA, hands down, the preferred deployment option. Here's a summary of what to expect for those who have yet to try it out.
vSphere 6.5 on Steroids
It's barely mid-2017, and VMware decides to up the ante by releasing vSphere 6.5 U1. Update 1 brings with it support for larger environments and even bigger virtual machines. This is immediately apparent with 5000 hosts and 50,000 running VMs in a single domain compared to the previous 30k limit!
VSAN also got the treatment. For starters, vSAN 6.6 is now supported in vSphere Update Manager. This means you can apply vSAN related updates in a more controlled fashion.
vCenter Server for Windows 6.5 users will be happy to learn that Microsoft SQL Server 2014 SP2 and 2016 SP1 have made it to the list of supported external databases.
This vSphere 6.5 Update 1 post builds-up on the points just mentioned if you'd like to learn more.
HTML5 trumps Flash
This HTML5 client was born as a VMware Fling which is still an ongoing standalone project despite the client now being part and parcel of vSphere 6.5. As of 6.5 U1, the vSphere Client offers 90% of the functionality found in the Adobe-based vSphere Web Client. While I personally haven't had that much of a bad experience using vSphere Web client, the majority of users beg to differ. Well, the afflicted will be happy to learn that the client's days are numbered. It's worthy HTML5 based successor will soon be taking to the throne.
In 8 New & Useful vSphere Client Features, I go over some note-worthy features you'll find in vSphere client (HTML5).
Fancy a vSAN?
VMware has revolutionized the SDDC world with the introduction of vSAN. Unless you've been living under a rock, by should know about vSAN and how it pools local drives on ESXi hosts to give you one big distributed shared datastore replacing traditional SAN deployments. Combine this with an effortless setup and you have a winning number. With over 7000 customers and 3 industry awards, vSAN 6.6 now supports Data-at-rest encryption, HA management via the ESXi host client, Degraded Device Handling (DDH), lowered costs and better scalability.
Introducing vSAN 6.6 pretty much covers all there is to know about, so do give it a good read. I also included a few links worth looking at for completeness sake.
Amazon Web Services and VMware
During VMWorld 2017, VMware announced AWS as its new public cloud offering thus parting ways with vCloud Air, VMware's public cloud solution. In a nutshell, users can now deploy vSphere environments using Amazon's bare-metal server and robust infrastructure. Thanks to Amazon's global reach, you are now free to deploy or extend datacenters to pretty much anywhere on the planet.
The official VMware site has a lot to cover on the subject.
Azure Clouds looming on the Horizon
To remain in theme, VMware Horizon Cloud takes your desktop infrastructure and applications and moves it to the cloud. This sees a departure from what was, until now, a predominately on-premises solution. Users now have the option to deploy VMware Horizon to the cloud or in a hybrid fashion using a mix of VMware products and technology.
May 2017, VMware announced that it will be offering Horizon Cloud on Microsoft's Azure platform. Read Nina Seth's Get Ready for VMware Horizon Cloud on Microsoft Azure for an overview of what promises to be a great intermix of technology and vendors partnership.
Containers, the small big things
Docker this and Kubernetes that, there's no denying that containerization is a hot topic. VMware in typical fashion, have outdone themselves with vSphere Integrated Containers (VIC) 1.2.1, the latest version of VMware's containerization technology at the time of writing. VIC takes a different approach to the traditional way of doing containers. By deploying container hosts and containers as virtual machines, VIC allows users to leverage vSphere's advanced features like HA, DRS, and vMotion for better performance and reliability. Better still, users familiar with Docker will still be able to use Docker's endpoints and commands making for a gentle learning curve.
For more details, have a look at these two posts. I also recommend watching the video right after the links.
How to deploy vSphere Integrated Containers fast and easy
All Shields Up
A little something for the security folk and VMware admins alike. As an application-level security solution, AppDefense is a new technology that makes ingenious use of machine learning. What processes are running in your environment? What triggers them? What tasks are they performing? Once answered, these and similar questions are used to determine the normal behavior, or a profile, of a virtual machine and the applications it runs. The profile is then used to establish a behavioral baseline. Once baselines are in place, controls and procedures are used to monitor, and if necessary, block unwanted behavior that deviates from the norm. For example, a never seen process found executing on several machines is probably malware and will be flagged and actioned as such by AppDefense.
Give the following video a watch. You will better understand what AppDefense is all about.
Big Data
Fresh out of VMworld 2017, VMware announced a new edition to the vSphere family; the Scale-Out edition, a vSphere 8-CPU license pack that enables you to quickly build or virtualize existing High-Performance Computing (HPC) clusters for Big Data workloads.
NSX Duality
In February 2017, VMware announced that the highly popular NSX product-line is now split in two; NSX for vSphere 6.3 (NSX-v) and NSX-T 1.1. Matt de Vincentis outlines the major differences in Introducing VMware NSX for vSphere 6.3 & VMware NSX-T 1.1 VMware blog post. If you're new to NSX, give the next video a watch.
Our VMware NSX – Abstracting the network layer introduces what NSX is all about.
The Internet of Everything
The IT world is ripe with buzzwords. IoT, the Internet of Things, is yet one more buzzword we mortals have to contend with. For the uninitiated, IoT refers to the recent craze of hooking anything that runs a TCP/IP stack to the Internet notwithstanding security implications. This includes baby monitors, webcams, smartphones and tablets, smart TVs, refrigerators, power outlets and lighting, our smart house … you get the picture!
Since the trend is also catching up at the workplace, VMware and partners are busy working on VMware Pulse IoT, an enterprise-grade management tool that allows managers to have complete visibility and control of any IoT device brought inside an organization.

Will it be 6.7 or 7.0?
vSphere has always been the cornerstone of every VMware-based infrastructure whether it's deployed on-premises or in the cloud. I don't think this is going to change anytime soon. vSphere 6.5 introduced a ton of new features but there's always room for improvement.
2018 will be the year we will witness the demise of vCenter Server for Windows and the ill-fated vSphere Web Client; this much we've been told. Some are clamoring for the return of the thick client but I don't think VMware has any plans on reviving it anytime soon. Instead, the focus has shifted completely on the vSphere client (HTML5) so here's hoping that by the next vSphere release, the client will live up to the hype that's been built around it.
Speaking of new releases, I heard rumors that the next vSphere release will be 6.7 and not 7.0 as many are expecting. Again, these are just rumors and even then, who cares about release numbers, honestly? I suppose that like many, it's the new shiny stuff everyone is interested in, hence why I've enrolled in the new vSphere beta program. Can't wait to start testing. The novelty here is that, unlike previous editions, the beta program is not tied to any particular release of vSphere. Instead, users will be able to test added functionality and features as they find their way in a release. The option is to either test on-premises using downloadable betas or on VMware hosted environments for a wider and richer testing experience.
Carbon Black
Yes, it does sound like some black ops unit or a code-name for some covert operation but, though still exciting, it's nothing like that. Instead, it's a joint effort between VMware and Carbon Black, a leader in next-generation endpoint security. The idea is to combine VMware's AppDefence with Carbon Black's CB Defense to provide a one-stop solution that stops known and unknown attacks targeting applications in your datacenter. The solution combines three main elements Enforcing Known Good Application Behavior, Detecting Unknown Threats, and Automating and Orchestrating Response as described here. The solution should be available to the general public by Feb. 2018.
Blockchain
With blockchain promising earth and heaven to all and sundry, it's no wonder VMware caught it on their radar. A prototype was in fact announced at VMworld 2017. Built on top of the Hyperledger Fabric blockchain framework, Blockchain on vSphere (BoV) allows users to deploy the acclaimed distributed ledger technology via a few commands.
Although BoV deployment seems relatively easy, an admin must still possess some experience with container technology such as Docker and Kubernetes, Linux, and Python to a lesser extent. BoV is still in research phase but expect it to be commercialized sometime during 2018. It is currently available for download as a Fling.  I've also linked the VMware video that shows you how to deploy BoV.

Without a doubt, 2017 has been a great year for VMware and users alike. I wish I could see into the future to learn what VMware will be up to in 2018, but sadly I can't! In the meantime, here at Altaro, our VMware blog has surpassed the 150th mark. We believe that our content keeps getting better and better judging from the feedback received. So, thanks a bunch for that. We also have great plans for 2018, so make sure to stay tuned for some surprises to come.
On that closing note, here's wishing happy holidays to everyone. Have a fantastic 2018!
[the_ad id="4738″][the_ad id="4796″]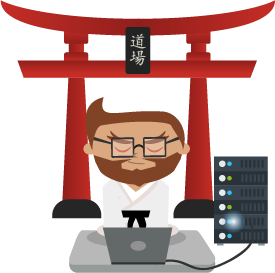 Not a DOJO Member yet?
Join thousands of other IT pros and receive a weekly roundup email with the latest content & updates!