Since its existence, the IT industry has been a prime player in the musical chairs game of company acquisitions with products merging into a third-party portfolio, sometimes leading to odd combinations like eBay buying Skype in 2005. Some of these acquisitions worked brilliantly like when EMC acquired VMware while others not so much. In any case, the transition is never easy and it takes time to reach a confident level of stability.
Unless you live under a rock, you'll have most likely heard about the news of the VMware acquisition in the last week of May. After almost 20 years of being under the umbrella of a parent company with EMC and then Dell, VMware managed to stay independent for… 6 months before Broadcom took the role of the bigger fish (remember that scene in Star Wars episode one underwater on Naboo?).
What's the Big Deal About Broadcom Buying VMware?
On the 26th of May 2022, VMware announced that they received and accepted an unsolicited acquisition offer by Broadcom for $61B. This is almost $50 per share above the closing price the day before. The whole IT community, especially VMware-minded folks were taken by surprise by this announcement as it was completely unexpected. Broadcom being in a different playfield than VMware, many wondered what was the play there.
I have to say I was not familiar with the inner workings of Broadcom and their business strategy. The reason is that I usually don't care that much about this type of C-level news as I am mostly interested in the technology itself and playing with the products. However, this one hits us directly as it will change VMware's direction drastically whether we want it or not in the long run.
After reading various sources about the subject, two main approaches to the news seemed to emerge:
VMware is doomed, move everything to Azure Stack HCI or to the cloud, Broadcom will milk the company dry and everyone will leave.
We saw a lot, and I mean a lot of negativity around this acquisition. I myself am concerned about it because I am passionate about all areas of virtualization and I think VMware is a cool company with good values and an amazing community. However, it was a mixed bag as a lot of these overly dramatic comments came from former employees or internet trolls while other very reasonable folks also had negative but interesting takes on the merger. That isn't to say that it won't happen as there are solid and concerning facts around how Broadcom deals with company mergers but we don't have a crystal ball, unfortunately.
The deal is set to close in November so no need to panic and let's see what happens.
I had a chat with a few contacts of mine at VMware and the attitude is very much different. Now, this is to be expected as this is their bread and butter but the consensus seems to be a "wait and see" type of deal. Although I'll say that absolutely no one (except shareholders that will buy new yachts) is happy about this acquisition. The period between now and the close of the deal is going to be a very sensitive and crucial time for VMware/Broadcom as the decisions taken may drive a lot of top talents out.
Innovation Through Acquisitions
In the mid-2000 up until today, VMware established itself as the uncontested leader in server virtualization. However, the focus has shifted quite dramatically from server virtualization to application. The application being the core of the business, virtualization is now a commodity and servers should be replaceable in a matter of minutes. This change drove VMware to address different areas of the SDDC so as to not lose the race of innovation, an incredibly fast and ruthless one in the world of IT.
Through company mergers, it has been VMware's strategy in the last few years with no less than 22 company acquisitions since 2018, they even have a dedicated page with the listings! This allowed the virtualization giant to expand its reach into the cloud, security and modern apps areas.
This has actually been a fairly criticized strategy by a number of folks that deemed VMware lacked innovation and simply took shortcuts by buying technologies. While there is some truth in that, it is and has always been how the IT landscape works. On top of that, some of the products developed by these companies get included in the VMware portfolio and benefit from the sales, marketing and direction power of a large company to drive it to the finish line.
Why is Broadcom Really Buying VMware?
According to Broadcom's official communication, the main driver behind this deal is to diversify the company's activity away from the core business of selling semiconductors. The global shortage in the microchip supply chain was what initiated this global company acquisition frenzy with CA technologies and Symantec which they acquired for $18.9B and $10.7B respectively a few years back.
By acquiring VMware, Broadcom boosts its access to the SaaS and Cloud worlds through the VIP entrance. Combined with previous software company acquisitions, this will generate subscription-based, recurring revenue which has a much higher profit margin than hardware. On top of that, VMware has a large customer base and solid industry following that can only benefit Broadcom in the long run.
According to Broadcom's communication, the plan would be to rebrand as VMware. Now whether it will be the software division or the whole company is unclear. However, this looks very much like when Avago acquired Broadcom and rebranded as such (the stock ticker still is AVGO).
What Does the Broadcom Acquisition Mean for VMware Users?
This is the million-dollar question among VMware customers these days, what does it mean to me and my organization? Well, big customers will probably be fine as Broadcom's strategy is to focus on the top payers and offer them solid service to ride this train for as long as possible. This does mean that smaller customers may be neglected a bit in the process.
"Broadcom explained during an event in November 2021 how they plan on focusing only on the top paying customers"
Now I am not sure about what this means in practice; is it cuts in the support pipeline in favor of TAMs and Success 360? Is it simply related to the increase in the license prices? Probably both, regardless, history doesn't play in the favor of small customers as CA technologies and Symantec customers saw prices increases along with a decrease in customer support quality and R&D after the products moved under the Broadcom umbrella since the company shifted the focus to these big customers as mentioned previously.
What Should VMware Customers Do Now?
It is still way too early to make any rash decision as the deal will take time to close and the new strategy won't be executed immediately. However, there are already a few things you can start thinking about before Broadcom cracks down on VMware's inner workings:
Renew your maintenance contracts before a potential price hike.
Upgrade all your VMware products to the latest major versions if you haven't done so yet.
Reach out to your VMware representative to try and get a written agreement on a license price freeze for the duration of your maintenance contract at least.
Evaluate your SDDC's state and review your roadmap. Without being too dramatic, it is good to have a contingency plan. Should you go deeper down the VMware locked-in eco-system or should you wait a bit and get more flexibility somehow? Maybe invest more in cloud services, vanilla Kubernetes or try out different hypervisors like OpenStack in a POC environment? What would a 10%/15%/20% price increase mean to your company?
Discuss this with your VMware admins and understand what this means for them. Some might be concerned about their job or career prospects.
My Thoughts
This was a very different blog than what I am accustomed to writing. I am as far as it gets to a financial expert as my interest lies elsewhere in technology. This was however with interest but also mixed feelings that I wrote this piece as I am not sure what to make of this announcement. Will this increase VMware's revenue and bring more cool products and innovations? Or will it be the end of VMware as we know it and every employee adds "open to work" on LinkedIn? We don't have the answer at this point; however, tech recruiters will be incredibly busy in the next few months and you should expect solicitations if you are in this space.
This is a tough time for VMware employees that have good reasons to be concerned seeing how Broadcom seems to deal with profit over other areas of the company (tech guy naivety put aside, shareholders are unfortunately the most important variable).
If you are concerned about the merger, hopefully, the last chapter will give you a few options to look at, if you have a different take on the situation, please drop it in the comments to share your view.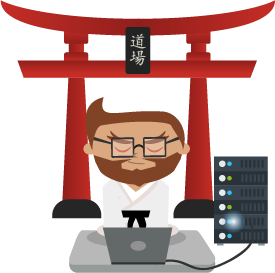 Not a DOJO Member yet?
Join thousands of other IT pros and receive a weekly roundup email with the latest content & updates!