We are delighted to announce that Altaro has been voted Backup and Recovery/Archive Product of the Year 2017 at the prestigious annual IT industry SVC Awards 2017 beating other many other well-known backup software developers. We are especially happy about this award because it's voted by end-users and the IT community. Thank you to everyone who voted for us!

About the SVC Awards
The SVC Awards reward the products, projects, and services as well as honor companies and teams operating in the cloud, storage and digitalization sectors. The SVC Awards recognize the achievements of end-users, channel partners and vendors alike and in the case of the end-user categories, there will also be an award made to the supplier supporting the winning organization. (from svcawards.com)
Altaro VM Backup in 2017
2017 has been a very productive year for Altaro. Although the product was already very well received by system administrators around the world in 2016, we brought in a number of key features in 2017 that have brought the product to new heights. We started the year by launching Version 7 of Altaro VM Backup and adding Augmented Inline Deduplication technology to the software package. In May we brought the highly praised Cloud Management Console (CMC) to end users, in June we added the Backup Health Monitor, and in July we rolled-out the ability for our customers to offsite backup to Azure.
In 2017, we reached several customer milestones as our user base surpassed 40,000 customers and year-on-year growth hit 40%. More than 400,000 Hyper-V and VMware virtual machines are now being protected using Altaro VM Backup. More than 10,000 Altaro customers are now connected to the Multi-Tenant Cloud Management Console, and after launching the Altaro MSP program less than 12 months ago in late 2016, the service has already signed up more than 500 MSPs to its monthly subscription program.
Phew! It's been a very busy year for Altaro and the recognition as Best Backup and Recovery/Archive Product of the Year 2017 at the SVC awards is the icing on the cake. Thank you to all our partners, distributors and end-users for continuing to embrace Altaro VM Backup and providing the feedback we need to continue growing and developing the software to meet your needs. However, the work doesn't stop here; we have even more exciting new features in development for Altaro VM Backup that we'll be releasing next year. Bring on 2018!
[the_ad id="4738″][the_ad id="4796″]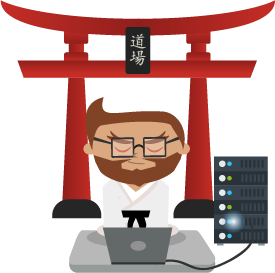 Not a DOJO Member yet?
Join thousands of other IT pros and receive a weekly roundup email with the latest content & updates!