We're happy to announce that we've added yet ANOTHER new feature to our flagship product Altaro VM Backup: the Backup Health Monitor!
When it comes to backups, there is always a great deal of concern for the health of the underlying storage where backups are being kept, and there should be. Disk corruption can sneak into the most resilient of storage arrays and the most robust file-systems and you may not even know until you need to do a restore. A recovery situation is not when you want to discover you've fallen prey to disk corruption.
Disk corruption with backups can happen in a lot of ways. Maybe there was an issue with the underlying firmware on one of the drives in the NAS you're using for backup storage. Maybe the file system you're using for backup storage has issues, and fails to commit a certain block of data. Whatever the reason, we've found that administrators like to have an extra line of defense to combat disk corruption where their backups are concerned, and that's why we've created the Backup Health Monitor.
How does Backup Health Monitor work?
Here's how it works:
The Backup Health Monitor feature will monitor backup storage for block corruption. If block corruption is detected, that block gets flagged.
The next time a backup job runs, it checks for flagged blocks. When detected, the backup job will go and grab the affected block from the source workload and replace the bad block inside of the backup storage, thus providing a self-healing mechanism, and keeping you out of harms way when you need you backups most.
Here's a quick screenshot of what it looks like: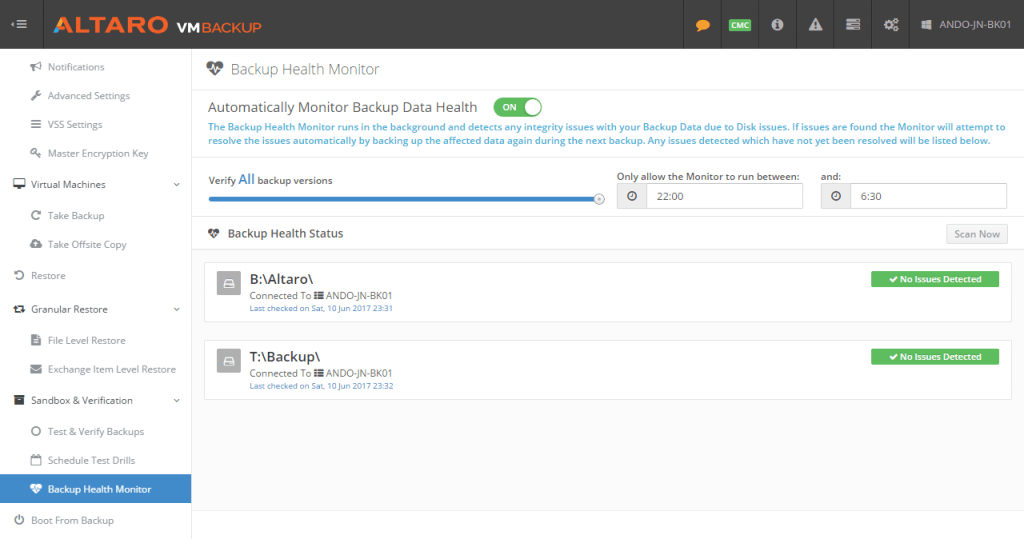 How to configure Backup Health Monitor
The Backup Health Monitor in Altaro VM Backup is enabled by default and easily configurable, as is the norm for Altaro features. The Backup Health Monitor screen (as seen above) can be accessed from the left-hand column and there are really only three things you need to worry about configuring here.
The first thing you see is the button to enable or disable this feature. Again the feature is enabled by default. Keep in mind if you disable the feature, you'll need to rely solely on backup verification jobs, which do not provide the self healing capabilities. You would have to take steps manually to resolve the corruption yourself.
How many days worth of backups would you like the health monitor to verify? You can select as little as one day, or you can select all backup versions. The more backup versions you have to select, the more scanning the monitor will have to do.
What is the time window you would like the monitor to run in? The default is 10:00 pm to 5:00 am, but it is fully configurable. One thing to keep in mind here is, more backups scanned means you might require a larger time window for completion, so plan accordingly.
Once configured, the Backup Health Monitor will run, and will use your defined notification method to let you know if anything is amiss. Additionally, you can check on the backup drive status right from the Backup Health Monitoring screen as well (as shown above). Here you will be able to see the health status for all local backup repositories associated with the installation.
Interesting in trying Altaro VM Backup?
You can get more info on Altaro VM Backup and its features here and you can download a 30-day trial here!
Wrap-Up
We're happy to bring you this new feature, and we hope it helps you sleep a bit better at night!  We're certainly excited about it, and we're happy to bring you more reliable backups to keep your organization protected!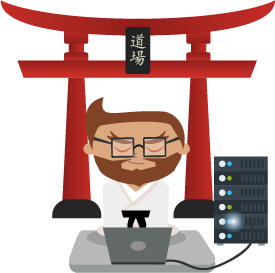 Not a DOJO Member yet?
Join thousands of other IT pros and receive a weekly roundup email with the latest content & updates!