Hi everyone. This is a post I've been looking forward to for quite some time. vSAN is one of those ever-evolving tools that VMware has that seems like it's growing even faster than vSphere. Instead of just a technical post, I wanted to step back and maybe look at /gasp/ an actual use case for once and try to determine where this tool would fit into your environment. A lot of people I've talked to always wonder if vSAN is right for them. Maybe they're afraid that migration would be too difficult. It really has been a common theme in my classes. Then they decide to just stick with traditional storage. I would actually recommend that every single person who's a vSphere user at least run it through a proof of concept. I'm in love with it that much. 
So in this post, we're going to look at:
The benefits of why vSAN can help an SMB environment
How difficult are migrations from a traditional SAN?
vSAN for Remote Locations
vSAN scalability and performance vs. traditional SAN
vSAN for VDI Workloads
vSAN for SMB Benefits:
Small and medium-sized businesses need cost effective, stable tools that are easy to manage. So let's start with that and break down some other benefits.
The first benefit is that you're managing your storage and compute in a single pane of glass. That's right! You'll need fewer tools!
Your storage is easier to troubleshoot. No longer do you have to log into multiple consoles.
You don't have to sink up front capital into traditional storage arrays that you might get 5-7 years out of. Scale as you need as you grow without the need for expensive storage arrays.
vSAN Data Migration Data is Difficult Though, Right?
Absolutely not! If you have a traditional SAN, you've already likely used Storage vMotion. It's more of the same with vSAN. vSAN shows up like a traditional datastore within vSphere. You simply migrate as if it was any traditional device. There is nothing tricky about it. If I'm being honest, the hardest thing is also the easiest thing. You have to make sure the policies you create (more on this in a future post) match the type of performance and resiliency that you expect out of the VM. I say hardest and easiest because it's something you want to do up front, which is harder than just putting it on a datastore, but once you attach the VM to the policy, you can't accidentally move it to the wrong datastore. Once it's on a vSAN datastore, you forget that you once had 10+ datastores to manage before!
Now, your actual migrations will likely take time and generally, VMware recommends that you kick off any high I/O migrations after hours, but virtual machines can still remain powered on. You could even get crafty and use Move-VM and PowerCLI to automate the migrations.
What about vSAN for Remote Locations?
So you have a remote office, that's always been a challenge to administer and maintain. vSAN makes an ideal low cost, high performance storage solution for ROBO (Remote Office Branch Office) deployments. You do not have to have hosts and an additional storage array. This is where HCI is a win for the SMB. In fact, vSAN can be implemented with as few as two physical vSphere hosts at each office! A witness host – a virtual machine running ESXi – is the required third node in the vSAN cluster. Witness hosts are typically deployed to a vSphere environment at a central main data center. The diagram below shows what the high-level architecture might look like for an organization with one main data center and three remote offices. The use of a virtual appliance as a witness host eliminates the need to deploy a third physical server, thus saving on cost.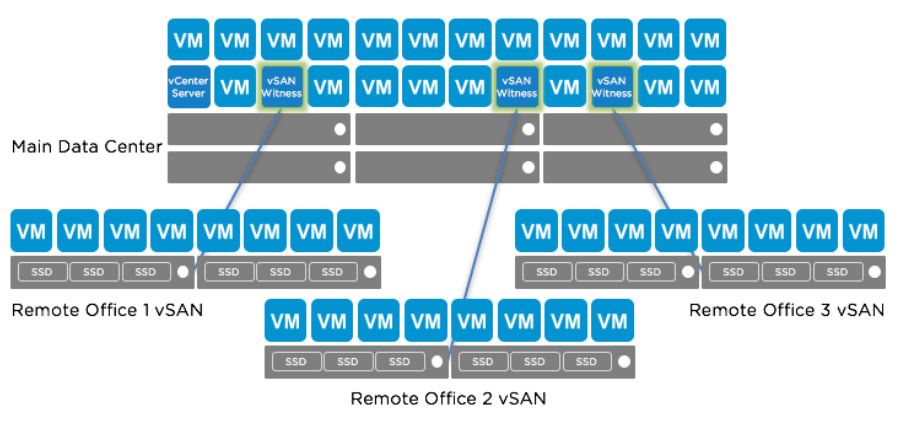 vSAN vs. iSCSI and Performance Implications
For this section, I wanted to compare vSAN vs. an iSCSI array. A lot of SMBs are familiar with iSCSI and that's where they will be coming from. As we're trying to keep this post realistic, we'll discuss the benefits of retiring the iSCSI array in favor of vSAN. One of the common issues that people had in the early days of vSAN was that you had to virtualize all your workloads and that vSAN did not play nice for any existing legacy servers that you had laying around. Well, that's simply not the case anymore. vSAN will give you the option to create an iSCSI Target to use for other workloads.
While it's almost impossible to compare each and every iSCSI SAN to vSAN due to disk I/O and performance metrics, there are just too many factors, but we can though, cover some of the huge benefits of why you'll get better performance with vSAN. With a traditional iSCSI SAN, you had all your workloads on static LUNs, and unless you moved them, the workload was stuck there. You had to strategically think about where that virtual machine was placed and hope that any additional VMs you created would not harm the I/O. You constantly had to think about read and write patterns and it was a lot of work. An environment can easily end up with several VMs in the wrong place and because of that, suffering from performance issues.
With vSAN, you can (and most SMBs DO) start with a hybrid vSAN. What this means is that you'll get the benefits of a caching tier, which usually consists of all-flash storage. The vSAN caching tier isn't a place you can actually put files but the data that comes across the caching tier gets an immediate write benefit. When the data is no longer needed it can be moved off to the slower capacity tier. When there is a cache miss, the data is pulled and becomes "hot" again. Your cache tier will vary and you can scale as you need. These are two great benefits, you can scale it as the I/O needs of your organization grows.
A Word on VDI Workloads and vSAN
If your business has an interest in virtual desktops, vSAN is a great option. Users need consistency and the disk I/O that is demanded by the different types of desktop pools can be managed in an easier fashion when vSAN is in play. You simply manage the disk policies and let vSAN do the work. In environments without vSAN, you have to carefully think about which datastore that the replica machines are on and scale accordingly.
Wrap Up
As you can see, vSAN fits several different areas that you might not have considered before. It's easy to migrate to/from your existing iSCSI array and it's a great option for remote environments, virtual desktop workloads, traditional server workloads and more. In a future post, I plan to write about some of the different types of policies that you can attach to virtual machines and you will see additional ways that vSAN can make your environment more flexible.
What about you? Do you have an interesting success story to share about vSAN? We would love to hear in the comments section below!
[the_ad id="4738″][thrive_leads id='18673′]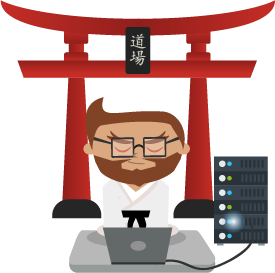 Not a DOJO Member yet?
Join thousands of other IT pros and receive a weekly roundup email with the latest content & updates!