UPDATED: July 12th 2019
In September 2018, there was certainly no lack of announcements and new products mentioned at Microsoft's Ignite Conference in Orlando. Many of the announcements centered around the release of Windows Server 2019, while many others were focused on improvements to Azure functionality or new features in the Azure solution catalog. If you've read my articles on this site for any length of time you'll know that I've spent a considerable amount of time working in the MSP space, and one feature that really caught my eye (if I put my MSP hat back on) was the announcement of Windows Virtual Desktop in Azure.
In this article, I going to take a look at this new feature through the lens of an MSP evaluating a new potential customer offering
Let's take a look.
What is Windows Virtual Desktop?
Windows Virtual Desktop (or WVD for short) is a desktop and app virtualization service that is virtualized and runs in Azure. It includes Office 365 ProPlus and can be spun up with a consumption-based model that can be absolutely perfect for MSPs. It allows you to bring your own OS image and also run as many customized desktop pools as you need to accommodate your customers. You could potentially have a generalized customer pool for those that need a basic desktop, or you could also give each customer their own dedicated pools within your Azure tenant or within their own! You also have the ability to provide a more traditional RDSH (Remote Desktop Session Host) experience with this feature in Azure as well for more flexibility for generalized workloads.
Finally, if you wanted a more personalized experience you have the option of providing persistent desktops to those users that require more customization. Users connect to WVD via the built-in RDP tool or a simple to use HTML5-based web client.
To round it out, Windows Virtual Desktop Provides all of the following:
Multi-User Windows 10 Enterprise (for resource efficiency
Windows 7 Desktop with Free Extended Security Updates for Legacy Apps (Lasts till January of 2023!)
Working, Virtualized Office 365 ProPlus without the licensing headaches
Ability to host existing
Scalable deployment
Fast Rollouts
Application only rollout if desired
Deep integrations with Microsoft 365 security and management
Unified Management Experience
Why Should You Use Windows Virtual Desktop?
So, if we break the above down: what does it really mean? More importantly, many of you will ask the question: "How does it differ from RDS (Remote Desktop Services) that we've been rolling out on-premises all these years?" I'm going to assume that the vast majority of people looking at WVD are doing so with desktop in mind, and are looking to get away from RDS, even though it's a potential option with this solution.
As many of you who have fought with RDS will know, RDS has always been based on a server OS. Depending on the applications in question that may (or may not) have created some compatibility issues. The other big issue with RDS is the amount of maintenance and "hands-on" work required to manage the underlying solution. Windows Virtual Desktop removes those headaches.
Being based on a client OS, compatibility for Windows line-of-business applications, and third part vendors shouldn't be an issue, assuming Windows 10 or 7 are supported. Many MSPs who have worked with RDS will be VERY aware of the licensing woes when working with Office 365 in an RDS environment. With Windows Virtual Desktop this is a complete non-issue, and with the solution being hosted in Azure, the MSP only needs to worry about making the deal, setting up identity services (if they don't exist already) and provisioning desktops. Done.
If your customer needs more desktops, simply provision more. If they scale down, nuke the ones that are no longer needed. It's a truly scalable DaaS (Desktop as a Service) solution that allows you to focus on bringing in new business instead of dumping hours and hours of engineering and support time into a complex, hosted RDS implementation. This is not to mention the sheer cost-savings of not having to run and support the physical infrastructure needed to provide RDS at Scale. Think about how much time and money goes into purchasing and maintaining compute, storage, and networking for that stuff. It adds up, and I would argue that you would have a tough go of it attempting to provide this and other data center services as well as Microsoft does with Azure.
I think another telling thing about this offering is the fact that Microsoft is willing to provide free extended updates for Windows 7. Historically Microsoft has been loath to support older operating systems when it wasn't truly necessary, but this just proves that they are committed to providing a platform that works for the masses, not just the percentage of the industry that stays on the latest and greatest.
Other reasons:
With Security becoming more and more important, the added integration with Microsoft 365 features such as conditional access and data loss prevention is a huge plus.
Partner Integration is looking great! Some industry heavyweights such as Citrix and Liquidware already have working Integrations for this service, such as Citrix Managed Desktops
Microsoft is planning to enable Microsoft Registered CSPs (Cloud Solutions Providers – YOU GUYS!) to be able to easily integrate their own value-add and services into any offering surrounding Windows Virtual Desktop
Windows Virtual Desktop Requirements
Not shockingly, there are some prerequisites for running WVD.
You need to first have the appropriate licensing (Basically a subscription of Microsoft 365 or RDS CALs), which includes the below operating systems and their associated needed license for this feature       
A Deployment of Azure Active Directory
An instance of Windows Server Based Active Directory that is paired with Azure AD via either Azure AD Connect or Azure AD Domain Services
An associated virtual network that is able to talk to the Windows Server instance of AD.
The WVD Desktops must be standard domain-joined or hybrid domain joined. They CANNOT be Azure AD-Joined (Strangely enough)
WVD Desktops must be running a supported OS Instance (Listed Above)
Round-Trip Latency from your customer's network to the host pool needs to be less than 150ms
Ideally, the management service and the other associated services should be co-located in the same Azure region
Pricing for Windows Virtual Desktop
Pricing for Windows Virtual Desktop seems somewhat complicated, but it boils down to two things:
You must have an eligible Windows or Microsoft 365 license. Since many of your customers will likely have this already, it's not likely to be a deal breaker.
You must pay for the ongoing VM compute cost and associated storage consumed by the desktops.
This will likely play out differently for different customers but Microsoft has several good pricing examples from their WVD pricing page as shown in the image below.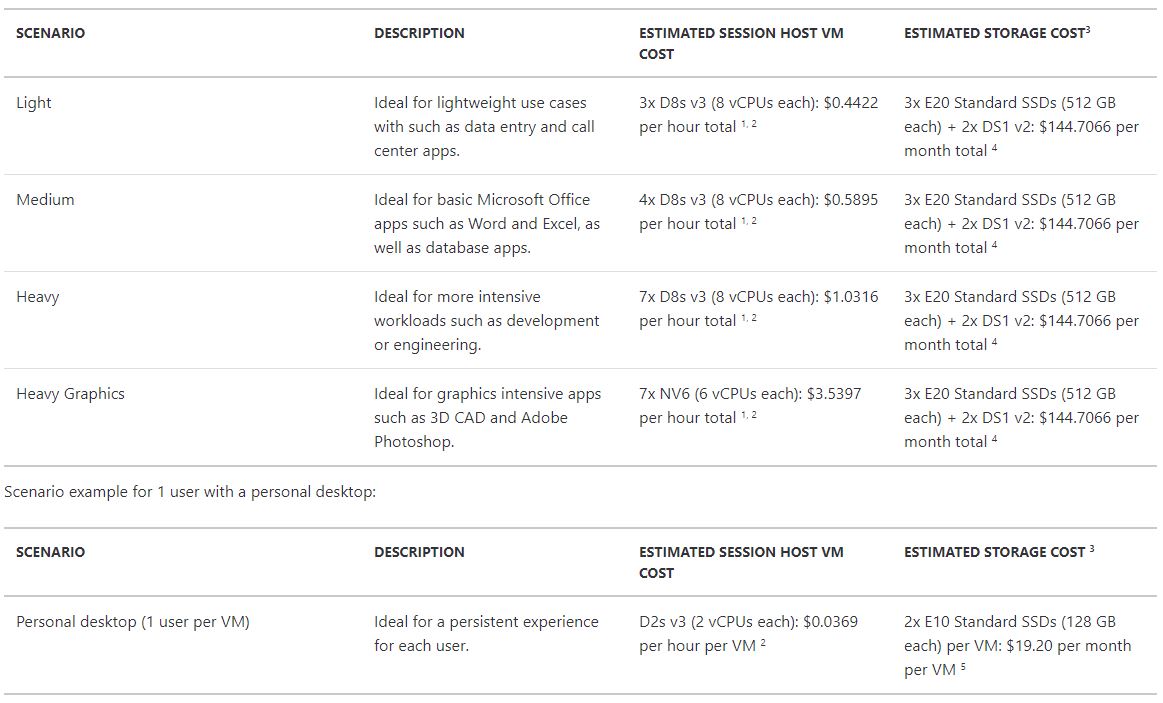 As you can see, pricing really isn't as high as you would expect. While this service is still in preview (as of this writing), I would expect a slight increase when it goes GA. Any increase is likely to be minimal and will likely not affect pricing all that much, but don't quote me on that!
How to Get Started with Windows Virtual Desktop?
Windows Virtual Desktop is available in the Azure portal today, still in preview. Simply find it in the marketplace! Additionally, if you've yet to set up an Azure account, see this page to get set up with a free trial.
Additionally, be sure to stay on the lookout here as we'll be bringing you more Windows Virtual Desktop news and announcements as they are made. I Especially want to do a segment on deployment. If you're interested in that as well, feel free to sign up for the newsletter as well to stay updated as to when that information will be available.
Wrap-Up
Glad to have you today as we talked about exciting upcoming features in the Azure portfolio! One question I'd like to leave you with is, what are your thoughts on this solution? Do you see it being useful in your set of offerings? Will you be POCing it? Make your voice heard in the comments section below!
Thanks for reading!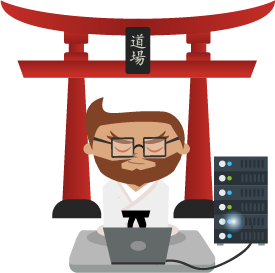 Not a DOJO Member yet?
Join thousands of other IT pros and receive a weekly roundup email with the latest content & updates!