For all IT professionals, storage infrastructure is very much at the core of the services we provide in our datacenters. That said there seems to be this industry misconception that there has been little innovation in the Windows Server stack in terms of storage. Nothing could be further from the truth! There has been a TON of innovation in Windows Server Storage. This includes things like Storage Spaces Direct, ReFS, QUIC over SMB, and lots more! 
With all-new technologies come questions. We recently had the opportunity to answer a number of Windows Server Storage-related questions during an exclusive webinar I hosted along with fellow Microsoft MVP Didier Van Hoye on the subject. You can find that list of questions further down the page. However, if you're interested in watching our webinar on the subject you can do so with the below link 
Before we get to the questions, however, I'd like to share a video that Didier and I recorded where we discuss some of the questions and expand on them with our own thoughts and additional detail.
Resources
Is working with permissions in ReFS different than NTFS?
Nope! The process is pretty uniform across the two filesystems. You won't notice any difference at all.
Andy Showed his lab environment during the webinar, can we get a lab breakdown?
Absolutely! In fact, we'll be recording a dedicated video in the future specifically on this and what the process of setting up Storage Spaces Direct on Windows Server 2022 Looks like. At a high level, this is what my lab environment looks like: 
2 Physical Nodes 
  – Server-Class MB 
  – 6-Core Xeon CPUs 
  – 32 GBs of Memory (64 Recommended) 
  – 4 1TB Spinning Disks in Each Node for capacity tier storage 
  – 2 400GB NVME Devices in Each Node for read/write cache 
  – 1 250GB SSD for Host OS on the Nodes 
  – 1 Quad Port 1Gbps Intel I350 NIC 
  – Mellenox ConnectX3 10Gbps NIC Direct connected between the nodes 
Can QUIC be used for printer sharing as well?
While it certainly is an interesting use-case, at this time QUIC cannot be used for printers.
Is Ceph supported on Hyper-V?
First of all, you should be asking yourself, why do you want to run Ceph with Hyper-V? There are certainly more native options that are better. However, if you already have Ceph in your environment and you want to leverage it for your VMs, you certainly can. You can use Ceph as an iSCSI target for your Hyper-V Hosts if you want, and there is even a method of using Ceph directly on Hyper-V Hosts (Link in Resources under the video above). If you want more details on this, Didier and I discuss it at length in the video.
Will SMB over QUIC be available for on-prem use cases?
While we don't know if it will always be like this, currently SMB over QUIC is only available in Windows Server 2022 Azure Edition.
Are there currently any competitors to Intel Optane?
While there certainly are some smaller companies that are entering the space much of the technology in play is still highly experimental and is currently "struggling to get out of the lab" so to speak. For consumable persistent memory that you can use today, Intel is one of the only real options currently, and it comes at a premium price as well.
Are there any ReFS use cases for VMware VMs?
Not Officially no, and not in any way that is supported. Sure you could use ReFS and Storage Spaces to host up an NFS share, but that is in no way recommended or supported. Will it work? Probably. Is it supported? Not in any way.
How does cloud storage fit into this whole storage discussion
Just like any technology, Cloud storage options are there to give you more options. Cloud storage is useful when you have workloads already living in the cloud or maybe you have people from multiple locations that need to access a unified repository. The cloud also lends itself well to backup storage. Didier and I discuss this in more detail in the video.
How do I get started learning all this storage stuff? There are so many acronyms!
Yes, there is a lot to learn. I would suggest watching our video as Didier and I spent quite a bit of time on this topic. The short answer is you need to learn by doing. Set up lab environments, break it, fix it, tear it down and set it back up a different way. Find a community to learn more from (Like the Altaro DOJO!) and don't give up! Rome wasn't built in a day!
Additional Resources
If you haven't had a chance to watch the full webinar where Didier and I discuss all these storage technologies at length be sure to check that out! 
Finally, if you have any additional questions that you would like answered on storage technologies in the Windows Server stack, be sure to include them in the comments section below this article and we'll be sure to get you an answer! 
Thanks for reading!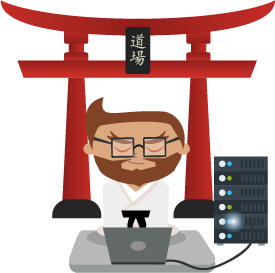 Not a DOJO Member yet?
Join thousands of other IT pros and receive a weekly roundup email with the latest content & updates!