It's an interesting time to be an IT professional. The cloud is seeing increasing adoption for a number of reasons. On-prem infrastructure is now being influenced by cloud technologies (not the other way around) and the rate of change is faster than ever! What is an IT pro to do? How does one keep up with the modern IT ecosystem? These are all questions that I (Andy Syrewicze) posed to my good friends and highly intelligent fellow IT pros Didier Van Hoye and Thomas Maurer. But, before we get to that, a little background is needed.
A Look Back
A few years back, we ran a round-table-style webinar featuring the three of us that covered the increasingly cloud-centric IT industry and how IT Pros could adapt and begin to use new technologies in their day-to-day. We talked about several key items in the Microsoft stack including new management tools (like Windows Admin Center), Azure Stack, Azure IaaS, Containerization and more. The webinar was well received and can be watched on-demand. Also related, we have an updated eBook on Azure IaaS as well in case you'd like to dive further into that topic. While the mentioned webinar covers a lot of the theory-work behind the industry's use of IaaS, the eBook provides all the nitty-gritty details about the technology and its applications.
Windows Server and Azure Stack HCI
That all said, with the release of Windows Server 2022 and Azure Stack HCI, things feel a bit different these days. Unlike previous releases of core Windows technologies, this iteration of the Windows Server stack no longer feels like a simple upgrade. We're starting to see a VERY real push towards cloud technologies instead of the kindly nudge we've seen in previous years. With this push comes concern and angst, and I've talked with many a technology professional over the last year that is concerned about where the industry is moving and how to adapt.
All of these conversations caused me to keep thinking back to the webinar Thomas, Didier and I did all those years ago, and I kept asking myself the question…. Did we get it right? Were our predictions on point? It was this thought process that ultimately led me to the idea for the main piece of content I have for you today.
In the video below, the three of us sit down once again and revisit our discussion on cloud technologies 3 and a half years later. Not only do we talk about whether we were right or not, but we also discussed where the industry is going and how today's technology professionals can keep pace with the crazy state of the industry today. I hope you enjoy this video, and as always, feel free to share your comments and questions in the comments section below and we'll be sure to respond!
Watch the Video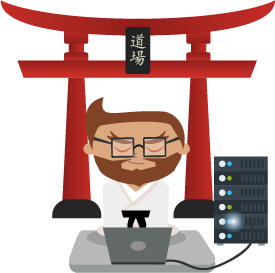 Not a DOJO Member yet?
Join thousands of other IT pros and receive a weekly roundup email with the latest content & updates!