We're tying the bow on VMworld 2021 which was packed with a dizzying number of announcements. While we can't cover every single one of them, we will talk about the ones that really struck us as well as those high-visibility strategic announcements.
"VMware's CEO Raghu Raghuram speaking at VMworld 2021"
Like last year, VMworld 2021 was an online event with free registration for everyone. The event was organized in 8 different "booths" from which you can pick and choose sessions. It seems the bulk of the innovations were in the multi-cloud and App modernization fronts though.
This year's VMworld 2021 guests included no other than Michael J. Fox, Will Smith who treated us with really inspiring messages and views on life in general outside of the tech space.
As for the technical side of things, on top of all the other areas that were talked about, the agenda was packed with multi-cloud and App modernization (Tanzu) topics. Without further ado, let's dive into the VMworld 2021 announcements.
VMware Cross-cloud services
According to VMware's CEO Raghu Raghuram during VMworld 2021, "Multi-cloud is the digital business model for the next 20 years, as entire industries reinvent themselves". The plan to help organizations with the shift to multi-cloud was set in motion some time ago and has been the topic of several announcements ever since.
VMworld 2021 is no exception and brings the concept a little bit further with VMware Cross-Cloud services, a group of several integrated services allowing customers to deal with apps with "freedom and flexibility" across clouds. The goal of these multi-cloud services is to accelerate the move to the cloud, make it cheaper and more flexible.
"VMware Cross-Cloud services help organizations shifting to multi-cloud"
The new VMware cross-cloud services offering will revolve around the following areas. Keep in mind that these span multiple clouds (this is where the value really is). You can pick and choose which service you want on which cloud.
Building and deploying cloud-native apps (VMware Tanzu Application Platform).
Operating and running apps (VMware Cloud, Project Arctic).
Management of performance and cost across clouds (VMware vRealize Cloud, Project Ensemble).
Security and Networking (Carbon Black, NSX Cloud, Service Mesh).
Deploy and manage edge-native apps (VMware Workspace One and VMware Edge Compute Stack).
Not all organizations will benefit from this offering just yet as most IT departments will first need to wrap their head around it, find use cases, analyze the TCO… However visionary, things certainly seem to be moving in that direction and VMware is paving the way.
VMware Sovereign Cloud
Data sovereignty refers to countries' jurisdiction on data and how it relates to the concepts of ownership, who is authorized to store data, how it can be used, protected, stored and what would happen should the data be used ill-intentionally.
The discussions around data and cloud sovereignty are becoming more frequent and will most likely become a critical selling point for large customers such as government entities. As more and more companies resort to cloud computing, it is becoming increasingly important to establish a way of ensuring the data stored with these cloud providers is treated squarely.
For instance, the principality of Monaco recently unveiled a Monegasque sovereign cloud where all the shareholders are Monegasque with the state owning a controlling stake in it.
"VMware Sovereign Cloud will ensure regulations compliance"
VMware is cracking down on this issue with VMware Sovereign Cloud. The aim of this initiative is to partner with cloud providers to be able to deliver multi-cloud service with the "VMware Cloud Verified" seal of approval.
In order for this to happen, a VMware Sovereign Cloud framework will be put in place and only cloud providers who abide by it will be able to slap the "VMware Cloud Verified" seal of approval on their services. They must also self-attest on the design, build, and operations of their cloud environments and their capability to offer a sovereign digital infrastructure.
If cloud providers decide to play ball, this should open the door to juicy contracts with government entities such as the European Union in the years to come.
More information is in the press release from VMworld 2021 announcements.
VMware Cloud on AWS Outpost
AWS Outpost is a managed service offering where AWS delivers and installs the Outpost physically so you get the AWS experience on compute capacity located on-premise or in any datacenter or co-location near you. It is managed so you don't have to take care of its lifecycle. The use-cases related to AWS Outposts include low-latency requirements, data sovereignty, local data processing…
During VMworld 2021, VMware introduced VMware Cloud on AWS Outposts with the hope that it will boost the adoption of VMware Cloud on AWS. The adoption process is the same as an AWS outpost after which AWS sets up the VMware SDDC VCF stack, VMware makes sure everything checks out and hands it to you through the VMware Cloud Service Portal.
"VMware Cloud on AWS is a tight partnership between the two entities"
At the moment it is limited to 42U racks with i3en.metal instances but it may evolve over time. Looking at the pricing it is actually cheaper than I would have expected considering the resources in the i3en.metal instances and the VCF stack in the bundle.
The bundle includes:
AWS managed dedicated Nitro-based i3en.metal EC2 instance with local SSD storage
Supply chain, shipment logistics, and onsite installation by AWS
Ongoing hardware monitoring with break/fix support.
"You can now get the benefits of VMware Cloud on AWS closer to your organization"
Note that it is only available in the US at the moment.
More info in this technical deep dive on VMware Cloud on AWS outpost.
DR-as-a-Service (DRaaS) Enhancements
A bunch of enhancements to the DRaaS offering were unveiled during VMworld 2021 announcements. The product was first announced in VMworld 2020. As a reminder, DRaaS allows customers to replicate workloads to cheap cloud storage and restore them to VMware Cloud on AWS that you can spin up on-demand to improve TCO.
Among the enhancements to the cloud disaster recovery solutions were:
This will offer more frequent snapshots for critical apps that have higher change rates which give you up to 48 recovery points per day. The combination of that higher granularity and the air-gapped Scale-out Cloud File System will offer to reduce the impact of Ransomware attacks.
"30-Minutes RPO offers much finer recovery granularity"
Accelerated Ransomware recovery with File-level recovery
On top of Scale-out Cloud File System (SCFS), VMware DRaaS will let you extract recent, uncorrupted files or folders from various snapshots in VMs without powering them up. You can then inject them into a clean recovery restore point.
"Ransomware recovery is simplified with File-level recovery"
Integrated and simple data protection for VMware Cloud on AWS
In order to protect those critical pieces of software that run your organization, VMware Cloud on AWS will now offer the possibility to leverage Cloud DR as a unified DR, ransomware, and foundational backup-restore solution.
Once you select and configure VMs protection, Cloud DR creates immutable, encrypted backup copies stored on the Scale-out Cloud File System (air-gapped). You can then restore at the file, folder or VM level.
"Integrated data protection for VMC on AWS simplifies the data protection process"
VMware Tanzu Community Edition
One of the biggest hurdles in getting into VMware Tanzu so far was the complexity and resources required. VMware Tanzu Community Edition is a free, open source, and community supported distribution of VMware Tanzu. The best thing is that it is full featured and you can deploy it to various environments:
Locally on your workstation in Docker
vSphere infrastructure (vCenter server)
"VMware Tanzu Community Edition is full-featured"
This new product is a platform for "learners and users" as VMware puts it, especially small-scale and preproduction environments. As of October 2021, the product hasn't reached v1 yet so it may not be the smartest move to start running your prod in it.
The other big selling point of VMware Tanzu Community Edition is the pluggability of the product, in that it includes additional packages to cover all aspects of the modern app's lifecycle.
"VMware Tanzu Community Edition makes installing packages easy and pain-free"
This new VMware Tanzu Community Edition aims at facilitating the deployment process with a docker based kind bootstrap cluster, provisioned through the Tanzu cli, that will, in turn, deploy either:
A management cluster to manage multiple workload clusters.
A standalone, all-in-one workload cluster. An even quicker way to get started.
The deployment of the management or standalone cluster can be done in a user-friendly web UI that automatically generates the associated deployment configuration file and the kube-config file. But we'll get into all that in another dedicated blog.
You can find more info on the VMware Tanzu Community Edition website.
VMware Cloud with Tanzu Services
VMware aims at facilitating the shift to app modernization and the adoption of Kubernetes with their Tanzu offering. However, managing your own on-premise Kubernetes/Tanzu infrastructure may not be in the cards for a variety of reasons such as time constraints, complexity, CAPEX…
Managed Tanzu Kubernetes Grid Service
VMware Cloud with Tanzu Services will propose a multi-cloud managed offering where the underlying infrastructure and capacity required for Kubernetes workloads is fully managed by VMware so your teams don't have to worry about dealing with vSphere with Tanzu on-premise.
"Managed TKS lets you focus on what really matters"
VI admins will get to keep using their good old vCenter Server interface to manage Kubernetes operations. The VMware Cloud console will let VI admins provision Tanzu Kubernetes Grid (TKG) cluster and deliver role-based access and capacity to the developer teams seamlessly.
Tanzu Mission Control Essentials
Tanzu Mission Control Essentials is a component included in Tanzu services. It is a SaaS solution that acts as a management plane for Kubernetes clusters.
Platform Operations are centralized through the use of Tanzu Mission Control Essentials which will be able to leverage VMware Cloud to deliver that holy multi-cloud deployment. Tanzu Mission Control provides global visibility across clusters and clouds and automates operational tasks such as access and security management at scale.
"Tanzu Mission Control Essentials is a component included in Tanzu services"
Tanzu Mission Control Starter
VMware Tanzu Mission Control is a multi-cloud SaaS management platform that facilitates the operations of Kubernetes across private and public clouds, implement security, provision TKG clusters, offers troubleshooting capabilities, IAM, data protection… The list goes on, you get it, it's a great tool when you are heavily involved with Kubernetes.
During VMworld 2021, VMware unveiled a free tier with VMware Tanzu Mission Starter which will include a set of core Kubernetes management features like centralized visibility and policy control against any compatible Kubernetes clusters, be it on-premise or in the cloud.
There isn't much info on it yet but it should be a solid free alternative when paired with Tanzu Community Edition. You can register here if you want to receive updates on Tanzu Mission Control Starter.
Other VMware Tanzu announcements
Other Tanzu releases were made during VMworld 2021 announcements such as:
Tanzu Service Mesh Enterprise: Advanced, end-to-end connectivity and security for applications across end-users, microservices, APIs, and data.
VMware Tanzu Standard for VMware Cloud Universal: You can now leverage VMware Tanzu Standard as part of the Cloud Universal Program if that's what you are into.
TKG New features: Support for Windows containers (experimental), GPU workload support, …
Tanzu Application Platform adds new capabilities.
VMware vSphere 7 Update 3
Although it was released a few days before VMword 2021, it is worth mentioning vSphere 7u3 here since it is a significant update. We won't go through a complete what's new here as it would make for a dedicated blog, instead, we will touch base on the main announcements:
Enhanced performance stats visibility for persistent memory.
Support for NVMe over TCP.
vCenter Server plug-in for NSX.
Simplified deployment process of VMware vSphere with Tanzu, especially network-wise.
"Configuring vSphere Tanzu is much easier in vSphere 7 Update 3"
Improved maintenance operations with vSphere Distributed Resource Scheduler (DRS).
Use of SD and USB drives as boot media deprecated and warning of "degraded" boot volume if used.
Improvements to lifecycle management (depot editing, drive firmware support, vSAN witness management).
vCenter server reduced downtime upgrade (Cloud technology on-premise).
Future Linux distributions will have VMware Tools preinstalled.
I/O Trip Analyzer to get an overview of the vSAN I/O path.
As you can tell, vSphere is no longer just a hypervisor. It is shapeshifting into the foundation bricks of a complete ecosystem of multi-cloud and modern apps.
"vSphere 7 is no longer just a hypervisor"
Refer to the vSphere 7 Update 3 release notes for the full list.
Refer to vSAN 7 Update 3 release notes for the news in vSAN.
VMware Edge Compute Stack
During VMworld 2021 or outside, VMware Cloud environments are getting lots of love and marketing exposition these last few years while on-premise solutions keep bettering with age like good wine. However, edge computing is gaining in popularity and maturity as use cases for AI/ML (Artificial Intelligence and Machine Learning) continue growing. Edge computing refers to scenarios where you need compute capacity as close to the endpoint as possible. In such cases, you can't afford to make a call to the DC or cloud and back for each processing, therefore, some sort of capacity must be on-site to run the App.
"VMware Edge Compute Stack will come in three editions"
One of the sticking points when leveraging edge computing includes the heavy work required in refactoring Apps, processes, and such to run the workloads at the edge. VMware Edge Compute Stack was one of the VMworld 2021 announcements and aims at simplifying that move. It is a purpose-built and integrated stack offering HCI and SDN for small-scale VM and container workloads to effectively extend your SDDC to the Edge.
"Edge compute use cases will solve a wide variety of challenges"
While this stuff is still considered cutting edge, it is without a doubt that we will witness an explosion of use cases in the coming years and VMware will have a bundled and licensed solution ready for those customers ready to jump in.
Project Announcements
Just like Tanzu Kubernetes Grid once was Project Pacific, a number of projects currently in the works have been discussed in one of the VMworld 2021 sessions (A look inside VMware's innovation engine [VI3091]).
"VMworld 2021 announcements including many projects currently in the works"
Project Santa Cruz
The VMworld 2021 announcements introduced an integrated offering with one device that adds edge compute and SD-WAN together. It connects edge sites to centralized management planes for cloud-native and networking teams. It can run containers and cloud services.
"Project Santa Cruz extends SDDC capabilities to the edge"
Project Tanzu Bring your own Host (Santa Cruz)
If you don't want the VMware box, Project Santa Cruz also includes a Cluster API provider that supports customers bringing their own infrastructure to comply with cases such as Hyper-V or specific environment-driven kernel tuning scenarios. You can register bare metal servers as capacity to TKG clusters. Note that it is also integrated with Tanzu Mission Control.
Project Radium
This AI-oriented project Radium builds upon VMware Bitfusion to expand the feature set to other architectures over ethernet such as AMD, Graphcore, Intel, Nvidia, and other hardware vendors for AI/ML workloads. That way, users will be able to leverage a multitude of AI accelerators. Those accelerators will be attachable dynamically regardless of running on-premise, in the cloud, or at the edge.
"AI/ML workloads will benefit from a wider range of hardware offload devices"
Project Cryptographic agility
Crypto algorithms and standards have a lifecycle and become weaker as compute capability advances. What took 6 months to crack 15 years ago may take only a few hours or even minutes nowadays. The goal of this project is to offer crypto agility through increased control over configurations and the ability to switch between standard and libraries.
Project Ensemble
Following the footsteps of VMware cross-cloud services, Project Ensemble will simplify and accelerate the adoption of multi-cloud.
Ensemble streamlines multi-cloud operations through app-centric views of multi-clouds and focuses on how different personas, such as cloud providers and cloud consumers, in the organization interact with the applications.
Project IDEM
A very powerful move towards VMware's multi-cloud vision, this multi-cloud scaled management automation project aims at simplifying management for those customers leveraging several cloud providers by automating any management task on any cloud. Project IDEM can run tasks sync or async through an entirety of cloud APIs that dynamically adapt to new versions through automatic discovery. You can think of it as Desired State Configuration across multiple clouds.
Project Capitola
Project Capitola is an impressive software-defined memory implementation announced during VMworld 2021 that aggregates tiers of different memory types such as DRAM, PMEM, NVMe, and other future technologies into logical memory for easy consumption and managed in the backend by VMware vSphere.
This model will be beneficial for memory-intensive apps and should prove cost-effective since you can leverage memory types at different price points according to your performance needs and it will work with DRS. VMware is currently partnering with Intel and their Optane devices to pioneer this new tech.
"Tiered memory will offer cost-effective solutions to memory heavy apps"
Project Arctic and Cascade
Arctic: Addressing OPS who deliver resources
Currently at the stage of technology preview, Project Arctic will bring cloud connectivity into vSphere in order to open the cloud door to all these customers relying on on-premise environments. By making vSphere "cloud-aware", Project Arctic will make hybrid cloud the default operating model. Organization will be able to instantly access VMware Cloud capacity and deploy VMware Cross-Cloud Services. One use case would be the ability to enable DRaaS in a few clicks.
Cascade: Addressing Devs and DevOps who rapidly develop and deploy apps
Also a technology preview, Project Cascade will provide a unified Kubernetes interface for both on-demand infrastructure and containers across VMware Cloud through CLI, API, and graphical interface. The VM service that was introduced in vSphere with Tanzu to manage VMs from Kubernetes will be ported to VMware Cloud as part of Project Cascade.
"Project Arctic and project Cascade will address the needs of IT OPS and DevOps."
VMworld 2021 in Review
Well, VMworld 2021 announcements came in truckloads and were again highly qualitative. You could clearly see the company's long-term vision and how they go about tackling problems we don't even know we are going to have or already have. It is remarkable to witness how the vision initiated around 10 years ago came true with the shift to the cloud. While we can't ignore that VMware was a little late at the app modernization table with Tanzu, they are now closing the gap with huge investments in that space and tons of use cases being covered.
It seems this year's VMworld 2021 spotlights were mostly on the multi-cloud with a tightening of the partnership with the providers, as well as app modernization with open-source products such as Tanzu Community Edition that we surely appreciate.
However, we are also greatly looking forward to seeing where Edge computing is going to take us with really interesting use cases and announcements that are paving the way for years to come.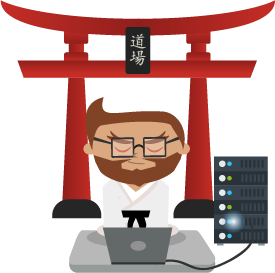 Not a DOJO Member yet?
Join thousands of other IT pros and receive a weekly roundup email with the latest content & updates!