What was nicknamed as project Magna in 2018 which went through 3 phases of beta testing for a self-driving datacenter has been made available during VMworld 2020 as vRealize AI Cloud. A vRealize Cloud Universal subscription with vRealize Operations Cloud will now entitle you to this cutting edge self-optimizing solution backed with machine learning. All you need to do is enable it in vRealize Operations Cloud.
What is vRealize AI?
vRealize AI is a self-learning engine that uses artificial intelligence to do self-healing, self-initiation, self-securing and so on. However, it will be reserved to a niche population at first as it will only be rolling out with the self-tuning and optimization engine for VSAN clusters using vRops Cloud.
The key objective is to improve the delivery of workloads, decrease the number of incidents and monitoring requirements to reduce the overhead in managing the environment.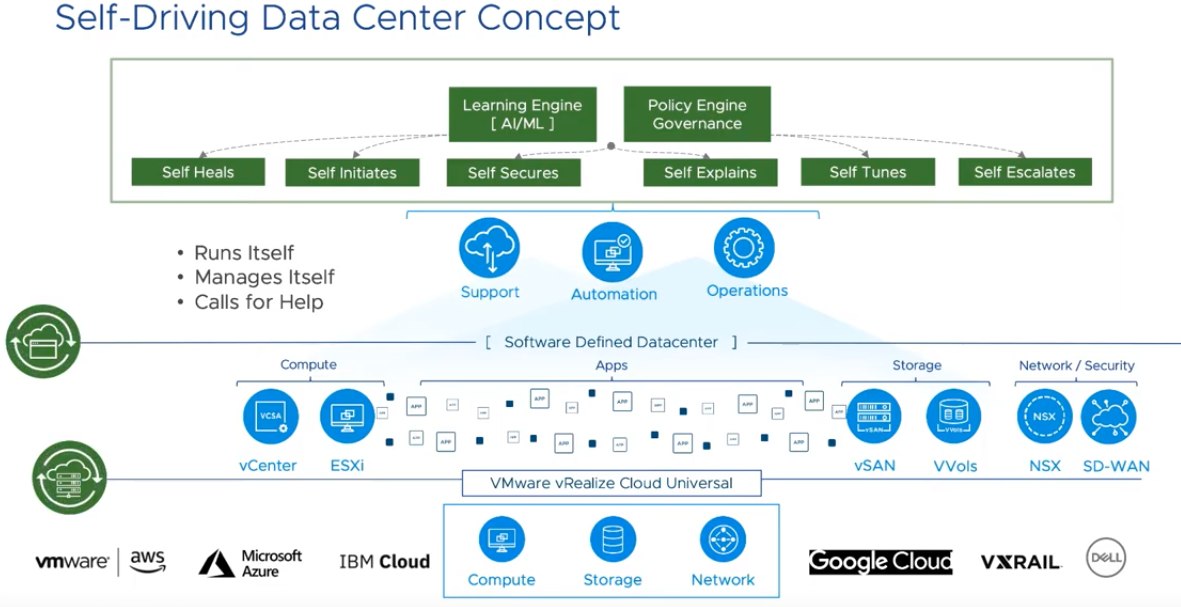 The engine will continuously observe and learn about the environment to adapt to the requirements of your applications and workloads. For instance, with vSAN it can dynamically adjust the settings to optimize key performance indicators and achieve increased IOPS and lower latency.
vRAI will be able to accommodate for the behaviour of a mixed bag of workloads like VDI desktops, DB servers, backup or reporting windows… In a sense, it is comparable to the traffic feature of Google map. The more people use it as a SatNav, the more the platform will learn about traffic at certain times and location to offer alternate itineraries based on expected congestion.
This continuous learning exercise is achieved by following a workflow that runs in a continuous loop.
The proxy sends it to the SaaS data lake where the data is stored.

Monitors how much resources are available, vSAN IOPS and analyses performances.

Sets actions based on continuous reinforcement learning to vSphere and VSAN tuneable based on the largest reward mechanism. No change is applied if it doesn't involve a significant improvement.

vRealize AI Cloud will then compare the KPIs before and after (with and without vRAI).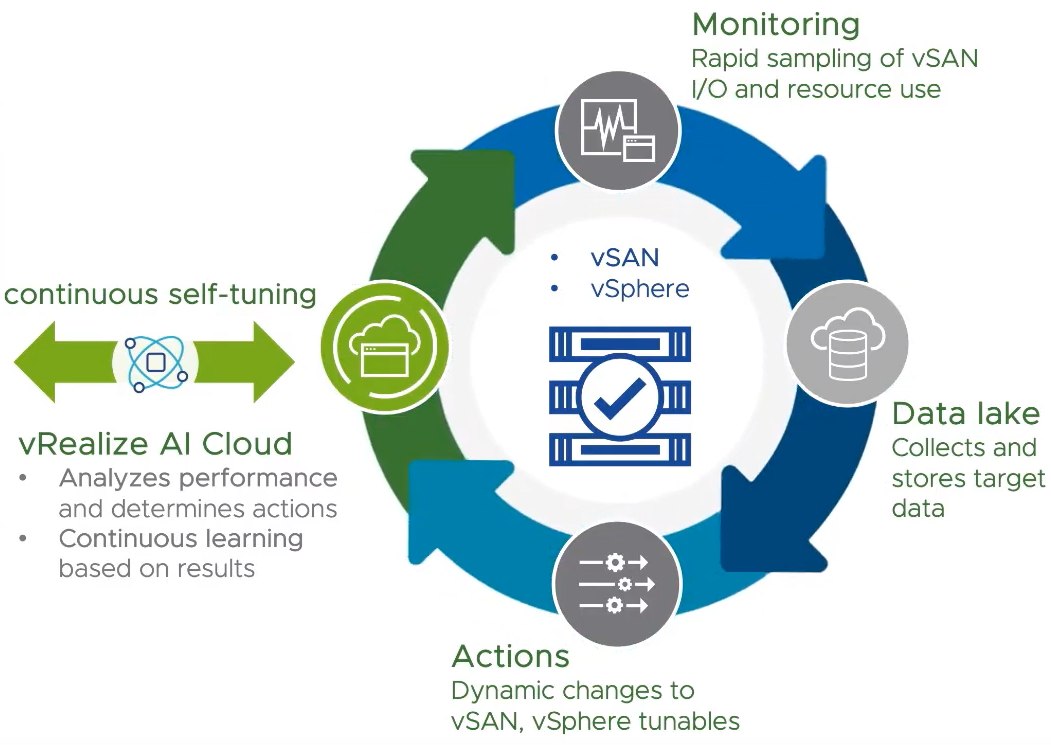 The vRealize AI Cloud in vRealize Operations Cloud offers a holistic view of the improvements that were and that can be achieved. You also get to see which changes have been made automatically on each host (cache size on a host for instance). vRAI will also make recommendations on how to improve performances like disabling deduplication or choosing a different RAID configuration.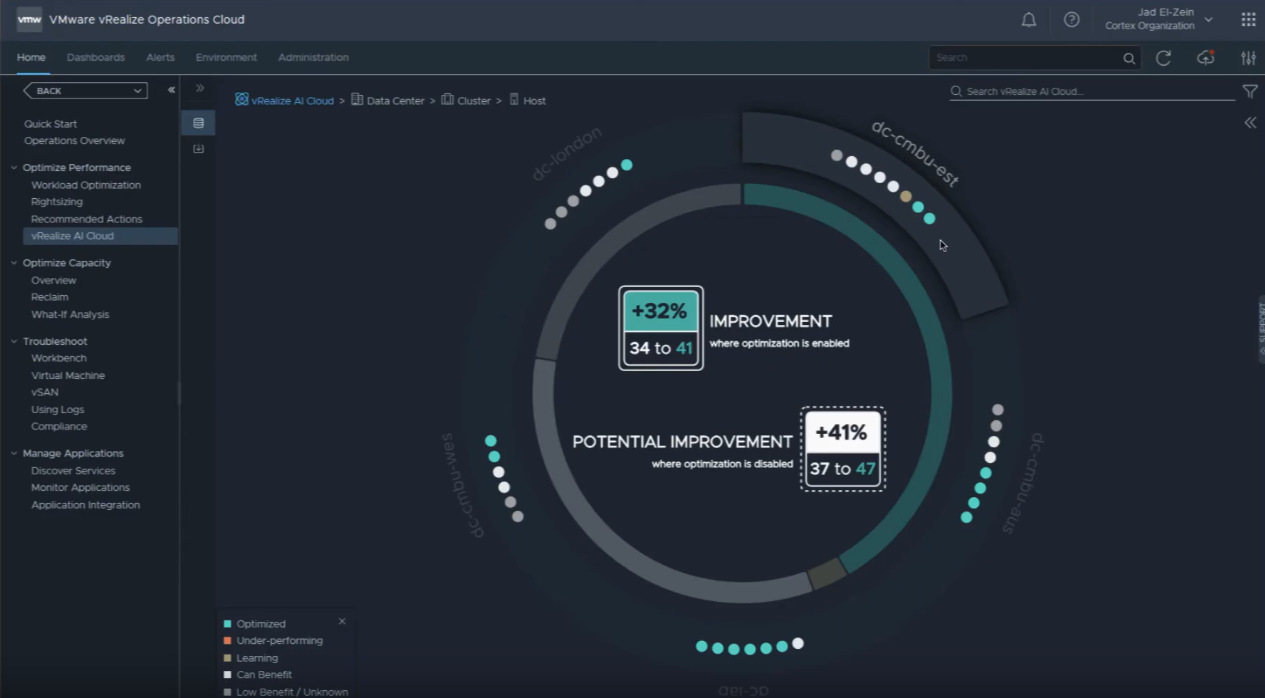 Conclusion
Data and AI are words that we have been hearing over and over again in the last few years and it is likely to stay that way. By investing resources in artificial intelligence, VMware is ensuring that they stay ahead of the curve and that the customers of these products get the best-performing environments without being deep dive experts in storage queue depth, and data reduction algorithms. What we are seeing here is the premise of AI integration in the VMware ecosystem as it is only available for vSAN at first. However, it is without a doubt that this sci-fie like product will be given more features and an extended scope of action.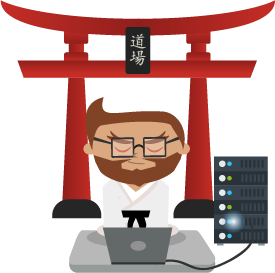 Not a DOJO Member yet?
Join thousands of other IT pros and receive a weekly roundup email with the latest content & updates!