In this blog post, we're going to be answering the most commonly asked questions about VMware certifications. The majority of these questions were asked by those attending our webinar on the topic. If you missed it, you can quickly catch up and watch the on-demand webinar Fast Track your IT Career with VMware Certifications. It's free to watch!
With certification being as important as it is in our industry it's no wonder it generates so many questions, especially with vendors changing the process as often as they do. As such, in addition to our webinar, we also published a blog post that covers the question of "is VMware VCP certification Worth It?" and which also walks you through what is needed to prep for the VMware VCP certification exam, as well as help you understand the requirements.
Again, in this post we're going to be covering common VMware certification questions, so let's jump right in.
Common VMware Certification Questions
What are my options for lab setups for VCP certification study?

A: The best place to start that requires no setup are the VMware Hands-on-Labs. The labs are very detailed and easy to use and allow to tinker a bit without being forced into whatever tasks the lab is about. Outside of that you have nested install options, and we have a number of lab building articles on the Altaro VMware Dojo as well.

What about NSX? What do I need to do first before getting certified in NSX?

A: NSX is covered in the VCP-NV certification track. All you need to do is sit for the VCP Install, Config, Manage class and pass the foundations exam. Then you can take the VCP-NV exam to become certified in NSX.

Do you have to attend a VMware class to take the VCP exams?

A: Yes, there is no way around this requirement. You must attend a VMware sanctioned in-person, virtual, or on-demand course before you can become VCP certified

Why do we need certifications at all? To prove what? Is a person with certification better than a person without certification?

A: Most companies require certifications to prove your competence in certain technology areas. It doesn't mean that those with certs are better than those without, it's just a way to make it easier for prospective employers to understand your level of training and skill in certain technologies.

Do you need to take the current Install, Configure, Manage class to sit for the exam if you've already attended the same class for an older version and gotten certified?

A: If you received your VCP certification after you took the older course, you should be eligible to just sit for the new exam without having to take the course again.

Is the required course training in person?

A: No, there are also virtual and on-demand options as well.

Is VCA (VMware Certified Associate) required for the VCP certification?

A: No, the VCA certification is recommended for those people who are either in sales/marketing roles, or people who are just starting to get into virtualization and system administration

So, there is no option to just self-study and get the VCP certification?

A: Unfortunately, no. While you can self-study and sit for and pass the required exams, you will not have filled the requirements of your certification until you've also attended the required class as well.

How long is the Install, Config, Manage training course from VMware?

A: The in-person and virtual options usually take place over 4 or 5 days. The on-demand option provides you access to the training materials to consume on-demand for 30 days.

If you took an older class but did not get the certification, are you able to take the updated exam?

A: You could yes, but you would not fill the requirements of the current certification. For example, many of the newer VCP certification objectives include version-specific coursework. So, while you could become certified in the older version of the software, you would not be able to fill the certification requirements for the new versions.

Is there a time limit between taking the course and the exam?

A: The only time limit I'm aware of is that of the version you studied for still being relevant. For example, if you studied for vSphere 6.7 and version 7 comes out, the 6.7 VCP certification diminishes in value. Also, there is an advantage to taking the exam soon after your coursework as the information learned will still be fresh.

Is the VCP Install, Config, Manage course available everywhere?

A: There are online virtual classroom and on-demand options. So you could view the material from just about anywhere yes.

Do VMware Certifications Expire?

A: As of 2019, the official answer is no. While there used to be a 2-year refresh cycle VMware moved away from that and towards version-specific designations on their certifications. So while your VCP65 certification won't expire, it also means that you're certified in an older version that is no longer as relevant as a newer version.

Where are the testing locations?

A: There are many to choose from through Pearson Vue and are present in most countries.

If I take the Install, Config, Manage course, and get my VCP-DCV exam, do I have to take another course for the desktop mobility certification?

A: No, the course only must be taken once, then you are able to cert in multiple specializations such as DCV, Desktop Mobility, Network Virtualization…etc…etc. You only have to take a pass the relevant

Where can I find the VCP certification requirements?

A: I cover the requirements for the VCP certification in detail in this blog post.

Is a lab environment provided during training?

A: Yes, VMware will provide a dedicated environment for you to use during the Install, Config, Manage course

Can I run vSphere nested in Hyper-V for training?

A: There is currently no supported way of doing this

Are there any VMware certifications specific to security?

A: At this time there doesn't appear to be one. However, each VMware certification area includes talk about security and best practices, so you'll see it throughout the training materials.

Is the evaluation period for using ESXi really only 60 days? That's not long enough to study!

A: While the eval period really is 60 days, you can apparently turn off the lab when not in use and it will stop the timer. The 60-day amount is for actual runtime, not a set number of days. This can save a significant amount of time.
In order to pass VCAP and VCDX is it recommended that I already work on enterprise systems?

A: While it would likely help, there is no set requirement that you have access to enterprise systems in order to study for and pass the relevant exams.

What other technical skills would be recommended for someone who's looking to become certified in VMware?

A: PowerShell is helpful no matter what technology area you work in.

Wrap-Up
Hopefully, this list covers your main questions. As you can see there are many centered around lab work and recert requirements.
Again, many of these questions were generated by attendees of our most recent VMware webinar. While not a comprehensive list, it does cover the most commonly asked questions. If you have a question that isn't covered here, by all means, let us know in the comments section below and we'll be sure to get you an answer.
Thanks for reading!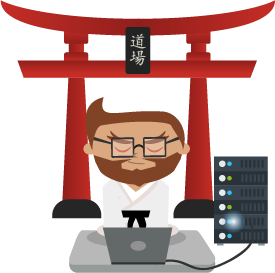 Not a DOJO Member yet?
Join thousands of other IT pros and receive a weekly roundup email with the latest content & updates!