One of the biggest Azure announcements in the last few months has been VMware on Azure. It is now possible to run VMware workloads up in Azure. Microsoft has accomplished this by partnering with CloudSimple, a company that provides VMware-as-a-service in the cloud. This opens many doors for Microsoft as well as creates more opportunities for customers to take advantage of Microsoft's public cloud while still using their VMware toolset.
The Benefits of VMware On Azure
Why would I want to run my VMware workloads in Azure?  It's important to understand the various benefits that this could provide. Below are some of the common scenarios:
Datacenter Mobility
Companies retiring a datacenter now have the option to use the Azure public cloud as a potential platform for temporarily hosting workloads. VMware to VMware migrations are making this process much easier and more possible than before. Also, there are certain use cases for scaling hypervisor nodes up or down on the fly based on workload demands, this is now a viable option.
Disaster Recovery
Azure can now integrate with VMware disaster recovery solutions to meet infrastructure demands on the fly in the event of a disaster.
Application and Developer Features
Azure has a plethora of cutting edge developer tools such as artificial intelligence and machine learning. Now these tools can be incorporated into existing applications without having to re-architecture the VMware side of the environment.
Reduce Total Cost of Ownership
In some cases moving VMware workloads to Azure may increase savings by reducing the total cost of ownership. By being able to optimize resources based on what is needed at the time, some companies can actually save money. Microsoft has released a TCO guide on how to properly analyze the cost savings for moving VMware workloads into Azure.
How to Run VMware on Azure
We know that it's now possible to run our VMware workloads in Azure and the benefits we could gain from it, but what about the architecture behind it? Azure VMware Solution by CloudSimple is a managed service of ESXi nodes that are clustered together with vSphere, VCenter, vSan for storage and NSX for networking. A vCenter Appliance and Platform Services Controller is spun up within every Private Cloud instance that is created. An all-flash vSAN storage configuration is deployed between at least 3 nodes and various networking and firewall options presented for users to customize their networking.
Node Specs
The nodes are essentially bare metal servers in Azure that are rented out by the hour. So when you are purchasing a node, you are paying for a physical ESXi server in the Azure public cloud. Microsoft has released two different options so far when it comes to node size and they are pretty beefy. The minimum requirement currently is 3 nodes. This is because of the VSAN architecture which has a 3 node minimum requirement to run with full functionality:

The pricing model is pay-as-you-go hourly with a minimum of 1 month up front. It has been stated that in the near future there will be an option to "reserve" nodes, which ends up being a cheaper alternative option.
Getting Started with VMware on Azure
If you want to get your hands on testing this out for your company's environment, you can request a Free Trial by filling out the request form. The service is currently available in the East and West US regions, but there are more to come. The VMware-as-a-service infrastructure is pretty simple to stand up. The process for getting started is outlined below:
Login to your Azure account and enable the Microsoft.VMwareCloudSimple resource provider under your subscription
Create the CloudSimple Service, must be installed for each region that will be using the service
Purchase Nodes (minimum 3 for Private Cloud set up)
Set up Private Cloud – This is your isolated VMware environment. Provisioning the private cloud environment can take up to 2 hours to complete
After the private cloud is done provisioning, simply open the CloudSimple Portal from the Azure portal and manage your environment (or deploy VMs)
Connections to Private Cloud with On-Prem Network
To set up connections with on-prem networks and the Private Cloud, there are two solutions available. You can set up an express Route that is a direct connection from on-premise to CloudSimple. This is a high speed secure private connection and bridges your on-prem ExpressRoute circuit with the ExpressRoute circuit in Cloud simple. For more info on how to set it up check out Microsoft's instructions here. The 2nd method to connect on-prem to the Private Cloud is using a site-to-site VPN. Check out the step by step instructions for configuring this here.
Migrations with On-Premise Environment
Since we are using the same VMware infrastructure in the cloud and on-prem, all the normal tools can be used for migrating VMs between sites. We can use VMware Replication, VMware HCX, or even just cold migration Storage vMotions. This is one of the benefits of being able to run our VMware workspace in both environments now. We can use the same familiar tools we've been using without having re-learn new processes.
Support, Maintenance, and Patching
How does support work? Microsoft is stating that Azure VMware Solutions are fully supported by VMware. So you could call into VMware and get assistance with their technology that is being hosted in Azure, however, they recommend contacting Microsoft support first as they will be the liaison between your environment and VMware for any issues that pertain to the hypervisor hosted solution.
The private clouds are completely redundant with built-in HA and backups. Maintenance is non-disruptive to the environment, there may be some performance impact if all nodes are being heavily utilized. In general, there are 3 different types of planned maintenance done by CloudSimple. Back-end maintenance is done for software patches or physical host changes. VMware infrastructure maintenance is done for any configuration changes that need to be tweaked or changed. The last type of maintenance is for the CloudSimple service portal which is used to servicing updates to the management portal. Notifications are posted beforehand to keep clients aware of outage times.
What about patching my hosts? CloudSimple is responsible for the patching of the VMware software on the hosts. So the vCenter, ESXi, and NSX updates are all handled by CloudSimple on the back-end. They will patch all security patches, as well as minor and major version changes. They are committed to a 1 week SLA agreement for critical security patches that are released by VMware.
Conclusion
This is the first but not that last of VMware solutions being released on Azure. Apparently, a second solution is in the works provided by Virtustream. Running VMware workloads in Azure may seem like a pretty niche solution that has it's specific use cases, but the direction Microsoft is going shows that they actually are undertaking what Microsoft CEO Satya Nadella emphasized at Microsoft Build this year. Microsoft is opening its doors and focusing their services on compatibility with Microsoft and other vendor applications. It will be interesting to see what comes out of this new offering in Azure.
What are your thoughts? Do you see this being useful? Why or why not? Let us know in the comments section below!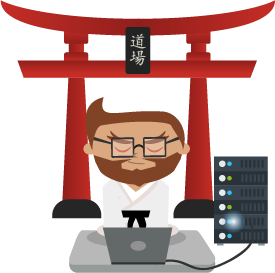 Not a DOJO Member yet?
Join thousands of other IT pros and receive a weekly roundup email with the latest content & updates!