While VMware Horizon was already one of the most advanced EUC solutions on the market, its popularity gained even more traction in 2020. The lockdown imposed by governments all over the world to counter the spread of the pandemic forced most companies to allow their employees to work from home. Unfortunately, many executives in the management layers are still reluctant to teleworking due to a lack of trust and were not prepared for it.
This is where VMware Horizon came in handy and helped some of those businesses offer a solid and flexible infrastructure for their employees to log in and work remotely. Others went the more traditional Microsoft RDS route or opted for a mix of RDP and VDI to increase the maximum concurrent users.
VMware Horizon has gone through many iterations since its launch in 2009 as View and was renamed Horizon View at the end of 2015 with version 6.1.0. In 2020, VMware changed the naming convention once again and opted to follow a 'YYMM' format (i.e. year and month of the release), similar to Microsoft's approach in order to align with the industry versioning standard. The latest version was released as Horizon 8 2006 (2020 – June 06). This new format applies to Horizon Server, Horizon Client and Horizon Agent.
Now let's see what the new features are.
Parallel upgrade
The Horizon cloud pod architecture allows running multiple pods to scale-out the VDI infrastructure. The upgrade process used to be done one by one which was inconvenient for companies with large infrastructures as it would take a very long time. With Horizon 8 it is now possible to upgrade up to 3 pods at a time.
CBRC 2.0
The CBRC feature has been integrated into vSphere for many iterations now. It is a host ram-based caching solution that aims at improving read operation during boot storms in VDI environments. CRBC 1.0 had a maximum cache size of 2GB. Since vSphere 6.5, CRBC 2.0 is the default mechanism which offers up to 32GB of cache. It is the only available choice as of vSphere 7.0 and is supported in Horizon 8.
IC Parents alarms
If you like a clean vCenter and don't like false positives, you will happy to know that it is now possible to disable those pesky memory alerts on the IC parent VMs.
Deployment Options
In Horizon 8, you are now offered a choice as part of the connection server installation process when deploying a new pod. You can choose from several scenarios such as the typical on-premise or in a public cloud with VMware SDDC service.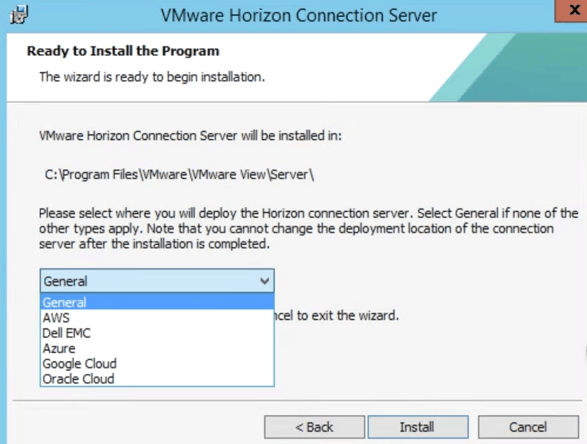 Digital Watermark
A new watermark feature was added to protect ownership and ensure the authenticity of intellectual property. It is only available with Blast Extreme and PCoIP (no RDP). It is configured via GPO where you can adjust the text with a variable like a username, computer name etc… As well as images, rotation, opacity…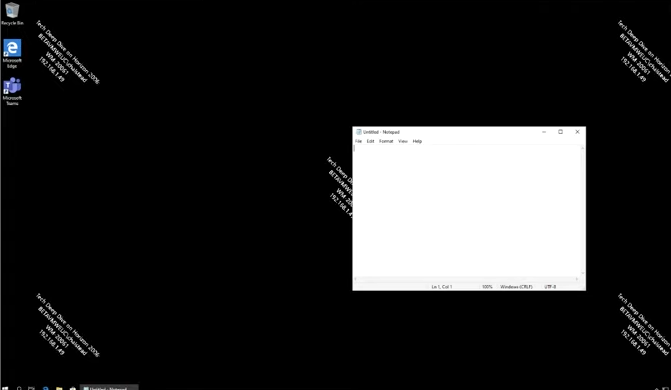 REST API
Some environments interact with Horizon through REST APIs in scenarios including automation, reporting or monitoring. A bunch of new endpoints have been added in the latest release to offer control over authentication, configuration, inventory, monitoring and so on.

They even added a swagger API accessible via a web browser at https://fqdn/rest/swagger-ui.hmtl where you can test the API and learn about more easily and interactively. A paper is available if you want to learn more about how to use the API.
Smart Provisioning
When working with Instant clone pools, a parent VM is created to speed up the desktop creation process. Those parent VMs use up memory and disk which can add up quite a bit according to the number of pools you have and the size of the master VM. Now there is the possibility to provision instant clones without parent VMs. In this scenario the desktop is directly cloned from the replica which is a little slower, however, it is offset by space and memory savings.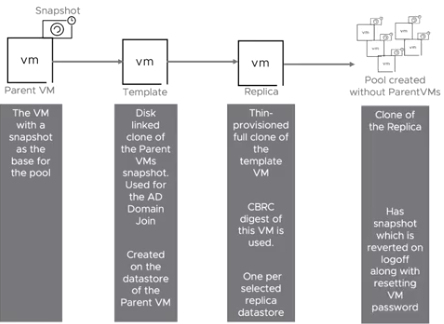 The new smart provisioning feature lets Horizon decide whether to create parent VMs or not automatically by taking into account the density of the cluster, whether it uses vGPU, vTPM, Linux OSes, mixed vSphere/vCenter versions… Note that a pool or farm can contain desktops provisioned in both ways.
Low density of VMs

: Instant clones created

without Parent VMs

.

High density of VMs

: Instant clones created

with Parent VMs

.
Horizon Console Update
The console has been improved with extra information like client versions in the session grid, display names finally supported on global entitlements, added details on the desktop pools and network display. A new admin role has also been added which cannot grant admin permissions to others. While these aren't major changes it is a quality-of-life improvement for operations teams.
Although not the most exciting news, you can now send direct in-product feedback to product teams at the top right of the console. You can, of course, opt out like vSphere.
Client restriction for desktop pools
This feature was already available in RDSH and has been extended to Windows 10 desktop pools. It allows administrators to allow Privileged Access Workstations (PAWS) to access a certain desktop pool. Meaning you can create an entitlement that contains both the user and the desktop that has to be fulfilled in order to receive a desktop in the pool.
Miscellaneous
A whole bunch of other changes obviously happened in this version which you can find in the changelog.
To name a few notable ones regardless:
HTML enabled by default on pools and farms, it is no longer a separate component to install

Location-based printing available in a new UI with VMware integrated printing

H.265 support in Horizon Agent for webcam usage and video conferencing

Blast Extreme improvements with new hevc driver and support for up to two 8K monitors if you are a unicorn

New Linux versions supported along with multi-session on Red Hat and Ubuntu.

Optimizations to video and desktop sharing in Microsoft Teams through GPO.
Feature Mapping
As with every major version step, a bunch of features don't survive the transition. Such features include persistent disks which were made kind of redundant by DEM and App Volumes, Linked clones, JMP server, Persona management, Flex admin, Thin print as well as the Security server that has already been replaced by UAGs in most environments. Note that Linked clones and persistent disks are deprecated, meaning they will actually be removed in a future release.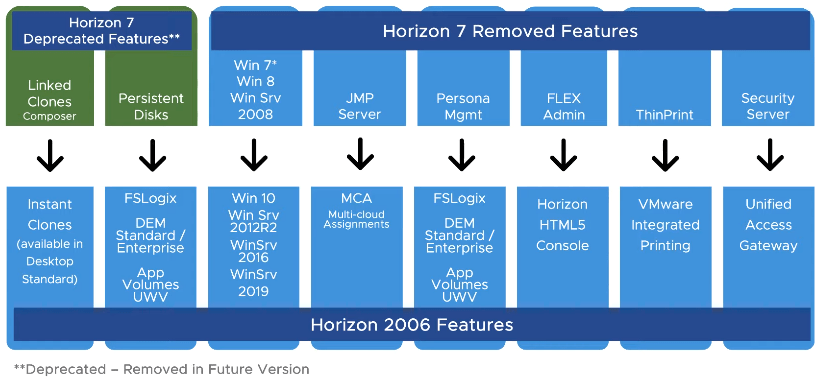 Note that Windows versions up to Windows Server 2008 and Windows 8 are no longer supported. All these deprecated and removed features have been replaced by a more modern and integrated alternative to make it leaner and less confusing.

A few caveats apply to the deprecation of linked clones as there is a slight feature gap with Instant Clones. The latter does not support multi-nic, sysprep, statically assigned computer names as well as unique BIOS IDs. These will hopefully be addressed in future versions.
VMware published a document on Techzone to help customers move away from the deprecated features.
Conclusion
With 2020 becoming the year of teleworking, this latest version of the VMware's VDI platform arrived at a strategic time. It offers existing customers a path to a more modern infrastructure and allows newcomers to start with a new version, meaning they will have time to build confidence in the product without being faced with a major upgrade a few months down the line.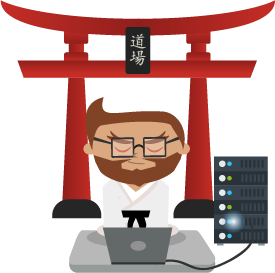 Not a DOJO Member yet?
Join thousands of other IT pros and receive a weekly roundup email with the latest content & updates!