We are excited to announce the newest member of the Altaro Backup family, Altaro EndPoint Backup for MSPs!
Altaro designed this solution to simplify backup for an organization's on-premise and roaming Windows desktops and laptops. With an increasing number of employees working remotely, there has never been a greater need to ensure that offsite resources are regularly backed up. Altaro designed this product for Managed Service Providers (MSPs) as a solution they can offer to their customers and centrally manage through the Altaro Cloud Management Console. Altaro EndPoint Backup is also free for MSPs for internal use (for up to 10 licenses).
As an MSP, you should view this as a new opportunity to offer a valuable service to your customers and protect their business, especially during this time while more of the workforce is connecting from home. Even though they may try to enforce group policies to only store data on their network or in the cloud, end users often store some files locally on their laptops and PCs. This means that this data can also be lost or damaged due to physical disasters, loss, theft, or cyberattacks. Now MSPs customers can help with that through Altaro EndPoint Backup.
Trial & Licensing Altaro EndPoint Backup
The first step to evaluate Altaro EndPoint Backup is to visit the sign-up page for a free 30-day trial. This allows MSPs to test this out in their own environment and prepare to deploy this highly scalable service to their customers. There are no restrictions on the number of users or tenants, and the MSP must provide their own MS Azure cloud storage for the backup files.
Altaro EndPoint Protection is licensed per user as a monthly subscription, with a minimum of 10 EndPoints per month across all an MSP's customers. Altaro's outstanding 24/7 support is part of the package.
Altaro EndPoint Backup Free Edition
As an added incentive, Altaro EndPoint Backup offers a completely free edition for MSPs to use internally for their own organization for up to 10 endpoints a month (excluding the cost of cloud storage).
Configuration is also easy using Altaro's GUI-based wizard.

Getting Started with the Altaro EndPoint Backup Cloud Management Console
Altaro provides backup solutions for Hyper-V and VMware virtual machines, physical Windows servers, Microsoft Office 365, and now Windows EndPoints. These easy-to-use backup solutions have become popular amongst MSPs as they can customers centrally manage all their customers' different backups using the Altaro Cloud Management Console (CMC).
The first step with Altaro EndPoint Backup is in fact to sign up to the CMC. This provides a single pane of glass to perform all configuration, monitoring and management of the EndPoint backups.
Next, perform a one-time installment of the Altaro EndPoint Manager on one of your  VMs or servers running Windows Server 2016 or 2019, then connecting the services. The Altaro EndPoint Manager stores all configurations and backup policies set up in the CMC for customers' roaming and on-premise. The subsequent screenshot shows an admin registering this backup utility.
Configuring the Altaro EndPoint Backup Locations
Managed service providers must configure and manage their own Azure Cloud Storage Account which provides the backup storage location for their customers. This can be done in any Azure site using the affordable Azure General Purpose v1 Storage Account, although higher tiers can also be used if a faster recovery speed is needed. The MSP may also add native Azure storage enhancements, such as encryption or geo-replication to ensure that multiple copies of the data are backed up and available in the event of an Azure site outage. The billable cost to customers for each service tier is defined by the MSP. Once the Azure Cloud Storage Account has been configured, it is registered to the Altaro EndPoint Backup service and can be used as a backup location.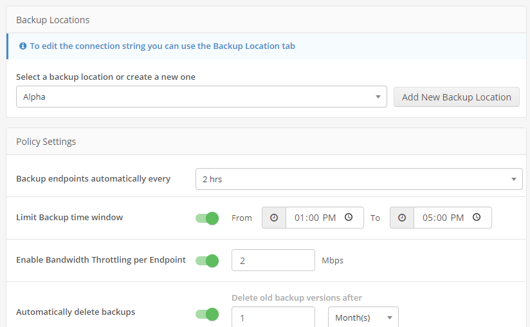 Creating an Altaro EndPoint Backup Policy
Altaro EndPoint Backup lets MSPs to create different backup policies which can align to different service offerings. Each plan allows you to define which user directories and file types to include (or exclude), the Azure Cloud Storage Account to use, the backup frequency (ranging from 1 to 42 hours), the backup schedule, backup retention, and network bandwidth throttling.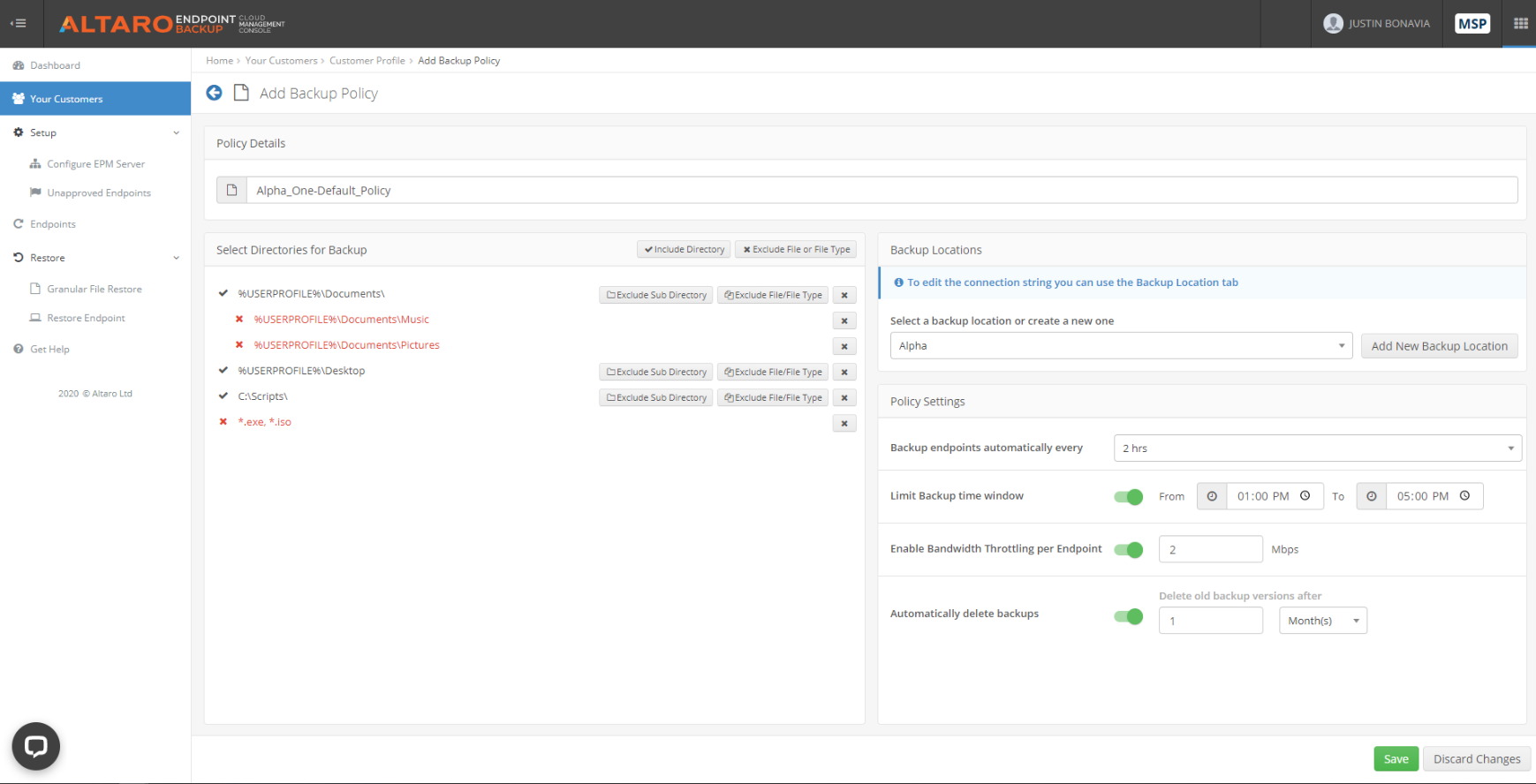 Installing the Altaro EndPoint Backup Agents
Every device which you are protecting with Altaro EndPoint Backup must have a lightweight agent installed. This can be done via a script remotely (recommended) or manually on any PC running Windows 7, 8.1, or 10 (x64 only).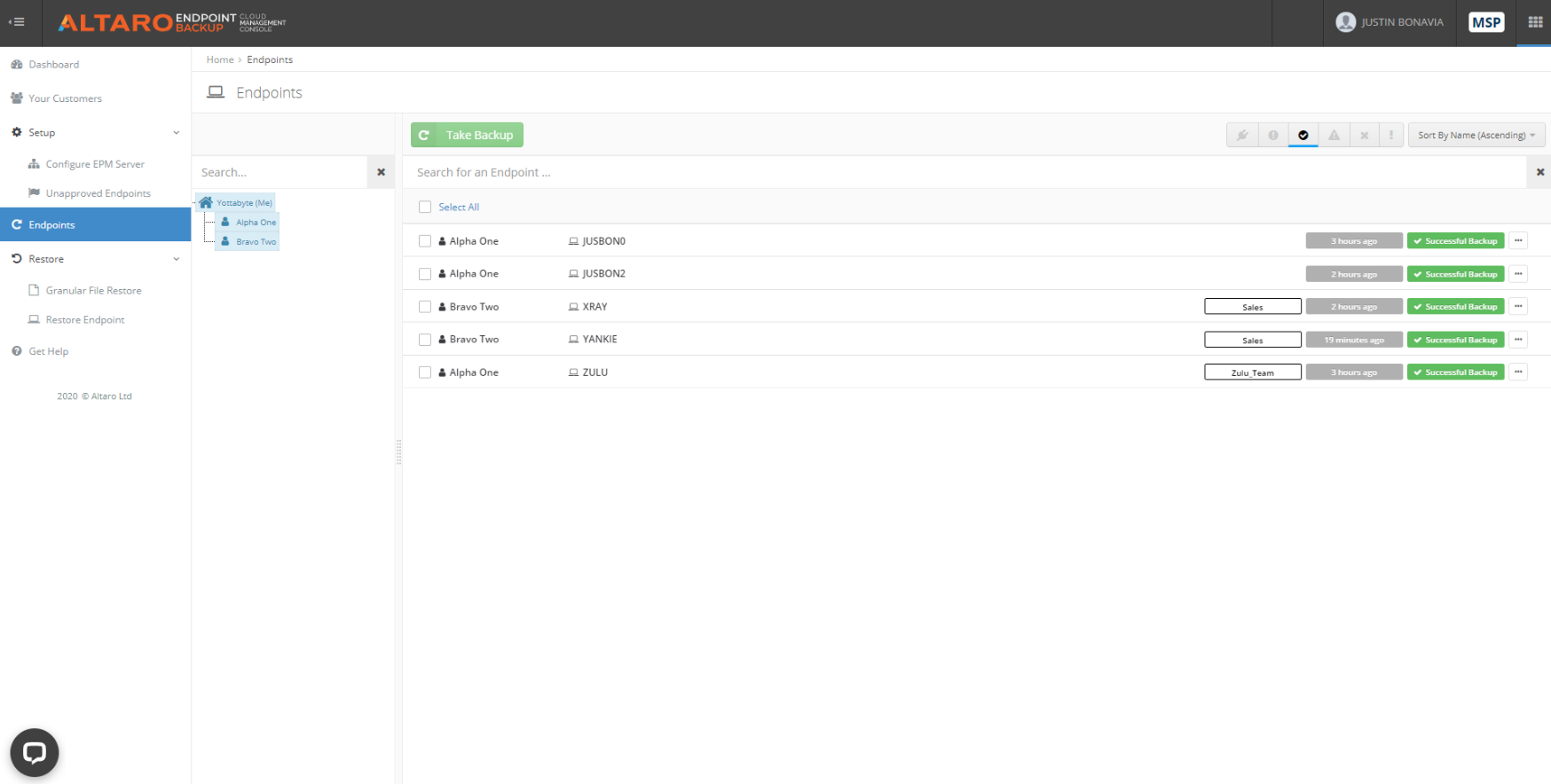 Restoring a Backup from Altaro EndPoint Backup
Altaro EndPoint Backup also makes recovery easy for MSPs to quickly get their customers' data restored. Through the Altaro Cloud Management Console, admins can restore the backup to the user's machine (the original EndPoint) or to a secure location on the corporate network.

The recovery can be from a full backup or individual files can be granularly restored. The Altaro Cloud Management Console shows the status of backups and recoveries across all users.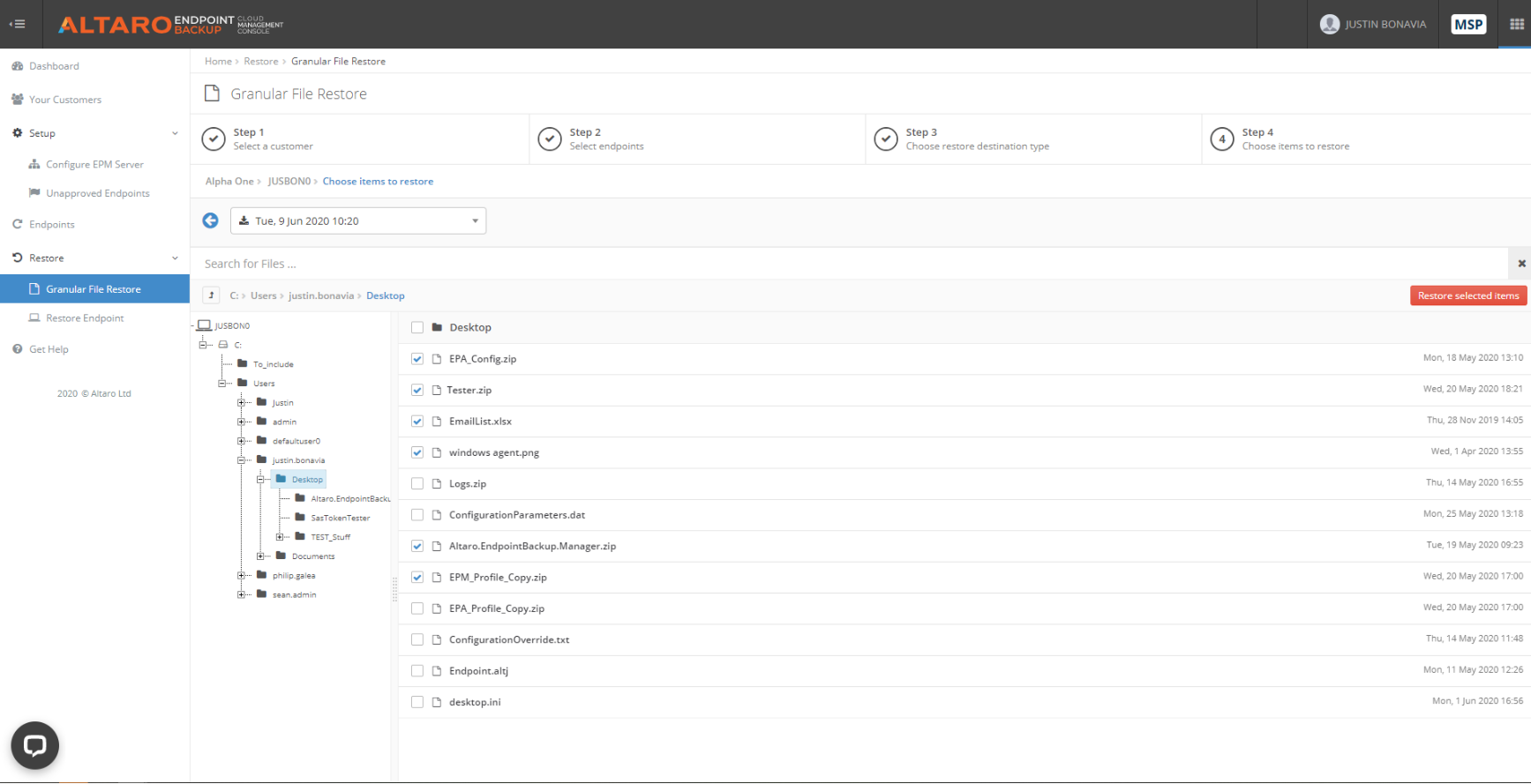 Start your Free Trial Now!
Altaro EndPoint Backup is a great addition to the growing suite of reliable backup solutions we have on offer. It was a highly requested service from our current customers who prefer to have one vendor covering all their backup needs and this release is an important step for us to achieve that goal.
We hope that you are ready to start offering Altaro EndPoint Backup to your customers. Start your free trial now!
Remember that this solution is also completely free for MSPs to use internally for up to 10 EndPoints per month, so check it out now!
Read the full press release about Altaro EndPoint Backup for MSPs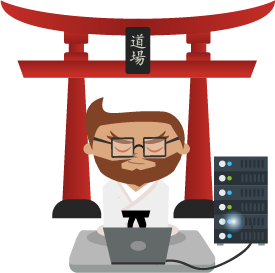 Not a DOJO Member yet?
Join thousands of other IT pros and receive a weekly roundup email with the latest content & updates!