For an established MSP, client "roadmapping" maybe something you're somewhat familiar with. But for those that are new, or for those less sales-oriented MSPs, the concept and its value may be less apparent. That said, not only can client roadmapping generate additional revenue, it also provides other benefits as well.
In this article, we'll define client roadmapping, why you should do it, and reveal the best practices.
Let's get stuck in it!
What is Client Roadmapping?
Client roadmapping is exactly what it sounds like. Your customers turn to you for trusted technology advice based on their business problems. Roadmapping uses your existing knowledge of your customer, their needs in the next 6 to 18 months, and any given pain points to generate a roadmap of improvements, projects, and goals.
How is Client Roadmapping Helpful to MSPs?
The benefits to the client are somewhat obvious in that they know what their technology priorities are when additions/changes are likely to occur, and how much they're likely to cost. That said, the benefits to the MSP may be somewhat less apparent. Let's break down some of the core benefits.
Build trust with your customers
Working with your customer on this project will help to establish a more trusting relationship with your customer. After you generate your roadmap, recommendations, and projected technology spend over the coming 18 months your customer will see you have a detailed understanding of their pain points and their goals.
Strategy vs. Tactics
I've found many people get hung up on these two. Strategy is the long term set of goals and plans for the future. Tactics are the day to day actions of how you get there. I've seen countless MSPs get so mired in the tactics and execution of the day to day, they don't stop to consider the long term strategy for a given client (or even their own business!). A regular roadmapping schedule for all clients will help ensure that time is being spent on the longer-term strategy.
Roadmapping fills the pipeline
Many MSPs evolve naturally from a break-fix business. Necessity is the mother of invention, right? The problem here is many MSPs never evolve out of that reactionary phase and take a more structured look at their strategy. A regular roadmapping process with each client will help your MSP evolve while also increasing customer satisfaction.
Helps you direct technical team training
You're likely to get a sense organically over time of what technologies your customers are using. That said, it's not always super apparent. After you've gone through a roadmapping exercise with multiple customers, you're likely to start seeing some overlap in need. You can use this information to help determine what skills your technical team needs to learn, and which ones they need to learn better.
Helps your customer plan long-term IT Spend
There will always be costs that crop up unexpectedly, but building a roadmap can help your customer keep them to a minimum. It also makes planning costs for large capital expenditure and ongoing services costs (like your support services!) easier as well. I've found that this actually makes the sales cycle with your customers easier because you've provided extra value by taking all the work out of it for them. They can simply look at the long term costs, compare it with their budget and make a decision.
Allows you to add the "Virtual CIO" service to your toolbox
Once you get really good at this practice, it's one of many things you can do as part of a VCIO service. I've seen many MSPs who will package this service up with Monthly/Weekly reports, meetings, ticket reviews, root cause analysis and more. If you're good at something, never do it for free! Once you've fleshed out all these different services roadmapping becomes part of its own premium service. That said, you likely don't want to quit doing it for customers not buying the VCIO service. My suggestion would be to just do it less frequently. For example, as part of a VCIO service, I would expect monthly updates to the customer's roadmap along with changing priorities, costs…etc. Whereas a customer not paying for your VCIO service would maybe have it done once a year. It allows you a chance to pitch that service to customers not currently using it on a regular basis while also filling your pipeline with some additional work.
Makes it easier for you to identify cost-savings for your clients
As part of the roadmapping process, it helps to have an understanding of what your customers current IT spend is. This helps you identify potential savings across their tech stack, and it has the added benefit of potentially getting some costing information from a competitor if you're in a situation where there are multiple service providers in play (which is more common than you think). That said, I would always recommend approaching competitor pricing information from your customers carefully and not being pushy about it. It can be off-putting for some businesses, but if you frame it through the process of strategy and from a place of assistance and value, then you'll find that many are ok with it as they search for the best deal.
How to carry out client Roadmapping
Thus far we've talked about the what and the why of client roadmapping. How is it done from a practical perspective?
Determine your customer's existing IT spend – In order to properly plan and create a strategy, you need to know what your customer's current IT spend and budget is. Pairing this information with their pain points and technology goals will allow you to define priorities and also talk with your customer about whether their goals are realistic in the sense of budget. Once you've got this information you can track it in a secured XLS file to keep things organized.
Identify current issues within the customer's environment – This step may be particularly easy if you're already providing services for them, but if it's a relatively new client I would suggest selling them an environmental assessment. An assessment is a good best practice for all new customers in fact! You can't make good recommendations while you're blind. Trying to do so will only end in disaster for your bottom line and for your customer. Once you have an idea of the existing issues, pairing them with the organization's goals and budget will help you make informed decisions on behalf of your customer.
Talk with the customer about their perceived pain points – This step is easily missed. The more technical oriented MSPs will focus on the issues they have identified and many will forget to talk to the customer about issues that THEY feel are important. They may be aware of issues or technology process issues that don't usually show up inside of an audit. You need to take this into consideration when building a roadmap as well.
Determine what your own defined best practices are – Based on your own experience and the way that you conduct business, are there certain decisions your customers should be making? Are there services or applications you offer, but only in a certain way? Do you have pre-defined "service packages" that contain varying levels of your best services and practices? You'll need to keep these in mind when you're making roadmap recommendations to your customer.
What tools are in your toolbox for highlighted issues? – You need to know what tools you offer to address certain problems. This gives you the information you need to cost out those services/products when you're building your customer's roadmap. For example, if you identify inconsistent backups as a key concern, then you'll price out and bring forward your managed backup solution as part of your roadmap recommendations.
Summary
This article should get you thinking about the steps and considerations you need to take to start strategic roadmapping for your customers. We'll be putting together another article that shows these concepts in action with example costing and pricing because a picture is worth a thousand words. Be sure to subscribe to the DOJO to get notified once that post is published.
Also, be sure to check out our other MSP focused articles! We have a wide breadth of MSP content focused on a number of areas!
Additionally, if you have any questions or thoughts on anything covered in this blog post, be sure to let us know in the comments section below the video.
Until next time! Thanks for reading!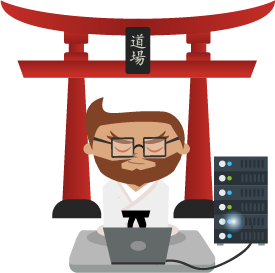 Not a DOJO Member yet?
Join thousands of other IT pros and receive a weekly roundup email with the latest content & updates!