Hello once again all!
As you'll know if you're a regular reader of this blog, we've been talking about Windows Subsystem for Linux quite a bit lately. Windows Subsystem for Linux (or WSL for short) is a new exciting feature in the Windows Server stack that has been introduced in Windows Server 2019. WSL essentially allows you to run Linux CLI apps within Windows natively (No VM Required).
This creates a number of interesting use cases as basically any tool or service that runs on the Linux command line is now open to system admins on Windows Server. This includes anything that will run on the number of different Linux offerings in the Windows Store. Do a search for Linux in the Windows Store and you'll find the likes of Ubuntu, Suse, Debian and more. Any/All of these options can be used after you've installed WSL.
We've been getting a lot of questions regarding how this works and how folks can learn more. It just so happens that I conducted a video interview with Windows Subsystem for Linux Program Manager Tara Raj when I attended Microsoft Ignite. Tara is a program manager at Microsoft on the WSL team, and we talked about use-case, underlying technologies, custom distros and more! It was a great chat and Tara gives a great explanation of the technology and what you can do with it. Thank you very much for your time Tara! I've embedded the interview for your viewing below:
Interview with Tara Raj – Program Manager Windows Subsystem for Linux
Windows Subsystem for Linux Resources
WSL Distro Launcher: Tara mentioned that more information on running your own custom Linux Distros using WSL could be found on GitHub.
Documentation from MS Docs: Additionally Microsoft has a collection of highly detailed textbook style docs that go along with WSL, right down to the APIs if you're interested in that.
Wrap-Up
Hopefully, Windows Subsystem for Linux is starting to look interesting for some of your more open-source workloads. However, I do know that there are many of you that may not have those, and are wanting a bit more of an example of a production use-case. Well, I'm happy to report we actually have an article in the works right now that will showcase one such use case! Be sure to keep an eye out here for when that goes live in the coming weeks.
As always, thanks for reading!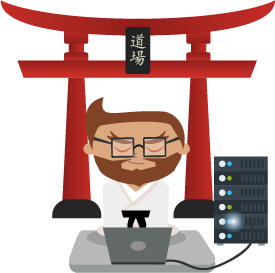 Not a DOJO Member yet?
Join thousands of other IT pros and receive a weekly roundup email with the latest content & updates!