Normally your Azure Stack HCI environment consists of the following components:
Azure Stack HCI Server Hardware
Azure Stack HCI Network Equipment
Azure Stack HCI Operating System
Windows Admin Center
Azure Stack HCI Cluster
Azure Stack HCI Azure Integration
Services Running on Azure Stack HCI
Depending on your deployment, the support will be given by these three parties:
Microsoft Support
Hardware Support of the Server Vendor
Hardware Support of the Network Vendor
Support for Network Equipment
The network equipment is normally supported by the network vendor, there is currently no implication or integration into Microsoft Support or Server Vendor Support.
Support for the Server Hardware
When it comes to server hardware, the support models can be different as Azure Stack HCI is supported on two different types of Hardware.
Validated System:

The hardware is validated and supported to run Azure Stack HCI operating system. The customer must install the Operating System himself and there is no joined support system between Microsoft and the Hardware Vendor

Integrated System:

The hardware is validated and supports running Azure Stack HCI Operating System. The Operating System comes either directly installed from the fabric or is installed by the Professional Services of the Hardware Vendor or one of his partners. Microsoft and the Hardware Vendor have joined a support system. If manufacturer-independent support is needed, Microsoft and the Vendor will cooperate and share tickets. You can either open a Support Case with Microsoft or the Hardware Vendor.
You can find the list of integrated and validated Systems here.
Azure Stack HCI Solutions | Microsoft
Normally you can buy Integrated Systems from Dell, Lenovo or DataOn. Validated Systems are delivered for example by HPE, Secureguard or SuperMicro plus many other Vendors.
If you want to open a request for a Hardware issue, you can do that via the regular support processes of your Vendor. The screenshot below shows the options with Dell.
Example of how you can create a support request online.
How to Create a Support Request Online for Dell EMC | Dell Deutschland
As said, if you have an Integrated System, the support system is shared between Microsoft and the Vendor.
Support Azure Stack HCI Operating System not connected to Azure and Windows Admin Center
First to notice here, the Azure Stack HCI support is always with Microsoft Azure Support and every case is created via the Azure Portal. At the end of every Azure Stack HCI deployment is the connection to Azure and the Resource creation for Azure ARC.
Connect Azure Stack HCI to Azure – Azure Stack HCI | Microsoft Docs
But while deploying Azure Stack HCI, you can still run into issues or bugs with Azure Stack HCI Operating System or Windows Admin Center.
Windows Admin Center Overview | Microsoft Docs
At that point in time, you will not have an Azure Resource to create a support ticket from. You will need to create a generic support ticket. You can do that via the Azure Portal. The screenshot below shows you how.
It works the same for Windows Admin Center in the context of Azure Stack HCI, you just open it via Service Type Azure Stack HCI and detail the Windows Admin Center issue in the support ticket comments.
Azure Stack HCI connected to Azure and other Services deployed on Azure Stack HCI
With Azure Stack HCI connected to Azure, it works like every other Azure Service. You navigate to the Azure Resource representing the Azure Stack HCI Hardware. Afterwards, you create a regular support ticket like shown below.
The difference here is that most of the basic information will be automatically filled in.
Cloud Solution Provider Customers
Customers who have an Azure Subscription from a Cloud Solution Provider, are not within the Microsoft direct support model.
Cloud Solution Provider program overview – Partner Center | Microsoft Docs
They will see the following message when creating a support case.
To create a support request for your Azure Stack HCI, you need to do that with your Cloud Solution Provider. They then can support you directly and solve the issue or escalate the issue to Microsoft. Either way, that can take longer than being in Microsoft Direct Support Agreement.
A customer with an Integrated System can bypass the Cloud Solution Provider by creating a support ticket via the Hardware Provider and asking them to escalate the ticket to Microsoft. They will then use the interconnected support system to work on the case.
You can find a list of Microsoft Direct Support offerings here.
Azure Support Options | Microsoft Azure
Here you can find the price comparison for all plans.
Azure Support Plans Comparison | Microsoft Azure
Cloud Solution Provider Support offerings differentiate from Microsoft Cloud Solution Provider to Cloud Solution Provider. You should always check your contracts with that specific partner.
The Cloud Solution Provider Program varies also in its kind of Partner level.
Cloud Solution Provider program overview – Partner Center | Microsoft Docs
You can find more information on how Cloud Solution Providers need to support customers.
Providing support to your customers – Partner Center | Microsoft Docs
Conclusion
So, as you can see, the support process is simple and already well tested during the private and public previews. Hopefully, that quick guide helps you choose the right support option if you are in a support situation at any point in the future.
To keep honest with this post, especially with new solutions like Azure Stack HCI or complex solutions like Azure Virtual WAN or Azure ExpressRoute, I prefer the Microsoft Support Model over the Cloud Solution Provider Model. Normally Partners and Cloud Solution Providers need some time to ramp up on a new Service and Azure publishes many of them throughout the year. So, there is high pressure on those partners and supporting an Azure Service requires more than developing architectures or deploying services. Normally it ends with Microsoft and Cloud Solution Provider playing "Ticket Ping Pong" and no one wants to be accounted.
With direct support, Microsoft is internally and externally accounted for the case and all cases are reviewed by the responsible product group. So, in the end, it also helps make the product better and reduces the number of issues to be fixed.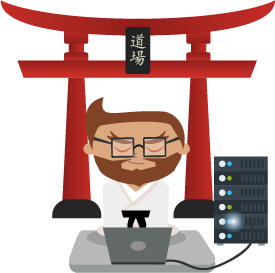 Not a DOJO Member yet?
Join thousands of other IT pros and receive a weekly roundup email with the latest content & updates!