Azure Stack HCI gives us the ability to run virtual machines on-premises on hyperconverged infrastructure and to have all that connected to Azure. But what does this mean for IT admins currently using Hyper-V? Let's find out.
Most people will agree that cloud computing has revolutionized the tech industry and the benefits it brings. It has completely changed the way that IT runs its operations. The cloud provides agility that CIOs now take for granted, such as abstracting services from hardware, dynamic and rapid scalability, empowering DevOps through automation, and consumption-based billing.
While almost every organization wants to leverage this technology, not all workloads make sense on public clouds like Microsoft Azure. This is often due to regulatory restrictions that require customer data and services to be hosted onsite. Microsoft has addressed this challenge by offering on-premises hardware solutions through its partners, in the form of Azure Stack Hyperconverged Infrastructure (HCI). This allows Hyper-V administrators to use Azure services typically reserved for cloud on on-premises workloads.
What is Azure Stack HCI?
Azure Stack HCI is a virtualization-focused operating system that blends Windows Server technologies and hyperconverged infrastructure (HCI) with new Azure hybrid cloud integrations. Azure Stack HCI features the same Hyper-V based software-defined compute, storage, and networking as Azure Stack and shares the same rigorous testing and validation criteria. Microsoft has partnered with dozens of server, storage, and networking vendors to provide validated hyperconverged solutions often referred to as a "datacenter in a box ".
This new operating system is currently being developed in parallel with the Windows Server family. It aims to strike a balance between the traditional general-purpose OS and a more purpose-driven virtualization solution such as ESXi. Azure Stack HCI focuses itself on being the "go-to OS" for Hyper-V, Failover Clustering, Storage Spaces Direct (S2D), Virtual Desktop Infrastructure (VDI), and Software-Defined Networking. Even though technically a different OS, it still keeps the standard management and maintenance operations familiar to Windows Server and Hyper-V admins.
Azure Stack HCI Benefits
Azure Stack HCI was designed to offer the solutions inherent to the Azure Stack cloud whilst still retaining the benefits that come from a traditional datacenter such as defined security and compliance. As for the cloud solutions brought on-premises, there are quite a few exciting ones (and expecting more to come), but one that really stands out is Azure Monitor. This tracks what is happening across your applications, network, and infrastructure, and stores that telemetry data on Azure Blob Storage. It then uses advanced analytics with AI to make sense of the data and proactively identify problems before they become real.
Similar to 'Windows Server Core', Azure Stack HCI has no GUI which directed Microsoft's focus to increase on providing centralized hybrid cloud management (the fabled Single Pane of Glass). This meant major improvements to Windows Admin Center (WAC) especially with regards to the management of virtualization related roles (the S2D setup wizard is super!) as well as a bunch of new shiny PowerShell cmdlets. Windows Admin Center makes it easy for Enterprises and Managed Service Providers (MSPs) to add the value cloud brings to your on-prem Azure Stack HCI with wizards for setting up solutions such as Azure Site Recovery (DRaaS), Azure Arc (Azure management), Azure File Sync, Cloud Witness (think Failover Quorum but Cloud), Azure Monitor, and Update Management (think WSUS.. but when it works).
Many industry experts believe that Microsoft now has the strongest hybrid cloud solution, and its latest addition, Azure Stack HCI, is certainly a game changer for current Hyper-V users due to its flexibility, ease of use, and seamless integration with Azure. Industry partners seem to agree as many are now starting to test and support Azure Stack HCI.
Free Azure Stack HCI Backup
As announced during Microsoft Inspire 2020, Altaro is an early adopter of the technology and our award-winning backup solution Altaro VM Backup now fully supports backups of Azure Stack HCI 20H2.
Azure Stack HCI solution overview – Microsoft
Start your free 30-day trial of Altaro VM Backup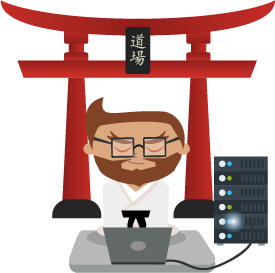 Not a DOJO Member yet?
Join thousands of other IT pros and receive a weekly roundup email with the latest content & updates!