It's easy to become somewhat confused by precisely what vCloud means, so let's take a brief look at the evolution of vCloud, and where it sits in the market today.
What is VMware vCloud?
VMware first introduced the vCloud tag at the Las Vegas 2008 VMworld conference. In the early days, there were many iterations from vCloud Pavilion, through to vCloud Hybrid Service and vCloud Air. The latter providing public Infrastructure-as-a-Service (IaaS) running VMware vSphere, which was eventually acquired in 2017 by French cloud computing company OVH.
Over the last few years, VMware has shifted its focus towards cloud-agnostic software, and the integration of its products with leading cloud providers from Amazon, Microsoft, Google, IBM, and Oracle.
Furthermore, VMware aims to bring the benefits of cloud computing to customer's existing data centers through private and hybrid cloud deployments, as well as to provide platforms for cloud-native application development.
Although VMware still partners with OVH on go-to-market solutions and customer support for vCloud Air, the acquisition suggested a move away from VMware itself being a cloud provider, and more towards engineering the building blocks for deployment and management of multi-cloud platforms.
VMware now classifies vCloud Suite as a cloud infrastructure management solution, and VMware Cloud Director (VCD) a cloud-service delivery platform for Cloud Providers.
According to VMware's Public Cloud Solution Service Definition, VMware Cloud Providers are a global network of 'service providers who have built their cloud and hosting services on VMware software.'
VMware powered private clouds, service provider-managed or unmanaged, use VMware vSphere with the vRealize Suite, which forms VMware vCloud Suite.

VMware powered public clouds use VMware vSphere, with VMware Cloud Director, and generally with vCloud Application Programming Interfaces (APIs) exposed to its tenants.
The original vCloud Air is available through OVH as a hosted private cloud with enterprise support including vSphere, vCenter, and NSX.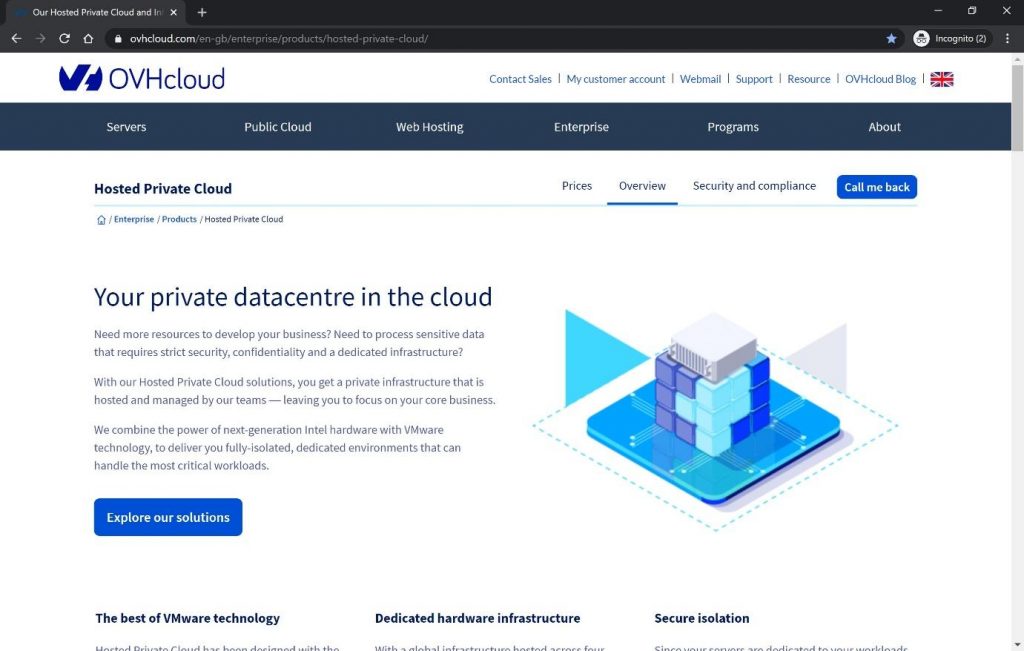 vCloud Suite
VMware vCloud Suite is the combination of enterprise-proven virtualization platform vSphere, and multi-cloud management solution vRealize. VMware vSphere includes the hypervisor ESXi, providing server virtualization, and vCenter Server, which centralizes the management of physical ESXi hosts and Virtual Machines, as well as enabling some of the enterprise features like High Availability.
Included with vSphere in the vCloud Suite is vRealize, delivering automation, orchestration, and intelligent IT operations for multi-cloud management and modern applications.
The vRealize Suite contains the following products:
vRealize Automation: for self-service provisioning, service catalog, governance, and policy enforcement, with aligned orchestration to automate runbooks and workload deployments.

vRealize Operations: offers Machine Learning (ML) powered and self-driving operational capabilities, monitoring, automated remediation, performance optimization, capacity management and planning, usage metering, service pricing, and chargeback.

vRealize Log Insight: enables centralized log management and intelligent log analytics for operational visibility, troubleshooting, and compliance.

vRealize Suite Lifecycle Manager: provides a comprehensive application lifecycle management solution for vCloud Suite.
Additionally, vCloud Suite fully supports vSphere with Kubernetes and integrates seamlessly with other Software-Defined Data components such as NSX and vSAN.
With multi-tenancy, each vRealize Automation tenant can have its own branding, services, and fine-grained permissions. The following screenshot shows an example of tenant branding at the login page: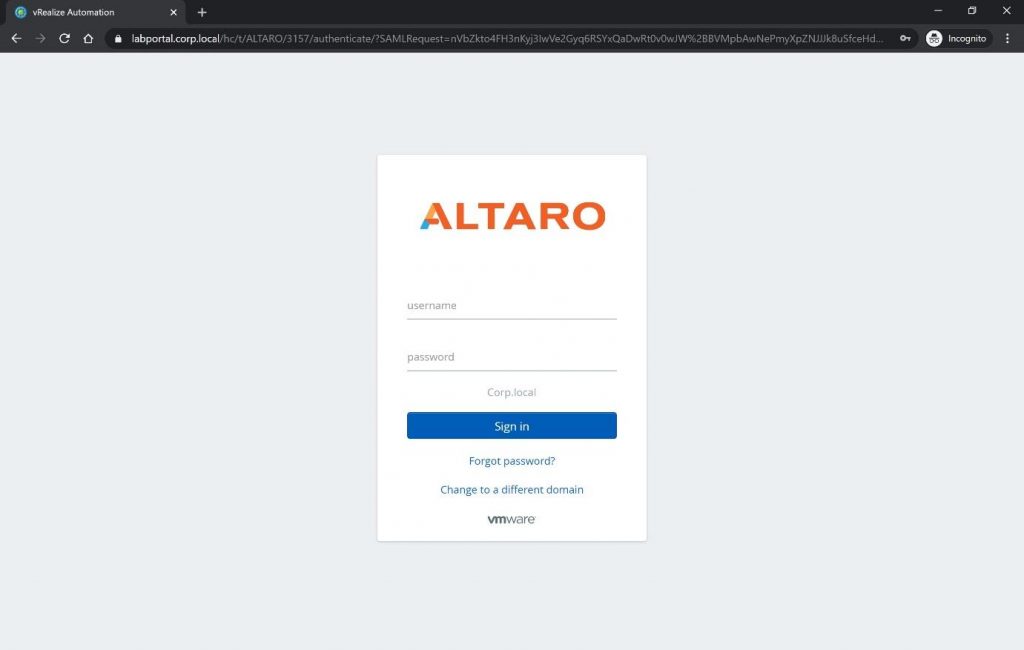 In the screenshot below the vRealize Automation design canvas is shown, administrators drag and drop the relevant components for automated builds with corresponding catalog items: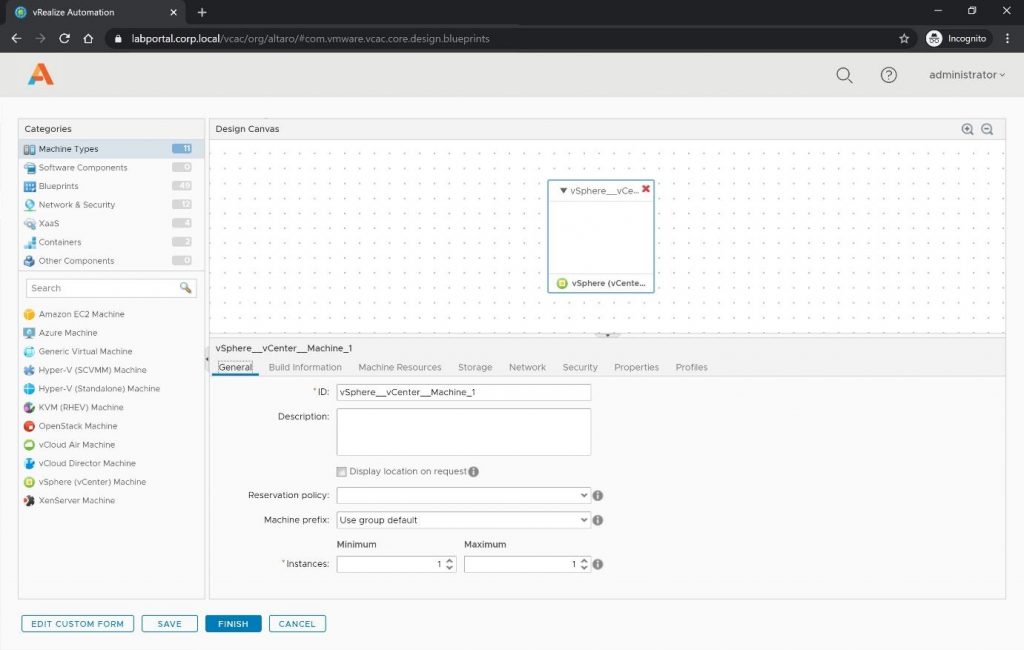 The following screenshot shows the vRealize Automation self-service catalog: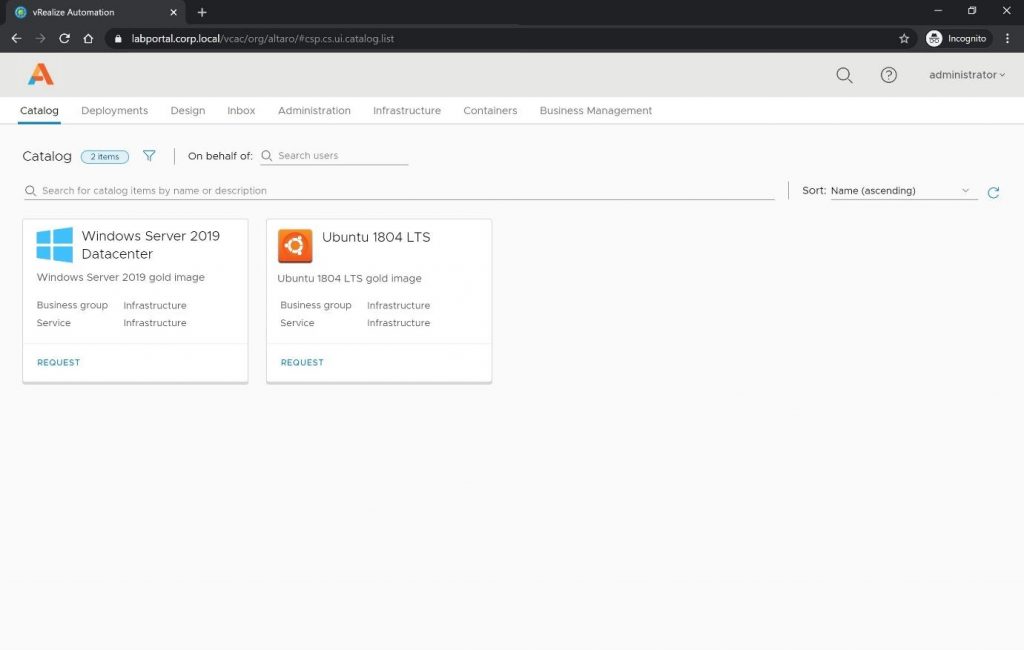 A VMware powered hybrid cloud can be formed by connecting the private cloud with either a public VMware cloud offering or another public cloud service. With vCloud Suite, infrastructure administrators can integrate private and public clouds to deliver and manage modern infrastructure across many environments. Developers can consume infrastructure services through APIs, Command Line Interface (CLI), or the service catalog Graphical User Interface (GUI).
VMware Cloud Director
VMware Cloud Director is VMware's flagship cloud services platform, empowering cloud providers with an API-driven cloud infrastructure control plane for managing global VMware Cloud estates. Available through the VMware Cloud Provider Program (VCPP), VMware Cloud Director allows cloud service providers to automate the provisioning and management of compute resources and services.
As the portfolio of Software-as-a-Service (SaaS) offerings in the VMware Cloud brochure continues to grow, the formerly named vCloud Director became VMware Cloud Director in v10.1 to align with VMware's branding direction.
The key features VMware Cloud Director delivers are as follows:
Resource pooling of compute into virtual data centers providing Software-Defined Data Centre operations with a range of tenancy options. 

Cloud-native development of modern applications with enterprise-grade Kubernetes and lifecycle management.

Automation of service-ready cloud stacks as code with the VMware Cloud Director Terraform provider.

Policy-driven approach to cloud resource management, tenancy, security, compliance, and independent role-based access control.

A centralized suite of services for integrating with leading storage, network, security, data protection, and other software vendors, or custom applications.

Single pane of glass management and monitoring for enterprise-scale multi-SDDC environments, with deep visibility and predictive remediation.
These features allow cloud providers to upscale from IaaS hosting to a profitable portfolio of cloud-based services, providing the following key benefits:
Operational efficiency of deploying and maintaining cloud infrastructure for tenants across multi-cloud environments.

A unified management plane for the entire service portfolio.

Reduced time-to-market for new and expanding services.

Additional revenue streams from publishing custom service suites and integration with Independent Software Vendors (ISVs).

VCD is one of the main steps towards becoming Cloud Verified, providing an industry-standard mark of recognition.

VMware Cloud Customers:

VMware Cloud-as-a-Service consumption model of the full VMware Software-Defined Data Center, as a managed service or with a complete set of self-service controls.

Ease of provisioning and scaling cloud services and partner services from a single web interface or set of APIs.

The fastest available path to hybrid cloud services and workload migration, whether that be for portability between cloud platforms, or backup and evacuation of existing data centers.

Leverage Infrastructure-as-Code (IaC) capabilities across various cloud platforms with native container services and Platform-as-a-Service (PaaS) for Kubernetes and Bitnami.
Many of the benefits above work in turn for both parties, alongside taking advantage of economies of scale to facilitate business growth with minimal operational overhead.
You can try both vCloud Suite (vSphere with vRealize) and VMware Cloud Director using VMware Hands on Labs. At the time of writing the Cloud Director lab is still running v9.7, so is still branded vCloud: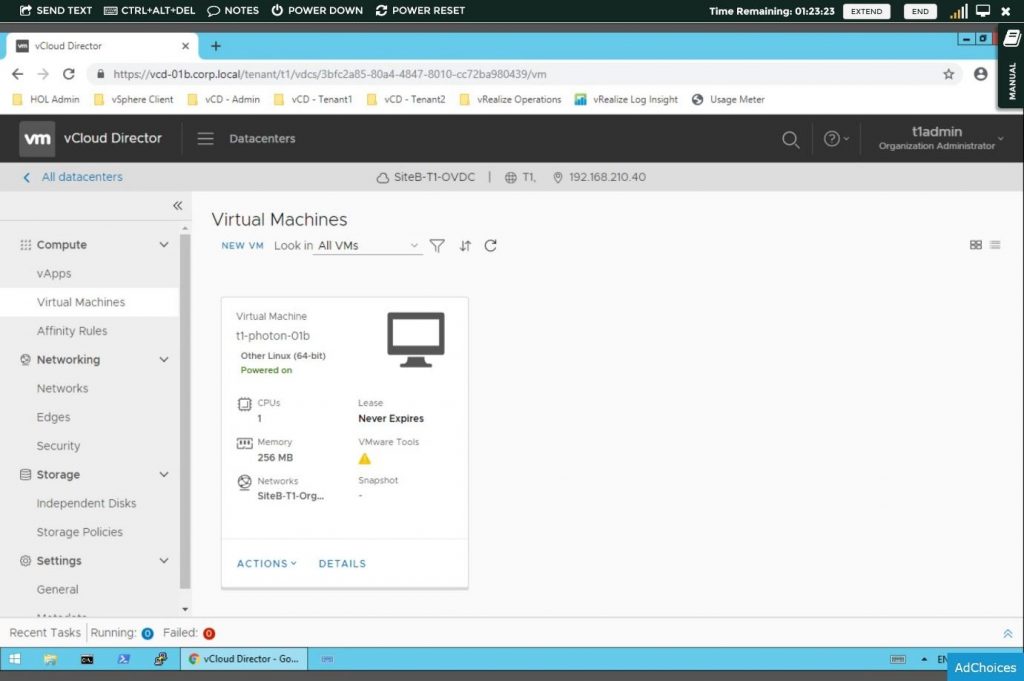 vCloud Connector
Accompanying VMware Cloud Director, vCloud Air customers can make use of vCloud Connector, a vSphere plugin that connects up to 10 private and public clouds. Using vCloud Connector, customers can harness the full power of hybrid cloud from a single interface to help with private data center extension and migration to a public cloud, or management of hybrid cloud setups.
One of the great features of managing distributed environments from the vCloud Connector plugin is the content sync, creating a single content library across the entire cloud environment for increased operational efficiency and simplified source catalog management.
The vCloud Connector itself has been available as a free download since v2.6. Although the latest version of the product is v2.8.2, updated in March 2016, it remains available to support vCloud Air customers with multi-cloud management.
Summary
To summarise, in this article, we have taken a journey through the vCloud brand from its early days as an IaaS provider, which is still available today through vCloud Air and vCloud Connector, to the present-day iteration of vCloud Suite for multi-cloud management. With the modern vCloud Suite, we can standardize, automate, and monitor distributed vSphere environments with vCenter Server and vRealize Suite.
We observed that VMware Cloud Director, previously vCloud Director, remained a staple of the vCloud brand, underpinning global cloud deployments for a community of cloud service providers up to the present day. The VMware Cloud family continues to grow across private and public clouds, with customers creating hybrid clouds, and VMware Cloud Director enables the automation of these deployments at scale.
VMware's cloud-agnostic slogan Any App, Any Device, Anywhere, aims to keep the companies existing market-leading products, and recent acquisitions, relevant for customers with cloud and multi-cloud strategies. By embedding further native PaaS services for developers building modern applications, and a wide range of additional SaaS offerings, both vCloud Suite and VMware Cloud Director are crucial elements of this vision.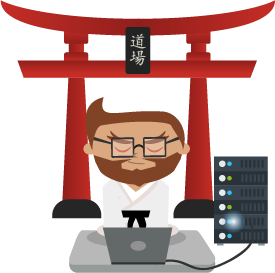 Not a DOJO Member yet?
Join thousands of other IT pros and receive a weekly roundup email with the latest content & updates!