Since the release of Horizon 7, VMware has been very reactive in the release cycle of its VDI solution by regularly adding new features and fixing issues. The latest version 7.11 also brings a fair amount of improvements and fixed bugs. In this blog, we are going to review the upgrade process and have a look at what's new.
Note that the release notes for Horizon Client 5.3.0 were also released at the same time.
Before you start
Remember to always check the VMware product interoperability matrix to ensure that the new version is compatible with the other versions installed in your environment (App Volumes, ESXi, vCenter…).
Note that the supported upgrade order specifies that you should upgrade View Composers before the Connection Servers if you still use them. This procedure concerns only connection servers that are not paired with a Security Server. Security Servers are obsolete and should be replaced with Unified Access Gateways (UAG) appliances.
If you have several Connection Servers in a replicated group you can upgrade them one at a time without causing a service interruption for the user. However, the users that have a session on a Connection Server configured in "Tunnelling mode" will be disconnected so you might want to plan a maintenance window in this case.
It is always a good idea to take some notes or screenshots of the configuration settings in your Horizon Administrator console should things go sideways (pools, servers, database, global settings…).
Prepare the environment
Take a snapshot of only one Connection Server.

You can do it manually but the Horizon LDAP database is automatically backed up every day by default. The .LDF files are stored in:
C:\ProgramData\VMware\VDM\backups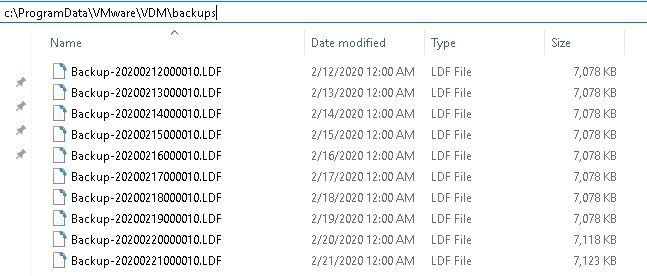 Ensure no user is connected using tunnelling mode on the server.
To identify the Connection Servers in Tunnelling mode, Go to Settings > Servers > Connection Server > Edit. If the "Use Blast Secure Gateway for all Blast connections to machines" radio box is checked it means it is.

Horizon upgrade
Go to the Connection Servers list and disable the one you are about to upgrade. This is a best practice.

Click OK at the warning about the disabling of the server.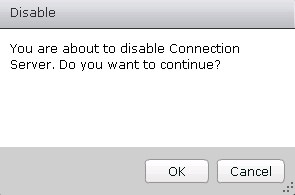 Launch the Horizon 7.11 installer on the Connection Server.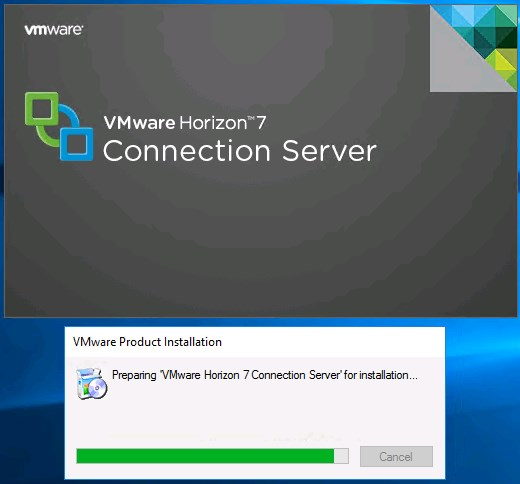 Click Next in the first window.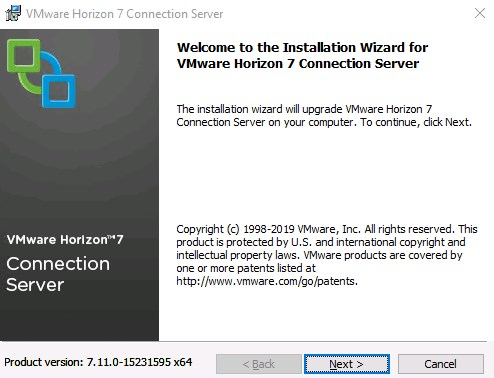 Accept the EULA and click next.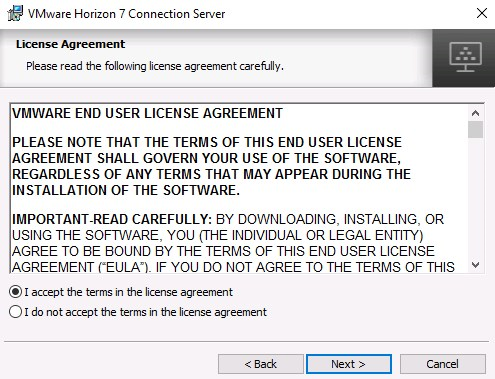 You can choose to join the CEIP. I don't as it is a lab environment that has no internet access.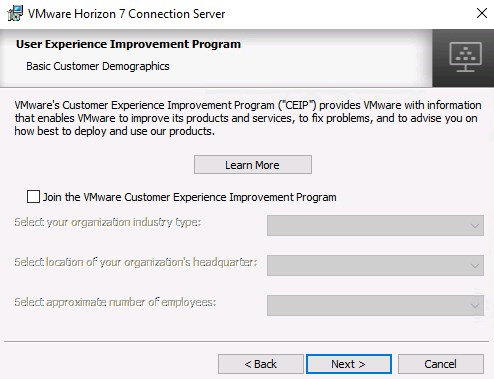 The installer will automatically stop the services and update both Horizon and the LDAP database. It will take a few minutes. Once the process completes, click Finish.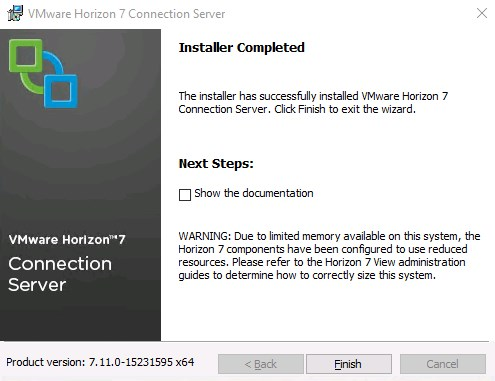 Wait for the server to come back as green in the Horizon Administrator console. I usually like to wait a few minutes to allow for the LDAP database to replicate and synchronize all the nodes correctly.

Re-enable the Connection Server. It should show the new version in the Version field.

When you confirmed that the upgraded node is healthy, repeat the steps 3 to 9 on the remaining nodes one by one.
What's new in Horizon Version 7.11?
I am going to show you here the main new features with a few screenshots :
Horizon Console
The Horizon Console, which is based on HTML5, is now the recommended way of administering Horizon 7. The existing Flash-based web interface is still supported but will be deprecated somewhere in the first half of 2020.
If you check the Always choose this option, you will no longer have the possibility to use the Flex client by default. The preference is stored in the browser file settings (%USERPROFILE%\AppData\Roaming\…).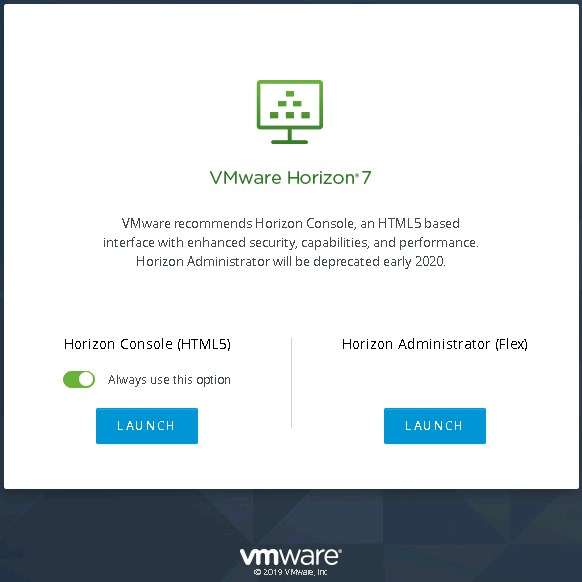 Help Desk
VMware made sure that the Help Desk tool "is more visibly integrated into Horizon Console. In Horizon Console". Don't get too excited about this one though…
They just added a tab that tells you to use the search icon, which isn't changed. At least now you don't have to google your way around the first time.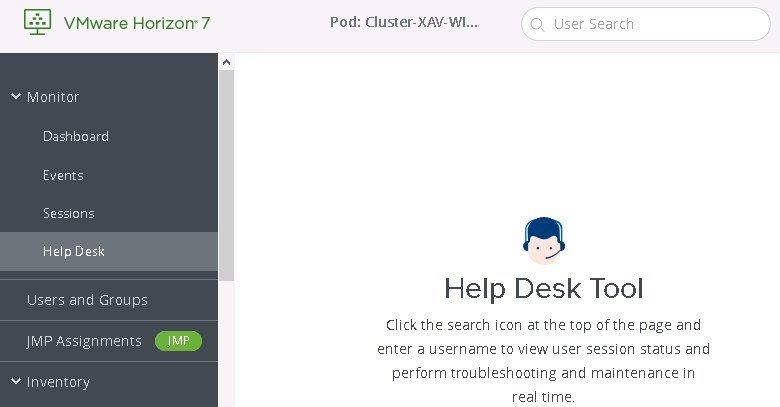 Client Restriction Settings
It is now possible to configure a minimum version for the client allowed to connect to the infrastructure.
Go to Settings > Global Settings > Client Restriction Settings > Edit.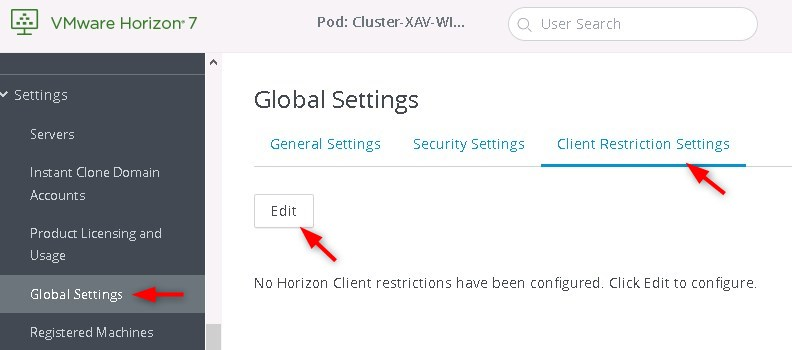 Specify the minimum version for each client and type a warning message that will appear when a user uses an unsupported client version. You can also choose to block additional clients if you want to restrict the settings to only those listed in the windows.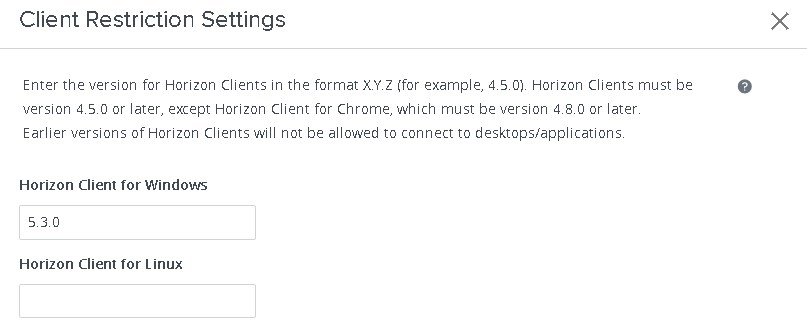 The user receives a Login Failed error with the message below when using a client older than the restriction. (Note that you can simulate this behaviour by setting it to a version that doesn't exist yet, like 5.9.0).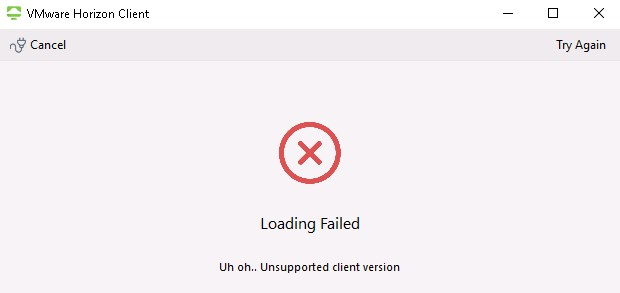 Connection Server resources usage
You can now view the CPU and memory consumption for each Connection Server from within the console. Click the View link below the system health box.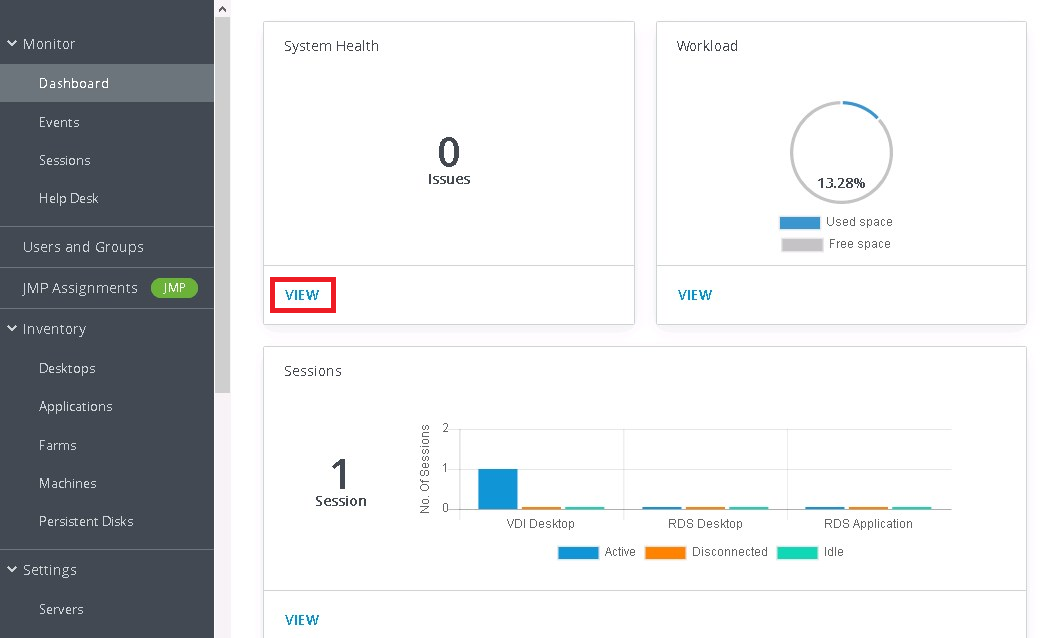 You get some details about the Connection Server and other infrastructure components there.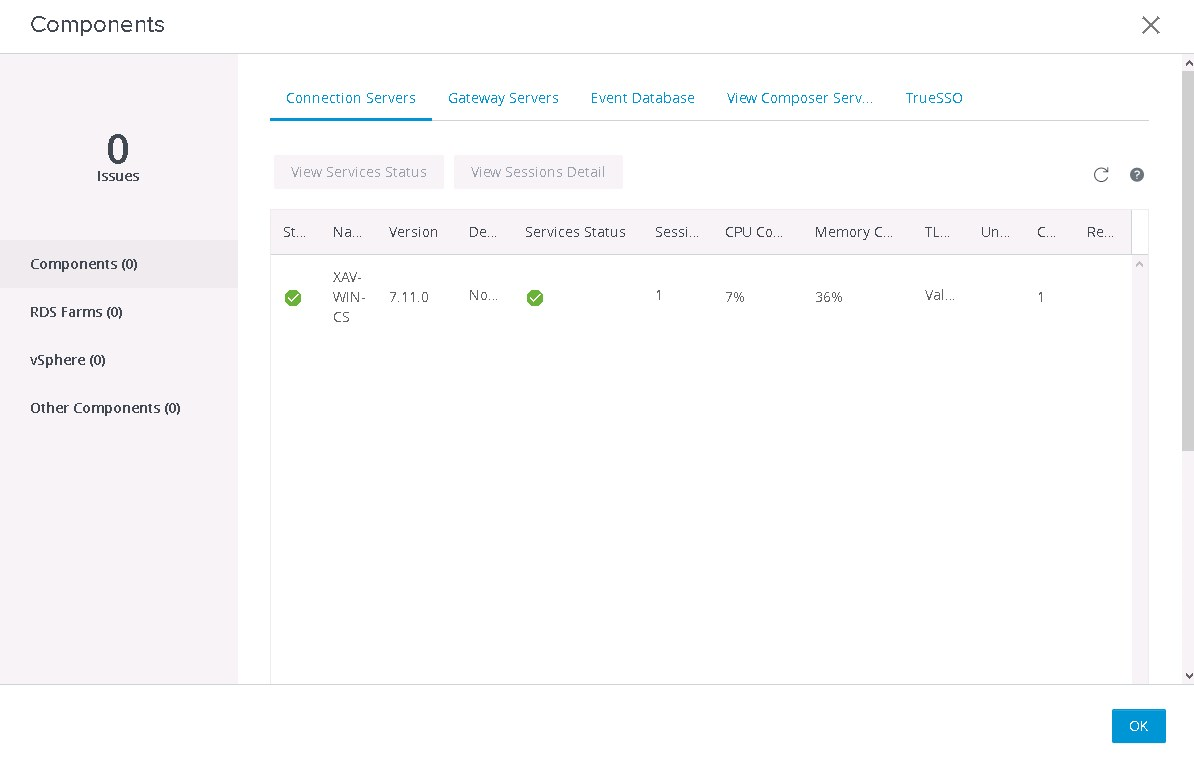 Task status progress
There is now a progress bar that shows the pending image status of a master virtual machine, and a snapshot being published for the first time for an instant clone pool. It is to note that the bar is not dynamic. You have to refresh the page to get a new status (if it has changed). Which I found a bit silly but can still be useful to track the task.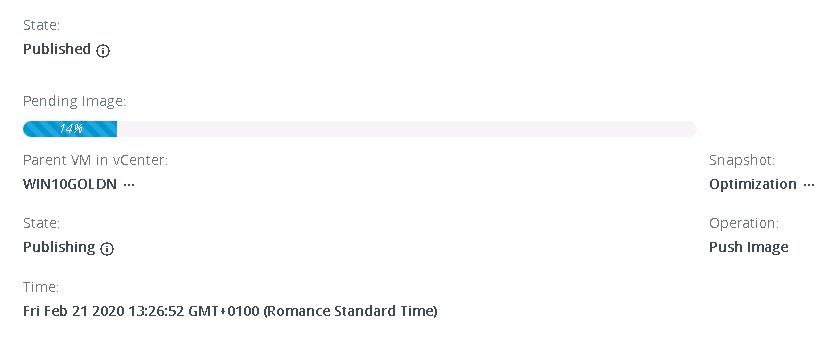 Global Entitlement in Desktop view
A lot of Horizon administrators managing multi-pods environments will be happy to know that the global entitlements are now displayed in the desktop (pools) view and in the summary view of the pool.

Note that this release also includes Backup Global Entitlement that can contain pools from any pod in the federation. Those deliver remote desktops or published applications when the primary global entitlement fails to start a session due to availability problems like pool capacity or unavailable pod.
This release also includes :

RADIUS two-factor authentication login dialog box.

Improved published applications visibility.

New maximum of 12,000 sessions per pod.

Support for Universal Windows Platform (UWP) applications on Windows 10 desktops.

True SSO with third-party identity provider that uses UAGs.

Support for VMware Avi Networks load balancing. (VMware acquired AVI Networks in summer of 2019).
Available is also an exhaustive list of the new features and bug fixes, with accompanying release notes.
Wrap up
This last version was the fourth in the space of one year for VMware who keep delivering to users and administrator to make sure they meet the demand.
If you don't want to upgrade often or if you are more interested in stability than new features, consider installing an ESB version (Extended Service branch). ESB versions are like LTS for Linux, they contain periodic service pack (SP) updates, which include cumulative, critical bug fixes, and security fixes but no new features. They are supported for 24 months with three scheduled SP updates: SP1 will be released six months after the initial release, SP2 will be released three months after SP1, and SP3 will be released six months after SP2. ESBs are also available for App Volumes, and VMware Dynamic Environment Manager.
Are you happy with these updates in Horizon 7.11? Let us know in the comments below.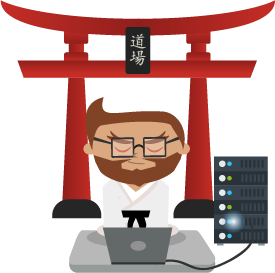 Not a DOJO Member yet?
Join thousands of other IT pros and receive a weekly roundup email with the latest content & updates!