If you are new to VMware or just starting out in the technology, it can seem a little daunting at first. There are a ton of products in the suite. I often hear people confuse ESXi and vSphere and have a hard time grasping how all the products come together. There are great YouTube sessions, ebooks, and physical books. Well, this post isn't here to take you from start to finish. This post is going to explain and cover a few things I WISH I had known when I started. Some cold hard truths. Lessons I have learned over the years! The fact is, sometimes you learn by fire. You set a fire and learn how to put it out.
Now I don't want to let you down. If you're wanting to learn how to start out on VMware, I'd recommend checking out this post called "Getting started with VMware. Everything you need to know." Inside that post, Jason will cover the basics, from the products, what to learn first, how to learn at home, how to install and manage it along with other resources.
So, if you're just starting out and want to learn from the mistakes me and others have made, follow along!
So let's begin…
1. Shared storage is key to almost everything
You might think you can start out and do a lot of cool stuff without shared storage, but you are missing out on features like HA and DRS. HA (High Availability) does not work with local disk. Sure you could use a feature like vSAN to make your local disk far more useful, but it's another purchase you'll have to make. (I am a huge advocate of vSAN though, but that's probably for another post.) With DRS you can't really automatically migrate virtual machines around if one of the hosts get busy. Yes, you can vMotion (Live Migrate) without shared storage but DRS requires shared storage to get the biggest benefit, automatic load balancing.
2. Logs are important
If you're installing ESXi to USB sticks or SD cards on an ESXi host, it's likely that your logs are not stored on persistent storage out of the box. What that means is each time your ESXi host crashes, your logs will get flushed. That will do you no good! What I'd recommend is using syslog and dumping your logs to a central log location. Bonus tip: The vCenter appliance has a nice built-in syslog collector you can use. Don't forget! It's easy to get excited and forget. Then it's too late.
3. Check your networks!
With virtualization, you have endless options when it comes to network flexibility. It's a great idea to whiteboard out your network layout BEFORE you dive into it. Which networks do your VMs need to have access to? Any specific vLANs or trunk ports that need to be configured? That's going to be important to know. I recommend keeping all network port groups labeled the same, all network cards in the same slots (so the ESXi host installs them as the same vmnics) and keeping everything identical across the hosts. It's an awful feeling when your "Production" port group does not fail over to the "production" port group. Yes, it's case sensitive.
4. The free version is limited
Yep, VMware is a company and they have a great product that they want to sell. The free version is neat but it can't do everything. It's kind of a way to get people into the product and want more. I don't think that's any secret. You cannot manage the free version of ESXi through a vCenter server. So if you are looking for a basic standalone host, give it a shot. As soon as you want any other options, you'll be looking at purchasing Essentials or Essentials Plus licensing. The free version is based on the same stable code that the paid version is, it just is limited in terms of API and features. My recommendation for most SMBs, is to forgo the free version and purchase Essentials Plus. It's a great starting place in terms of licensing costs and features.
5. Snapshots are NOT backups!
Oh man, if I had a dollar for every time I said that. Seriously, they are not backups. Use a tool like Altaro to backup your VMware infrastructure. Yes, Altaro takes a temporary snapshot during the backup window but it removes the snapshots when it's finished. I have seen all too often that people take a snapshot and end up forgetting about it. It causes havoc and a mess on the datastores. Not to mention that enough of them will cause a performance hit because you're reading through many different disk in order to write the data out to the last snapshot. It's just not efficient to leave them around. Use them in labs and get rid of them quickly. Snapshot troubleshooting is covered in a lot more in depth in the ebook I wrote for Altaro.
6. Keep your host configurations identical
Pretty much everything besides the VMkernel IPs and host names, should be identical. I keep all my network port groups the same. I verify the servers all sync to the same NTP server. I try to make sure all my ESXi hosts have identical hardware configurations. I think it makes host scalability planning easier that way. I have been a consultant in environments where people have massive servers mixed with small servers and the networks are a disaster. There is no redundancy built in and different vmnics are assigned to different port groups. One host might have redundant NICs, while others don't. It can become an issue when a host fails. Where does the workload go if a large host fails and one host configuration isn't the same? HA requires a bit more tweaking if you go that route. It's not impossible, but it's much easier to manage if you try to keep things the same. Keep your environments boring, especially when it comes to this kind of thing.
Wrapping up
The ideas above are just a few things to think about. There are many other things that can pop up in a VMware environment. In fact, I've written a 44-page ebook for Altaro called the "VMware Troubleshooting Guide" that covers many other troubleshooting topics. It's split into 6 parts that include installation, virtual machine troubleshooting, storage troubleshooting, network troubleshooting, vCenter, ESXi, HA, DRS, and vMotion that are covered in a bit more depth. So check it out!
If you've already been using VMware for a while, what are the main things you would have said to your younger and better-looking self whilst setting out? Share your thoughts in the comments below!
[the_ad id="4738″][thrive_leads id='18673′]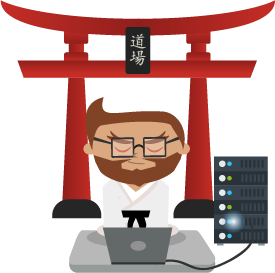 Not a DOJO Member yet?
Join thousands of other IT pros and receive a weekly roundup email with the latest content & updates!