[et_pb_section bb_built="1″ _builder_version="3.0.47″][et_pb_row _builder_version="3.0.47″ background_size="initial" background_position="top_left" background_repeat="repeat"][et_pb_column type="4_4″][et_pb_text _builder_version="3.0.85″ background_layout="light"]
As a business, an MSP thrives on supporting as many end users and end points as possible, with as little staff as possible. While this is a model that doesn't only apply to the MSP space, the technologies and the automation toolsets that are available in the MSP market today lend themselves well to this idea. MSPs can really strive for more success by utilizing automation while maintaining a high standard of customer service for their end customers. However, some will wonder how far they can realistically take it. Let's talk about 3 reasons why you should take this automation idea and run with it as far as you possible can.
Do More With Less
Again, a MSPs business thrives on supporting as much as they can with as little as possible. Adding more engineers, software, or hardware to your toolset can ultimately dilute your profit. The more processes that can be automated, the more time your engineers will have for other billable work. The concern that many owners and managers have when it comes to automation though is that they believe that costly software is required to automate things correctly. This couldn't be further from the truth. Many of the built in tools from major vendors, like VMware and Microsoft, have extensive automation capabilities. Take PowerShell for example. PowerShell is a tool that exists in just about every Microsoft product and service to date. Need to create an AD user? No problem. Need to deploy a VM and configure it as a file server? Easy. PowerShell allows you to do those things and more, and with other scripting tools like Azure Cloud Shell you can easily script processes and routines across very diverse infrastructure sets to great success! You simply need to take some time and see what it can do for you!
Common Mistakes Can Be Prevented
Another benefit to automating as much as you can is the simple fact that humans make mistakes, especially when repeating tedious tasks. Mistakes costs your MSP time and money, and if you can reduce that waste your bottom line is going to look better. Take some time to find the processes in your MSP practice that take the most time and manual effort and consider whether they can be scripted or not. Some MSPs have even been known to offer employee incentives for finding said processes. Not only will said tasks run more efficiently, the results will be far more predictable, which will ultimately make running your MSP much smoother.
Many Software Vendors are Getting on Board
If there ever was a time to get onboard with scripting and automation, that time is now. It used to be that automating IT processes was something that was primarily done with core systems only, as those systems were the only ones that had easily accessible scripting languages. Fast forward to today, and we have this fantastic technology known as REST. Many vendors today have usable REST APIs that allow administrators to call certain features and functions in an automated fashion. For example, Altaro's REST API can be used for a number of different tasks, such as retrieving backup schedules and starting backups, all in a scripted fashion! By adding in the ability to utilize REST APIs, you now have the ability to not only streamline core processes, but potentially all areas of your software stack as well. The sky really is the limit.
Where to go From Here
To many owners and MSP managers, the benefits are quite apparent. However, many will wonder how they become successful based on where they are now. Many MSPs will be itching to leverage these automation technologies to their fullest ASAP. Getting started with automation is really a matter of doing some testing and finding those processes in your stack that are easily automatable, but if you want a little help getting started, we've got something great for you!
Watch the On-Demand Webinar
Microsoft Cloud and Datacenter MVPs Andy Syrewicze and Adam "The Automator" Bertram present the amazing world of automation and get you started automating some of the most tedious IT processes within your managed services practice in 4 Ways to Improve your MSP by Embracing Automation and DevOps.
The webinar covers:
Why automation is especially useful to MSPs
How PowerShell can save you time and money on simple tasks
Why treating your scripts like code can prevent mistakes and costly problems
How leveraging REST APIs can enable further automation and operational efficiencies
[/et_pb_text][et_pb_image src="https://www.altaro.com/msp-dojo/wp-content/uploads/2017/11/MSP-automation-webinar-on-demand.png" url="https://www.altaro.com/msp/automation-for-msps-webinar.php?LP=Altblog-automation-MSPs&ALP=automation-MSPs-Altblog" align="center" _builder_version="3.0.85″ animation_style="zoom" box_shadow_style="preset1″ show_in_lightbox="off" url_new_window="off" use_overlay="off" always_center_on_mobile="on" force_fullwidth="off" show_bottom_space="on" /][/et_pb_column][/et_pb_row][/et_pb_section]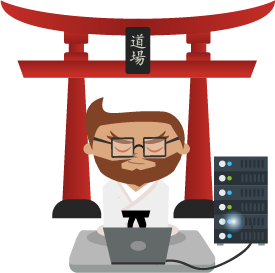 Not a DOJO Member yet?
Join thousands of other IT pros and receive a weekly roundup email with the latest content & updates!