Back in October 2008, Microsoft shipped the first Hyper-V Server version in Windows Server 2008. It was and still is, the technology that supported businesses to virtualize multiple operating systems on a single physical host. In September 2021, Microsoft released Windows Server 2022, but with some major changes in regards to Hyper-V Server. Many of us didn't expect this. What does that mean for you? Can you still run your business workloads on Hyper-V or not? Let's discuss the future of Hyper-V Server and the implications for its users.
But first, let's set the scene for newbies (for those who don't need the basics, skip to the good stuff)
The Basics
For those new to the topic, virtualization has brought many benefits into the IT and business world. You can reduce energy demands (you don't need to power 10 physical machines, you can supply a single host and host all 10 machines on it), easy and rapid deployment of the client and server VMs (you deploy a new operating system in a few minutes using templates), reduced management effort (you manage all system easily via centralized Hyper-V console), lab environment (you spin up and play with your VM without affecting underlying hypervisor or operating system), licensing costs and many more.
You can also find additional interesting benefits of implementing Hyper-V virtualization in the articles published on our blog 8 Benefits of implementing Hyper-V Network Virtualization and Virtual Economics.
Since the early beginning, from Hyper-V 2008 / Windows Server 2008, through Windows Server 2012/2012 R2, 2016, and 2019, Hyper-V is being part of Microsoft releases. It was always shipped in two channels, as a dedicated Hyper-V standalone server (also known as Hyper-V Server Core, due to it only having a command-line interface) and as the role you install like any other Windows Server role.
What is a Hyper-V Server?
Hyper-V standalone server is a GUI-less product you install on your bare metal server and manage remotely using PowerShell or Hyper-V Manager. For example, if you want to configure clustering or enable SNMP for monitoring purposes, you would need to do it using PowerShell. If you want to create a virtual machine or configure your virtual switches, you can do it via PowerShell or Hyper-V Manager (GUI-based tool).
The nice thing about Hyper-V Manager is that you can easily install it on your Windows 10 and/or Windows 11 by adding the Hyper-V Windows feature. It is also supported on Windows 8 and 8.1, but I guess you are using the latest Windows OS.
From one perspective, using Powershell for management purposes might sound challenging, but from the other, that shouldn't be a big deal, as Microsoft offers full documentation on how to handle different tasks.
What about centralized administration of Hyper-V environments? This is a must-have thing in SMB and enterprise infrastructures. As of Hyper-V 2019, Microsoft offers integration with Windows Admin Center (WAC) which is a web-based UI for managing your Microsoft infrastructure.
Title: Managing Virtual Machines with Windows Admin Center
The other broadly used and well-known product you can use to manage your Hyper-V environments is System Center Virtual Machine Manager (SCVMM). Depending on the version you are running, SCVMM supports versions from Hyper-V 2008 / Windows Server 2008 to Windows Server 2019.
Hyper-V Server Core Pros and Cons
Hyper-V Server Core is a free product, but you need to purchase licenses for guest operating systems (VMs).
Looking from a perspective "Why should I go for it?" here are a few things you should keep in your mind. From the security standpoint, it reduces the attack surface and saves you from the patching and servicing burden, since there is a minimal set of active components involved in it. As there are no other components installed, it is less prone to problems, and it also means you need less disk space.
Looking from a perspective "Why I shouldn't go for it?" also involves subjective perception. If you are a GUI person, you might miss that opportunity with Hyper-V Server Core. It has limited hardware and server support. It is highly recommended to check vendor documentation before you start to install it on your server.
If you are interested in more details on installing and comparisons, please check these two articles How to Install Free Hyper-V Server or Core Mode and Hyper-V 2016 Host Mode: GUI vs Core.
What about Hyper-V Server 2019?
In January 2019, Microsoft released Windows Server 2019, but Hyper-V Server was missing. Many of us were curious about that decision, but 6 months later, in June 2019, Microsoft began rolling out Hyper-V Server. Hooray!
Compared with the previous Hyper-V server, it supports shielded virtual machines for Linux, updated VM configuration to 9.0 and hibernation support, encryption support for the general 1 VMs, host resource protection, Core App compatibility (increases the possibility of using GUI management tools in the console). From the Windows Server 2019 perspective, there are also improvements in regards to data deduplication with ReFS (Resilient File System), cross-domain cluster migration, and file share witness.
Hyper-V 2019 Server uses the same UI as the previous Hyper-V versions.
Title: Hyper-V Server 2019 Configuration UI
That all sounds cool, but what can we expect in regards to Windows Server 2022? Is there a Hyper-V server anymore? As a standalone server? Or a Windows Server role?
Will There be a Hyper-V 2022?
September 1st, 2021. Microsoft announced the general availability of Windows Server 2022. It brings a new feature set, security improvement, and better utilization of the cloud. Hyper-V is still there, as a Windows Server role, but not as a Hyper-V Server.
Microsoft stopped what they were doing for the last 13 years. What does that mean? What is an alternative? There are many rumours on Internet, to be more precise on Twitter and different tech forums, that say: "Hyper-V Server is dead, and there will not be future development". Microsoft offers two alternatives. The first one is to continue running virtual machines on Hyper-V server 2019, as the mainstream support is available to Jan 2024 and extended support until January 2029. So, there is still time to get familiar with the next alternative, switching easily to Azure Stack HCI.
Title: Hyper-V Server 2019 EOL
If you want to run the latest technology, the second alternative would be to run your virtual machines in Azure Stack HCI. Here is what Microsoft says about it": Azure Stack HCI is seen as a solution for running virtual machines on-premises. There would even be a 60-day trial version. But as German blog reader Stefan notes within a private email, this solution costs $10 US per core per month. Those who believe they need Hyper-V can continue to use Hyper-V Server 2019 until 2029, which is the last version that is still free. I think that it now for Hyper-V server – smart administrators are looking around for alternatives in the meantime."
For the folks that are not familiar with it, Azure Stack HCI is a hyper-converged infrastructure solution that can host virtualized Windows and Linux workloads and their storage in a hybrid on-premise infrastructure and Azure cloud services. 
Title: Azure Stack HCI solution overview
Windows Server 2022 (including Hyper-V role) supports nested virtualization on AMD processors which wasn't the case in the previous Windows Server versions.
Hyper-V manager still has the same UI as in the previous version. One of the things you will notice is that now supports the 10.0 VM configuration version.
Title: Hyper-V 2022 Manager console
If you want to evaluate Hyper-V within the Windows Server 2022 you can download the ISO or VHD or run it in Azure on this LINK.
Title: Windows Server 2022 evaluation files
The Future of Hyper-V Server
Regardless of what Hyper-V Server you use, we at Altaro Software, support you with a full backup of your Hyper-V virtual machines to onsite (e.g. Synology, NetApp) or offsite on-prem or cloud locations (AWS, Azure, Wasabi). In other words, for example, you can backup your critical VMs to e.g. Synology and Azure storage at the same time by following the 3-2-1 backup rule. You can read more here.
I hope you enjoyed reading this article. I welcome you to visit my own blog TechwithJasmin.com, and I'm looking forward to connecting with you via LinkedIn.
Note: To be able to create this article, I run my workloads on a powerful mini PC – Intel NUC powered with the CPU i7, the latest generation, 64 GB RAM DDR4, 256 M.2 SSD. Intel® NUC Mini PCs are fully complete and ready to work out of the box. You can learn more here Intel® NUC Products.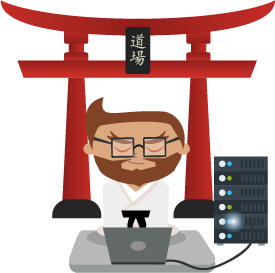 Not a DOJO Member yet?
Join thousands of other IT pros and receive a weekly roundup email with the latest content & updates!