Update: Atlaro Backup Software now comes with full 24/7 support across all our products at no extra cost! Our support promise is to be available for all our customer needs round the clock, with a guaranteed 24/7 call response of less than 30 seconds direct to a product expert – no entry-level agents or passing you around. Find out more about our outstanding customer support
It's that time of the year again, where I have the distinct pleasure of announcing another new version of our flagship backup and disaster recovery product, Altaro VM Backup! Our awesome development team has been hard at work over the last several months and now we're officially launching version 8 of the product! We couldn't be more excited! In this article, you can find out the major new feature added to the product or if you'd prefer you can just jump over to the download page and try it out for yourself!
What's New in Altaro VM Backup v8?
When you're talking about backup, talk of RTO (Recovery Time Object) always comes into play. With your RTO being the amount of time in which data or a service needs to be restored after a disaster, as a backup company we take it pretty seriously. In one of our more recent 7.x releases, we announced support for 5-minute RTOs. If you follow that thought-process further, you end up talking about replication capabilities and DR. That's EXACTLY where we've taken the product with this release, by adding WAN-Optimized Replication to our solution stack.
WAN-Optimized Replication

WAN-Optimized Replication builds on Altaro's robust data protection platform, by allowing system admins to get configured VMs back up and running at a remote location in minimal time should disaster strike. Changes on a target VM are replicated to the remote site as fast as every 5 minutes (Assuming your infrastructure can handle that). As such, little data will be lost, and the affected VM can be brought up on a virtualization host at the DR site with minimal work.
In order to accommodate this need, we've added functionality into the Altaro Offsite Server. As of the release of version 8 you simply install an instance of the Altaro Offsite Server directly onto a Hyper-V "DR Host" at the offsite location. This Offsite Server instance will accept the incoming replication and allow you to boot any replication-enabled VM quickly.
This functionality is contained in the Unlimited Plus licensing tier and is automatically included for those customers that are part of the Altaro VM Backup for MSPs Program.
Support for Windows Server 2019

V8 may potentially support Windows Server 2019, but much of this depends on Microsoft's re-release of Windows Server 2019 after (now) known issues occurred shortly after launch.
Replication will not be supported for Windows Server 2019 at Launch and will be added at a later time.
Things to be aware of…
WAN-Optimized Replication will only be available for Hyper-V on launch date with support for VMware-based VMs sometime shortly in the future
Replication is supported for Hyper-V 2012/R2 or 2016 at this time
VMs running on a 2012/R2 Hyper-V host must be replicated to an Altaro Offsite Server running on a 2012/R2 Hyper-V Host
VMs running on a 2016 Hyper-V host must be replicated to an Altaro Offsite Server running on a 2016 Hyper-V Host
Orchestrated Failover and Fail-back will be introduced in a future release with a release date TBD
Wrap-Up
We hope you're as excited about this release as we are, and we're looking forward to seeing how these new capabilities help you solve day-to-day business problems.
If you'd like to know more, here is a full breakdown of the new features in Altaro VM Backup v8.
If you're interested in downloading a trial of version 8 you can do so HERE!
We hope you enjoy this release!
Thanks for reading!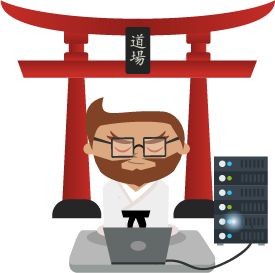 Not a DOJO Member yet?
Join thousands of other IT pros and receive a weekly roundup email with the latest content & updates!