Is vSphere HTML5 Client now superior to vSphere Web Client? Or is there still room for both?
The HTML5 client was first introduced in vSphere 6.5 as the future client that will eliminate some of the headaches of using the vSphere Web Client. I'm sure we've all experienced the heartache and slowness of using the vSphere Web Client in 6.0 and 5.5, it was pretty clunky. Also, during that time there was talk of the vSphere .Net-based client being discontinued. Most VMware administrators were upset. So VMware made a much more sleek and efficient vSphere client based on HTML5 and I have to say, it is very smooth indeed. I spend every day in vSphere and this is now my preferred way of managing my VMware infrastructure. Let's go over some of the differences compared to the vSphere Web Client.
vSphere Client vs. vSphere Web Client
From a platform perspective, the vSphere Web Client is based on Apache Flex, which used to be called Adobe Flex. Adobe Flex is a Flash-based platform so it requires Adobe Flash to be installed in order to run. I've used my fair share of management tools, and the ones that are Flash or Java-based were very frustrating to run. They require specific versions of Java/Flash and whatever device you use to load up the management interface will need to have these 3rd party applications patched and managed which creates more work.  Plus, no one wants to hassle with installing Flash to access the vSphere Web Client at 2AM in the morning when your doing maintenance on a VMware cluster. Ain't nobody got time for that!:

The vSphere Client is HTML5 based, which means no 3rd party applications are necessary to run it. All that is required is to have a recently updated web browser. Below is a list of each browser and the lowest version required to run the vSphere Client:
Internet Explorer version 11.0.96
Google Chrome version 50
Mozilla Firefox version 45
Microsoft Edge version 38
Now lets go over the graphical differences between the two. Below is a screenshot of both the vSphere Web Client and the vSphere Client. The vSphere Web Client has smaller font and is very "boxy" compared to the HTML5 version. The vSphere Client wins the "eye candy" award. It has smoother look and feel to it, as well as being easier on the eyes to read.
vSphere Web Client:

vSphere Client: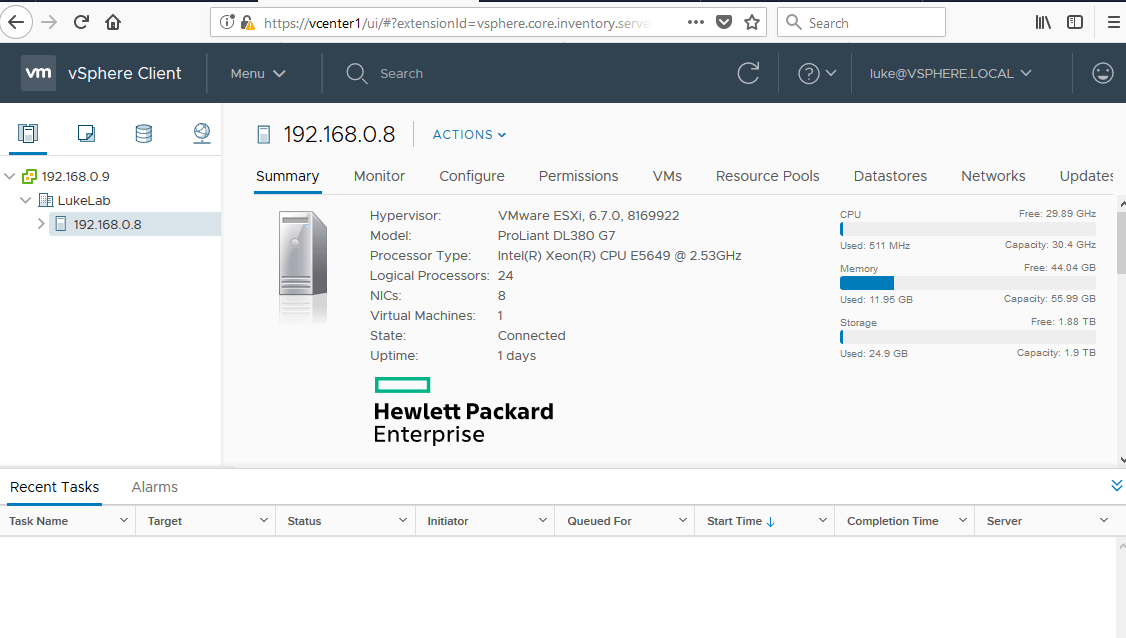 Now, for every good thing there is always a caveat. The caveat with the vSphere Client is that it is currently missing some of the functions that you can do with the vSphere Web Client. For example, the ability to add and assign licenses is not yet integrated into the vSphere Client. So in order to add licenses, you will need to use the vSphere Web Client. Unfortunately this means that the HTML5 tool is not fully complete yet, however, VMware has done a good job of adding in the features and functionality that are required for most day to day use cases. So for me, I'll use the vSphere Client for most of my day to day tasks and then switch back to the vSphere Web Client if I have to perform a task that is not yet included in the vSphere Client. If you are curious about what functions are not in the vSphere Client, check out VMware's documentation here. Look under the "unsupported functionality" section. This documentation is also for  vSphere Client 6.7 or vSphere Client 6.5 Update 2. Fear not, the limited functionality of the vSphere Client is just a temporary bump on VMware's roadmap. They intend to eventually deprecate the vSphere Web Client all together and are SLOWLY adding in more functionality to the vSphere Client with each update. With the new introduction of vSphere Client 6.7 they have added in some more features, the documentation linked above list's out what has been added.
How to Access the vSphere Client
So, now that we know the main differences between the vSphere Web Client and the vSphere Client, how do we access them? You can access either of them by using their respective URL. In the below example, my VCenter server is named "vcenter1"  so you would replace that with your own vCenter server name:
vSphere Client: https://vcenter1/ui
vSphere Web Client: https://vcenter1/vsphere-client
Typically what I do is bookmark each version on my web browser and then switch back and forth between the too as needed: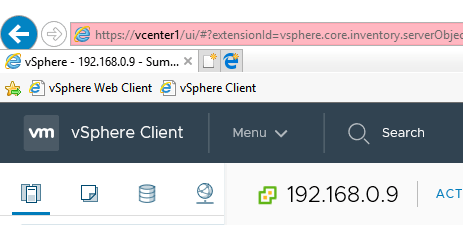 Additionally, you can get a shortcut for each link by simply browsing to your VCenter server in a web browser. Below is an example of the web interface on vSphere 6.7, but vSphere 6.5 has the same links, it's just not as fancy looking: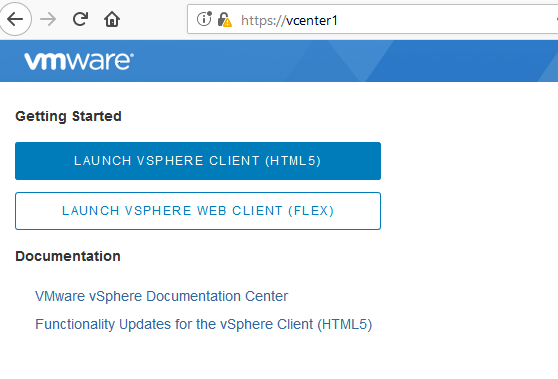 It can be a pain to switch back and forth between the two, but eventually, down the road, we won't have to. Some people just stick to using the vSphere Web Client for now until the new one is fully functional. However, for me personally, the HTML5 client is much smoother and I feel like I can do my job a lot faster than on the vSphere Web Client. I'm not an HTML5 or Flash developer, but it does seem like VMware is taking quite a bit of time to convert all the functions in their web client over to the new HTML5 client. Hopefully, they can make the full transition in future updates for vSphere 6.7. Let me know in the comments below what you think of the vSphere Client and if you're still sticking with the vSphere Web Client for now.
Wrap-Up
What about you? Are you sad to see the flash-based vSphere Web Client go? What have your experiences with the new HTML5 client been like? Let us know in the comments section below!
[the_ad id="4738″][thrive_leads id='18673′]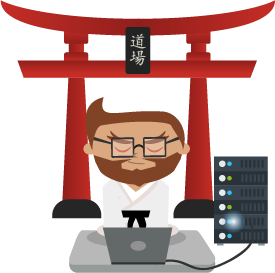 Not a DOJO Member yet?
Join thousands of other IT pros and receive a weekly roundup email with the latest content & updates!