This article looks at the lifecycle management improvements introduced in vSphere 7, focusing predominantly on the new vSphere Lifecycle Manager tool.
What is vSphere Lifecycle Manager
The release of vSphere 7 sees popular but limited upgrade tool vSphere Update Manager (VUM) deprecated, and replaced with vSphere Lifecycle Manager (VLCM).
While vSphere Update Manager was able to patch and upgrade the hypervisor for individual ESXi hosts, managing larger environments was more difficult. Many additional manual tasks became cumbersome at scale, such as checking product interoperability, preventing configuration drift, and tracking drivers and component versions across the estate. Upgrading associated firmware was a separate activity altogether.
With vSphere 7 VMware have addressed many of these challenges by introducing vSphere Lifecycle Manager. Lifecycle Manager encompasses all the functionality of Update Manager, like applying software upgrade and patch baselines to ESXi hosts, and upgrading virtual machine hardware and VMware Tools versions.
With Lifecycle Manager in vSphere 7.0 additional functionality has been added with the aim of providing VMware and infrastructure administrators with an automated and simplified lifecycle management process; including upgrades for VMware software and the underlying hardware firmware.
Single Cluster Image
The key differentiator between vSphere Lifecycle Manager and its predecessor Update Manager is the single cluster image. The single cluster image is a desired state model enforced at a vSphere cluster level.
VMware administrators can implement consistent configuration across their infrastructure by bundling an ESXi base image with firmware, vendor, and driver add-ons. Every component can be monitored and upgraded in a single workflow from the Lifecycle Manager interface. To use this feature, all hosts in the cluster must be the same hardware type, they must all be running at least ESXi v7.0, and they must have a stateful boot drive.
Unified Firmware Upgrades
In addition to ESXi images, vSphere Lifecycle Manager integrates with vendor management tools, (currently Dell OpenManage and HPE OneView at the time of GA) thus reducing the risk of unsupported drivers or firmware version conflicts. Hardware compatibility checks against the VMware Hardware Compatibility List (HCL) are baked into the Lifecycle Manager Interface.
Lifecycle Manager can check available updates for the entire infrastructure software stack and make recommendations based on active configurations. Providing end-to-end visibility through software and hardware is especially good news for hyper-converged infrastructure products such as vSAN, which rely on compatible firmware versions for storage backing.
How to Use vSphere Lifecycle Manager
The new Lifecycle Manager tool is included in the existing vCenter / vSphere licensing for VMware customers and is accessible automatically from the HTML5-based vSphere 7 client as shown in the screenshot below.
VMware has also exposed the restful API enabling customers to automate lifecycle management using image specifications in JSON format.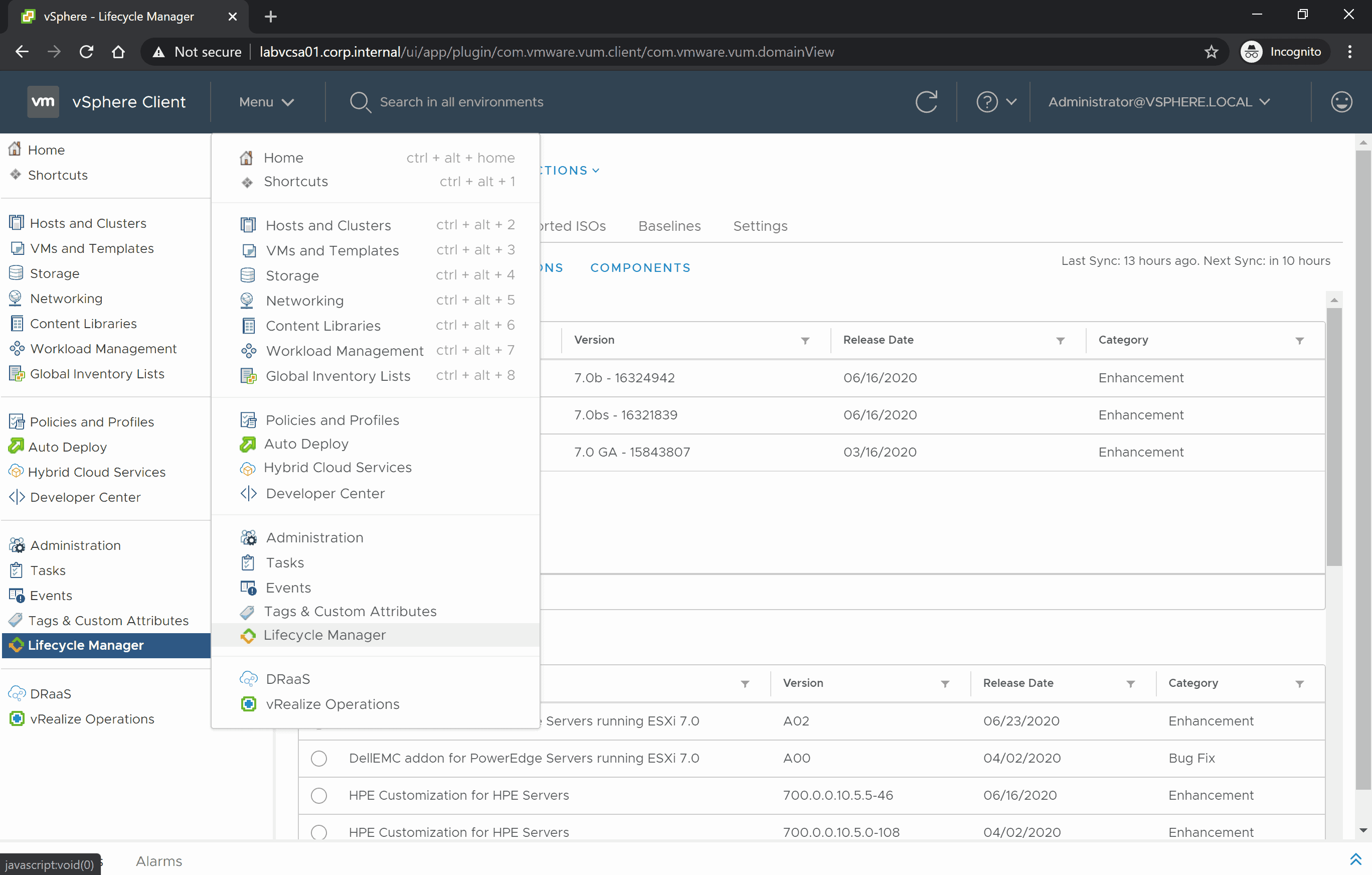 In general, the first step with Lifecycle Manager is to upload an ISO image. This can be a custom image you created earlier, a vendor-provided image with specific components (VIBs), or a vanilla ESXi image downloaded from VMware.
Lifecycle Manager can connect to the Internet for software packages, directly or through a proxy server, or can be updated manually by uploading images or updates from a client machine.
An ISO image can be imported from the Imported ISOs tab of the Lifecycle Manager UI, as shown in the screenshot below.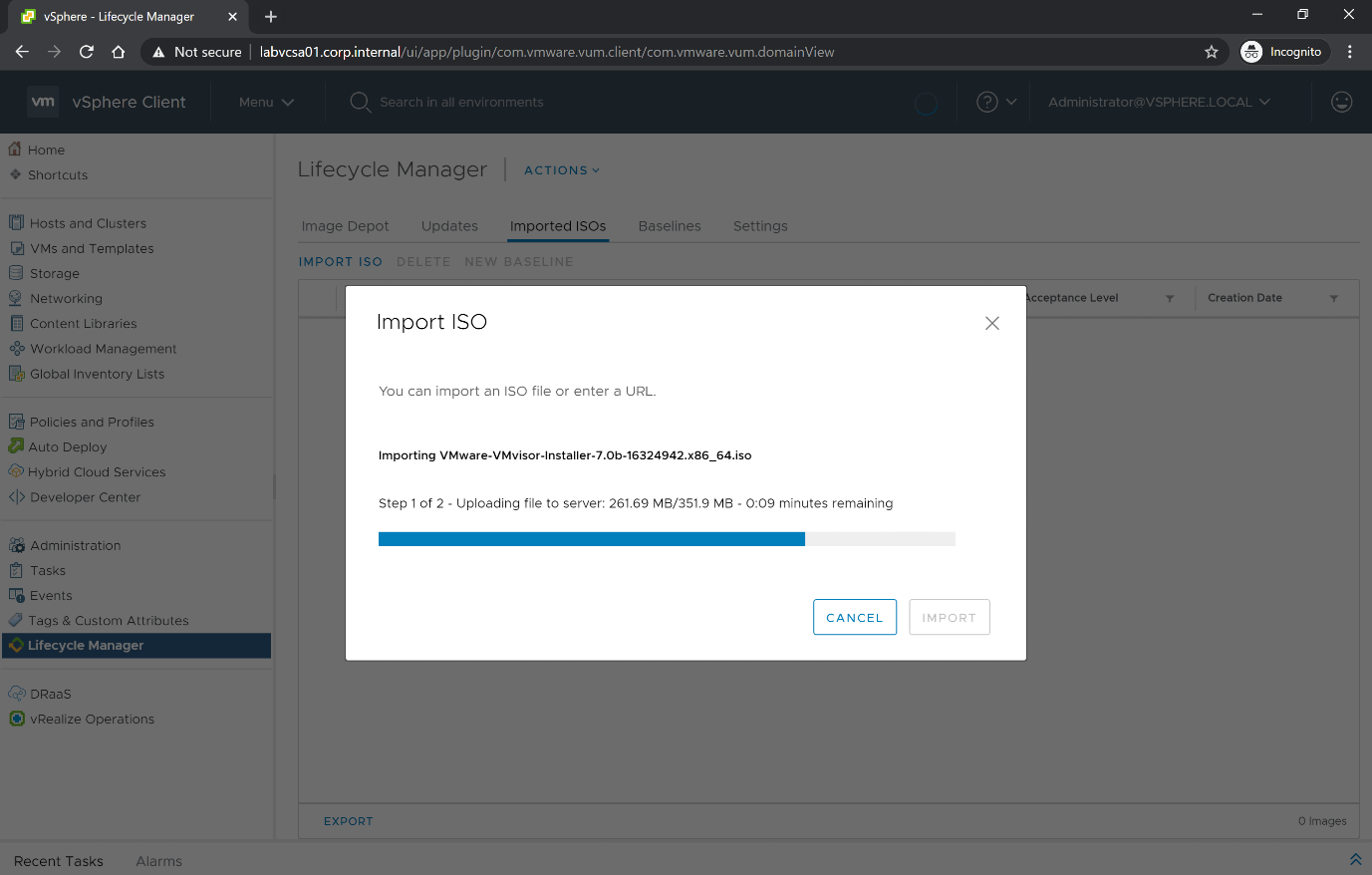 Once an image is imported, the details of the published image and all its components are visible in the UI, similar to the previous Update Manager plugin. The screenshot below shows the ESXi base image I just uploaded.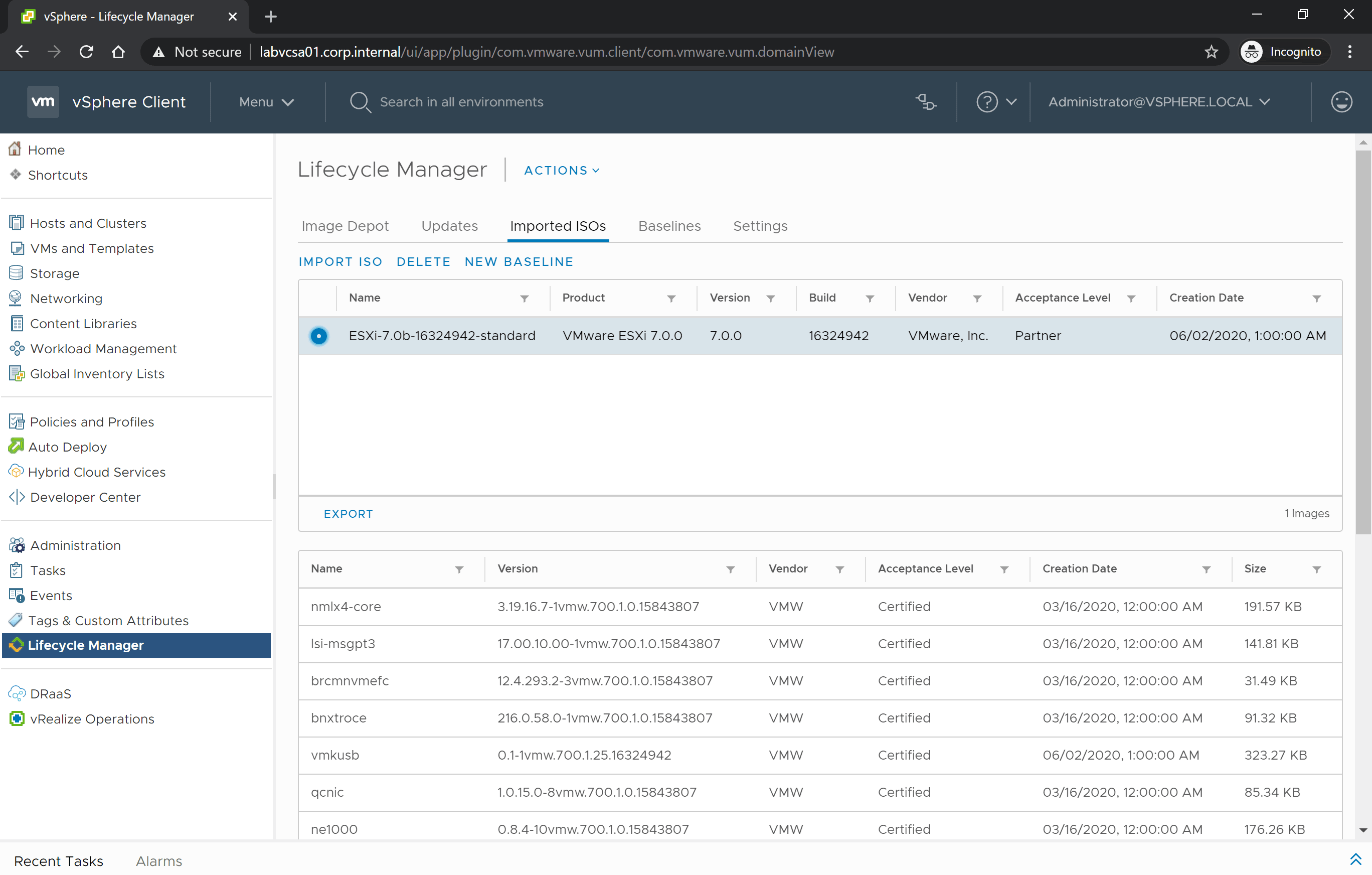 The ESXi base image can either be added to a baseline or converted to a single cluster image. The screenshot below shows the Create Baseline wizard available both directly from the uploaded ISO, or the Baselines tab.
A baseline can be attached to a host to remediate the vSphere object with the relevant patches or upgrade image.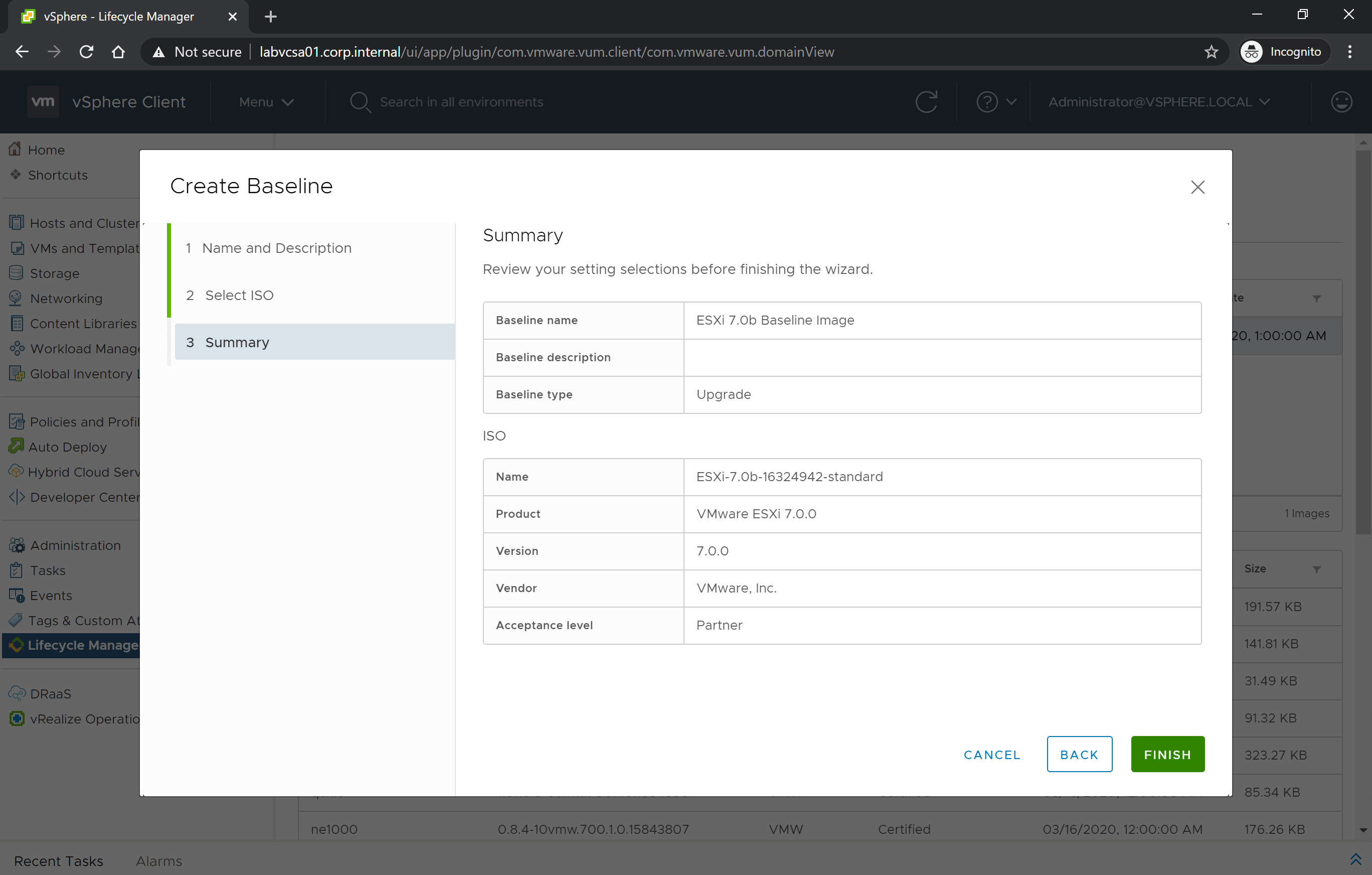 Cluster images can be accessed from the Updates tab directly on the vSphere cluster itself.
The screenshots below show the setup options for a single cluster image, including the base ESXi image to use, the vendor, driver, and firmware add-ons, and the option to run validation checks and compliance against existing hosts in the inventory.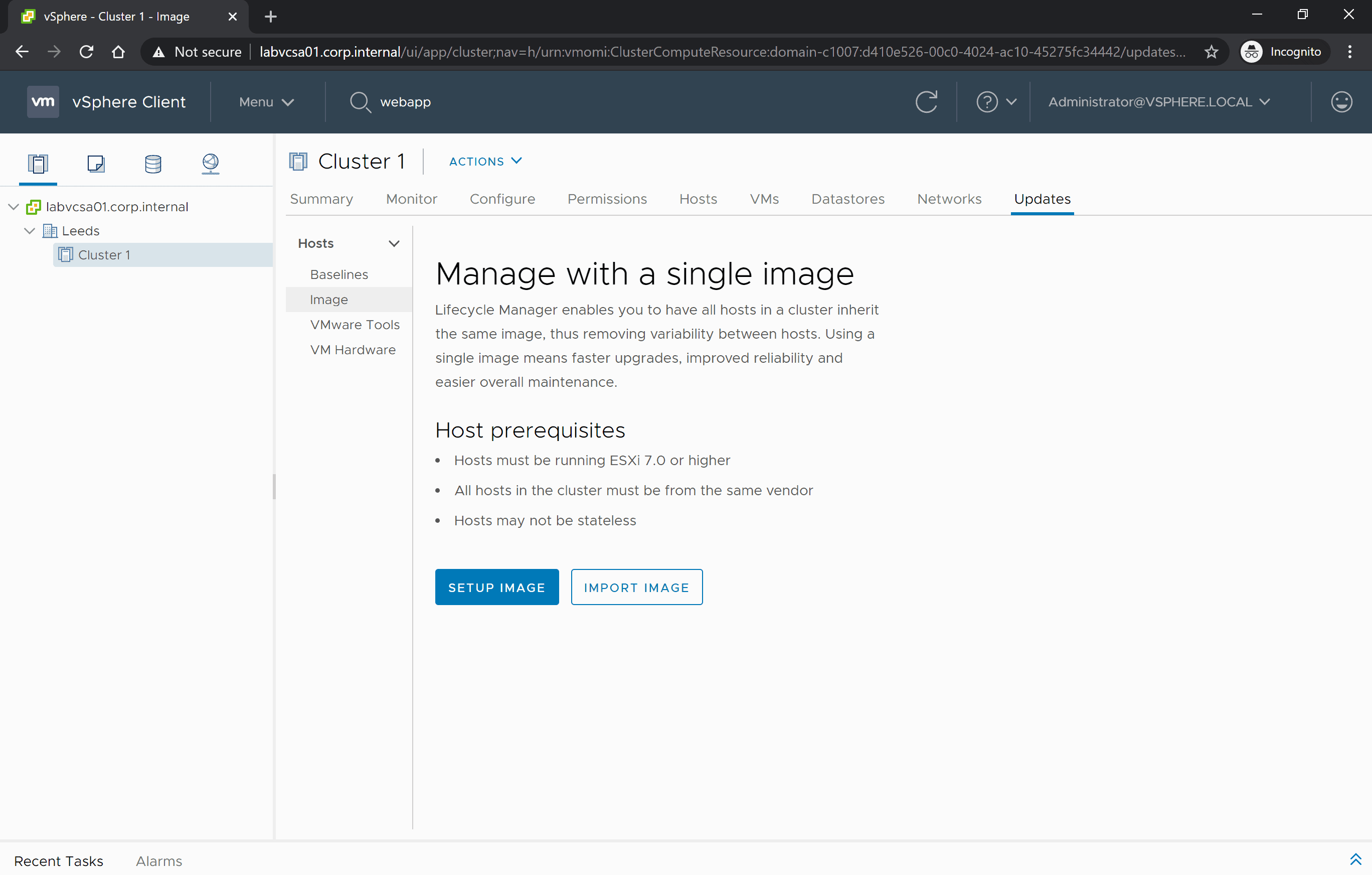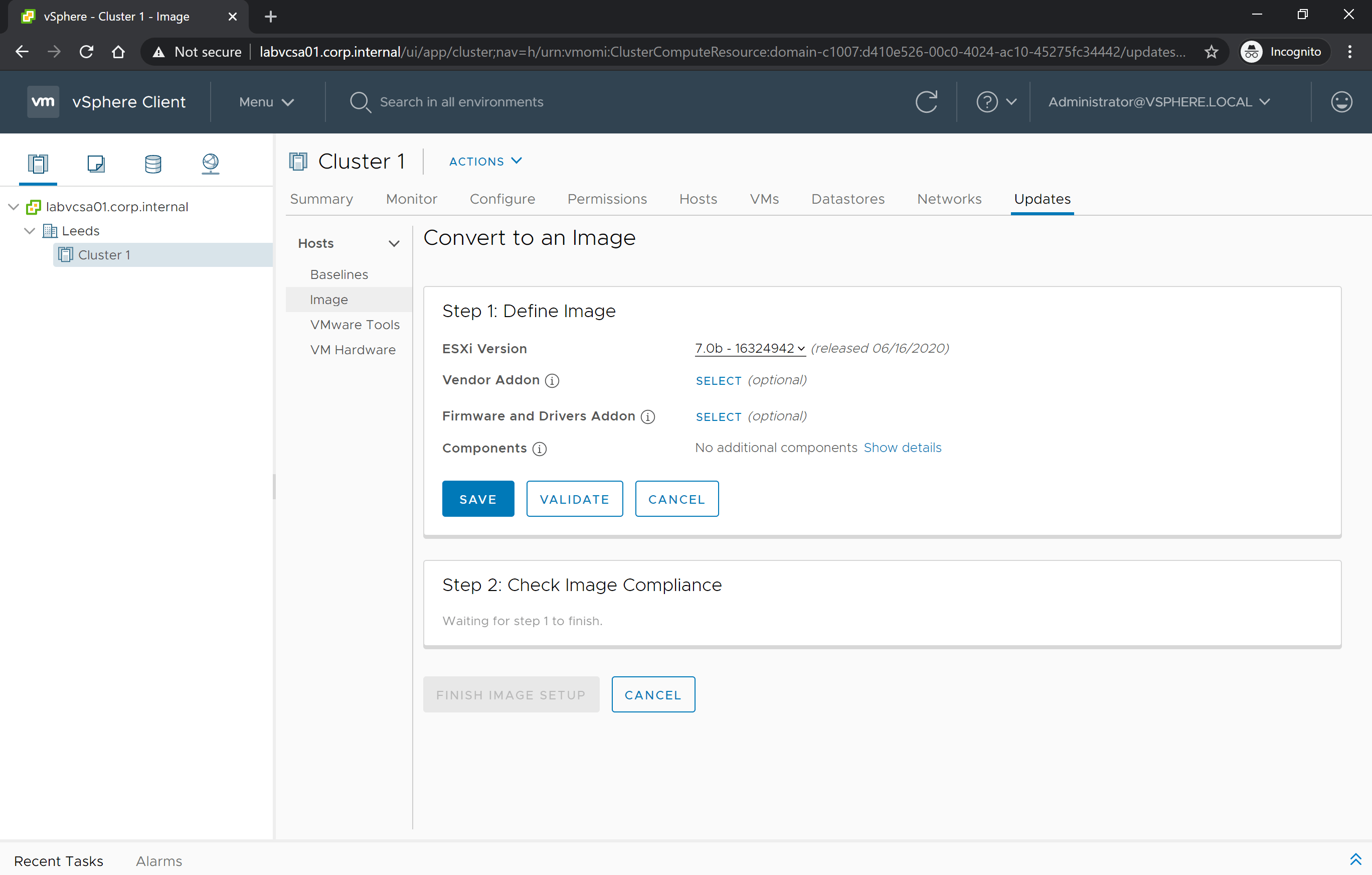 vCenter Server Update Planner
A further part of Lifecycle Manager, introduced in vSphere 7, is vCenter Server Update Planner. This feature is baked into the vSphere client providing assurance checks for vCenter Server updates, patches, and upgrades.
VMware administrators can check current version details, compatible upgrade paths, and VMware product interoperability all from within the same interface. While this offers ease of use it also reduces the risk of unsuccessful upgrades or version conflicts with other products. vCenter Server Update Planner automatically detects installed products shows support with other VMware versioning to remove the guesswork and manual checks, and can also simulate 'what-if' workflows.
The vCenter Server upgrade itself is still done from an ISO, or from the vCenter Server Appliance Management Interface (VAMI) for patches. The Update Planner feature is more about automating pre-upgrade checks, validating the environment, and simplifying the upgrade process. Additional information is added in the form of release notes and links to applicable Knowledge Base (KB) articles directly from the vSphere client.
Any environments still running an external Platform Services Controller (PSC) are now automatically moved to the embedded deployment model as part of the upgrade process. The external PSC is now totally depreciated with vSphere 7 and previously had to be manually decommissioned using the Command Line Interface (CLI). Building the deployment model change into the upgrade interface will be a welcome addition an incentive to upgrade for customers still using the external PSC appliance.
In the screenshot below you can see that the blue bar at the top of the page has notified a new vCenter software patch is available, an example of the new pro-active recommendations and update checks in action.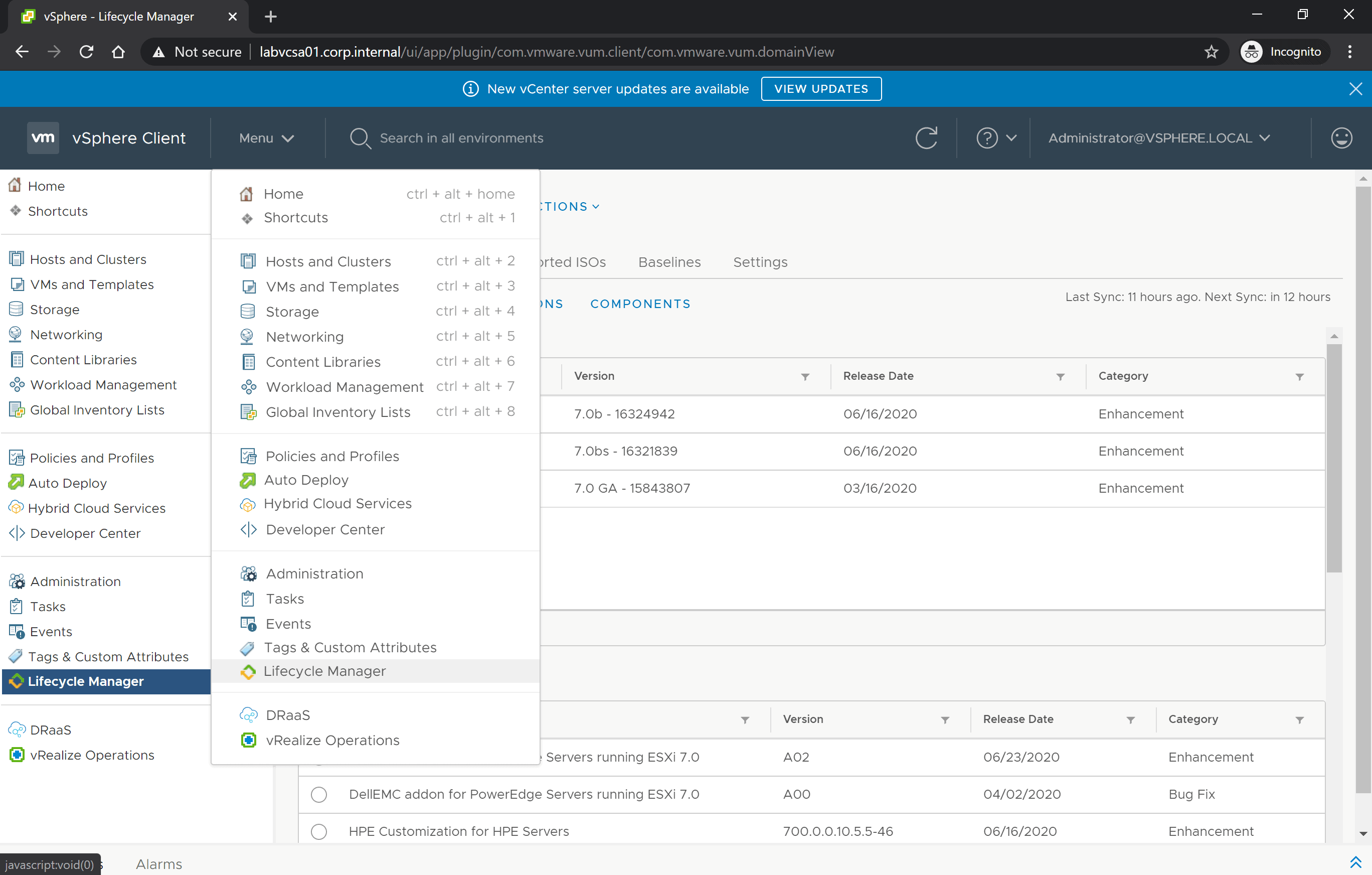 By clicking on the View Updates button, I am re-directed to the vCenter Server Update Planner shown in the screenshot below.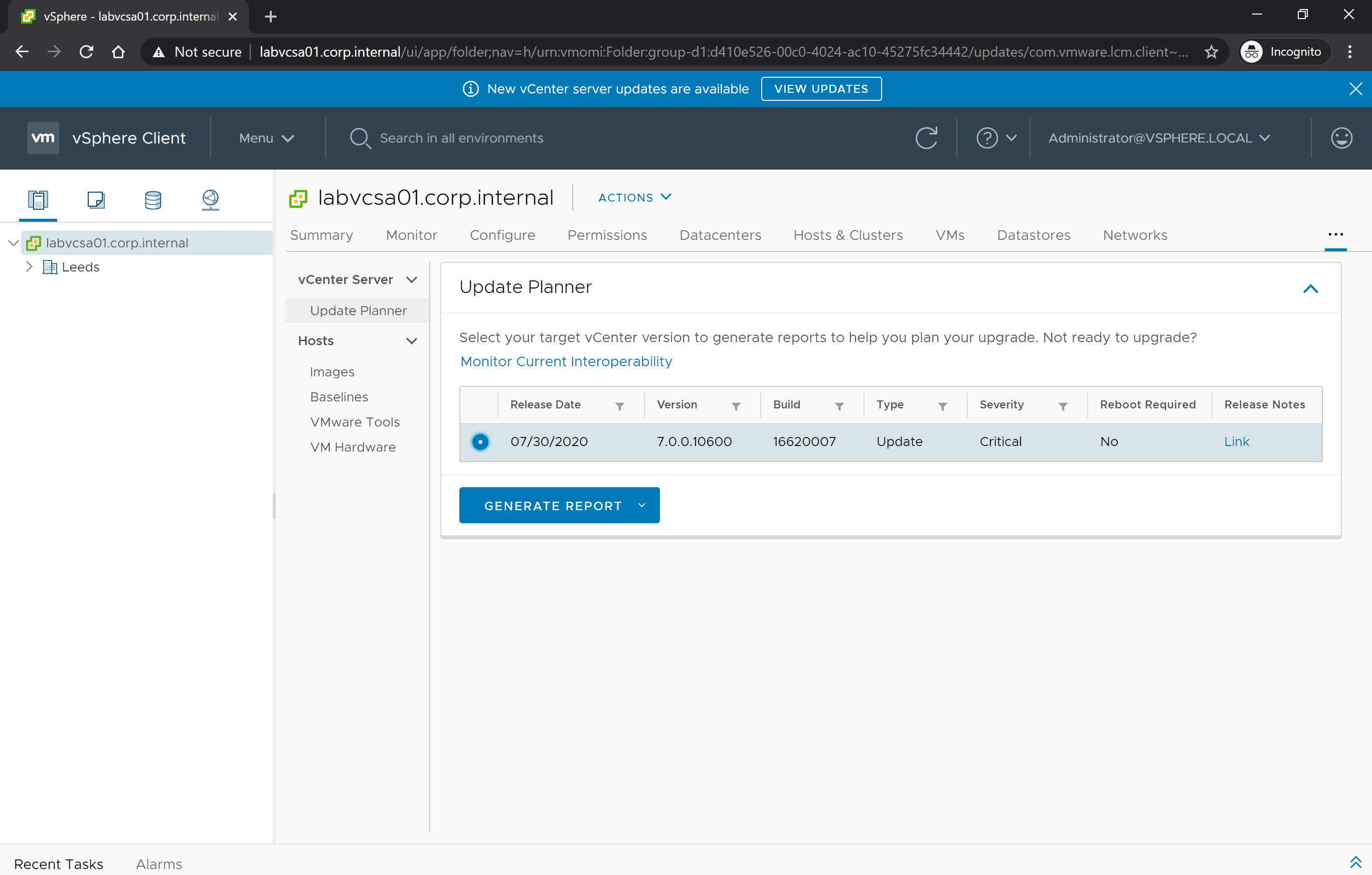 A new vCenter 7 software patch is available. Although I still need to open the vSphere Appliance Management Interface (VAMI) to apply the patch, I can see the details, severity, service impact, and release notes, direct from the Update Planner.
I can run an interoperability reports to check for unsupported or conflicting versions of other VMware products, or carry out pre-update checks to prevent any unexpected issues during the update process, as shown in the screenshot below.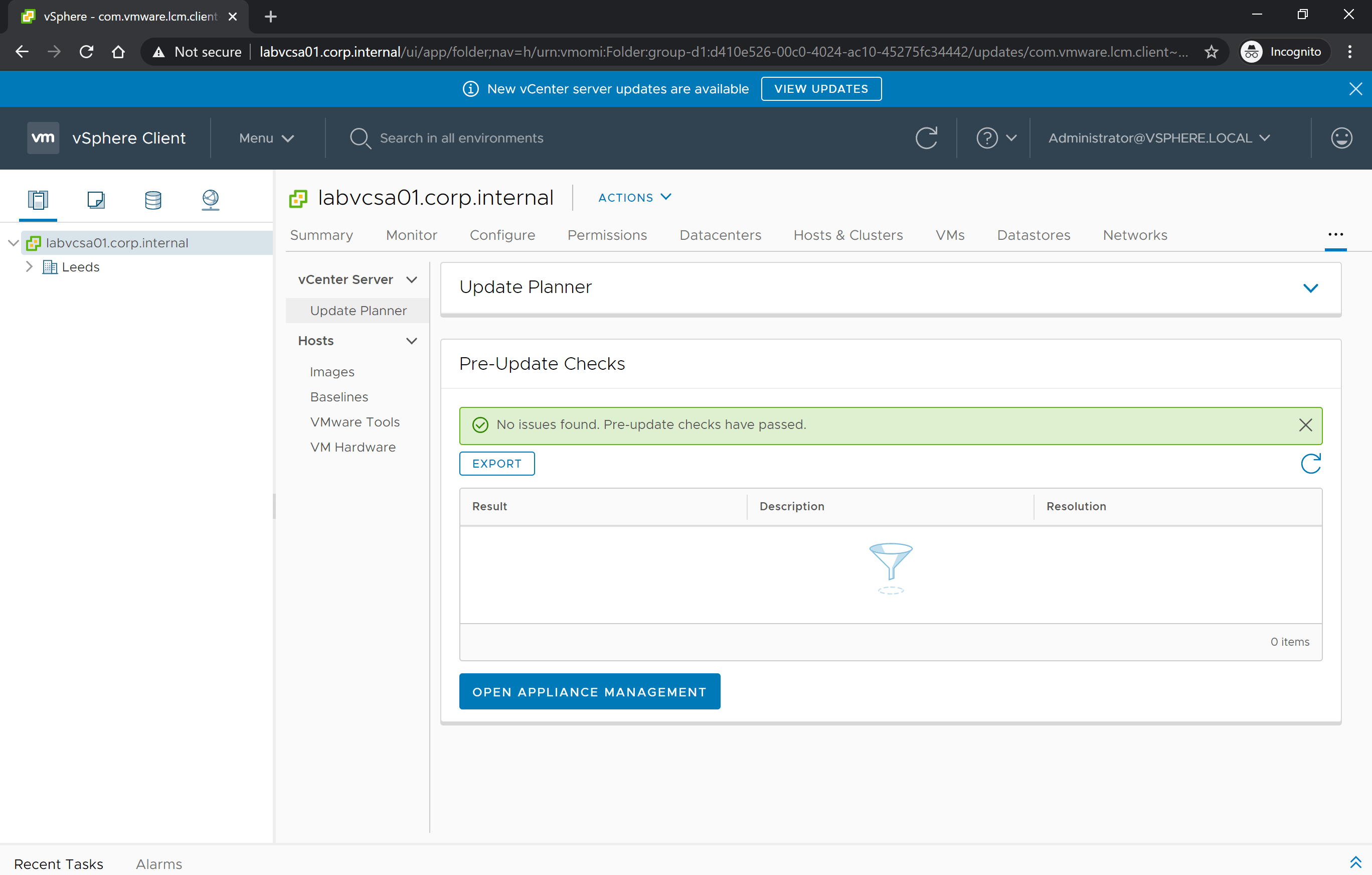 vCenter Server Profiles
A further addition to vCenter 7 lifecycle management is the introduction of vCenter Server Profiles. vCenter management, network, authentication and user configurations are now exportable into JSON format profiles, which in turn can be modified, validated and imported or pushed to up to 100 vCenter Servers.
While this may not be big news for smaller environments, those running vCenter Server at scale can now take advantage of vCenter version control, consistent configuration, and last-known-good state.
vCenter Server Profiles are accessible via 4 new REST APIs; list, export, validate, and import, meaning they are consumable using automation tools such as DCLI, PowerCLI, Ansible, Puppet, and Chef.
At this stage, vCenter Server Profiles are not replacing file-based backups for vCenter, since the profile exports do not contain GUIDs and other configuration that would need to be applied for a full vCenter Server restore.
Summary
In conclusion, vSphere Lifecycle Manager is a great addition to an infrastructure administrator's toolkit. Customers that use the full functionality to unlock consolidated upgrades and end-to-end visibility will benefit from reduced operational overhead, downtime, and risk.
Enterprise customers may choose to go a step further and automate the full upgrade stack using the Lifecycle Manager REST API and JSON configurations.
Additional features like vCenter Server Update Planner and vCenter Server Profiles are a nice to have, with the latter again aimed at larger-scale environments. Hopefully, both of these features are introductory and will be built on in future vSphere releases.
To get started with vSphere Lifecycle Manager, install or upgrade to vCenter 7.0 using the process outlined in the article Should I Upgrade To vSphere 7.0?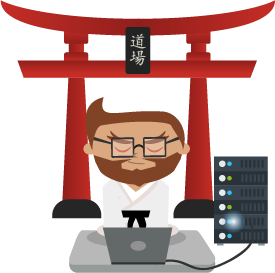 Not a DOJO Member yet?
Join thousands of other IT pros and receive a weekly roundup email with the latest content & updates!