Hello everyone! June is over and that means that it's time for another edition of Hot VMware Topics! Once again, for those that aren't aware, we post this series monthly, and it showcases a number of large developments and/or useful links or howtos from the VMware world over the past month.
So, without further ado, below is what we found cool and interesting over the last month!
Author: Duncan Epping
I came across this article just this morning, and I found it very relevant to many of the storage discussions I've been having over the last couple of months. While this article isn't overly technical, nor does it show us how to do something, I think Duncan Epping provides some excellent insight and talks very accurately about the direction that storage in the industry is heading. Whether your a fan of software defined storage and hyper-convergence, or your one of the aforementioned "SAN Huggers" this certainly is an interesting read.
Author: Erik Scholten
After the release of the HTML5 web client fling, I really started paying more attention to the VMware fling program. I stumbled upon this article by Erik Scholten at vmguru.com, that discusses a utility that I had been previous unaware of, DRS Doctor. Erik puts it perfectly in his article, "DRS has historically been a black box". I can remember thinking something along these lines while working with DRS throughout the last several years. When DRS makes a choice based on cluster conditions, sometimes it would be nice to understand a little bit more about WHY it made that particular choice. DRS doesn't always function in the way we expect it too, so it's helpful to have a tool around that can help us determine why DRS functions the way it does.
Author: Florian Grehl
I'm always on the lookout for good guides on setting up home labs or home servers, cause let's face it. Those of us in IT like to tinker, even during our off hours time. Even though I like to use that time for training and or testing various features, sometimes I don't like to spend hours specing out hardware and figuring out exactly what I need. With this in mind Florian over at Virten.net has put together an excellent guide on howto use the new Skull Canyon NUC for just this purpose. If your in the market for something like this, it's a good read!
Author: Kyle Jenner
It's well known that if your not continuously learning in IT, you're falling behind. With that in mind, I'm always on the look out for study materials that are helpful and to the point. Kyle Jenner has been putting together some nice guides for all the various exam objectives for VCAP6-DCV, and he's been doing so in nice, digestible chunks. If this is a certification you're currently working on, or are planning to work on in the future, it's worth your time to bookmark this one.
Author: Florian Grehl
With as hot of a topic as VMware NSX is this last year or two, I'm always on the lookout for any additional information regarding it. NSX 6.2.3 has been released, and Florian takes this opportunity to discuss what's new, what the upgrade procedure is, and also discusses the fact that users with a NSX 6.2.3 license are now entitled to vRealize Log Insight for NSX as well! Read on for the details!
I'm surprised at how many people I talk to aren't aware of this, but VMworld 2016 registration is open! I wanted to post this in this article, because not only is VMworld itself, a hot topic, but by attending you'll be learning a great deal about the future direction of virtualization on the VMware platform, including a number of bleeding edge topics centered around all the core VMware offerings. So, if you have the budget, and the time, this conference is well worth it!
Wrap-Up
That wraps things up for us this month! I'm hoping you've enjoyed reading the above list, and hopefully that will tide you over until next month, when we'll do another segment of Hot VMware Topics! Also, if you know of a cool link or howto that you feel should be on this list, feel free to post it in the comment section below!
Thanks for reading!
[the_ad id="4738″][the_ad id="4796″]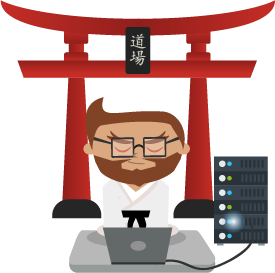 Not a DOJO Member yet?
Join thousands of other IT pros and receive a weekly roundup email with the latest content & updates!