On our Hyper-V blog, we've done this type of piece for quite some time, but as our VMware blog is still in it's infancy, this will be the first time that I've had to distinct pleasure of doing so for this medium.
Before we kick things off, let me discuss briefly what this series is all about. Every month, we here at Altaro, like to gather up all the great info and interesting links throughout the month, and then post the ones we find most interesting to the community. This serves to generate discussion and is also a great resource for keeping caught up on all the latest trends in the industry. Because let's face it, it's truly information overload out there, and this can be a useful way to get the highlights without having to scour the net on a daily basis. So, we hope you enjoy.
Without any further delay, let's talk about our Hot VMware Topics from the month of February!
This first link is brought to us by Florian Grehl, who is a VMware vExpert. Florian posted the above link on his blog regarding some changes that have been announced in the world of VMware licensing. We all know that licensing can be a complicated and difficult subject, but Florian has done an excellent job laying out a summary of the changes that are coming, including information pertaining to the discontinuation of the Enterprise SKU coming on June 30 2016. Check out the link for further details.
Duncan Epping, a man that needs no introduction in VMware circles is one of the first places I turn too when looking for up to date information on what is happening with VSAN. We've got a couple links from Duncan in our list today, but one link that caught my eye, not only from a usability perspective, but from a cool perspective, was this post he has on checking your VSAN disk controllers against the VMware HCL. One of the most important things you can do when setting up a new VMware solution is to make sure you're hardware is on the HCL. This avenue simply gives you one more way to get that done.
As virtualized environments have gotten more complex, so have the monitoring solutions tasked with keeping an eye on them. vRealize Operations has been through a number of different transformations over the years, but we've gotten some welcome news recently about this product and it's complexity. Certain items, such as the monitoring of OSs, middleware and apps running throughout the environment, required vRealize Hyperic for adequate monitoring, however some of these requirements have been removed. In this article Erik Scholten, discusses this topic and even shows us how to monitor the vCenter Server Appliance without needing VMware Hyperic.
Another good link from Duncan Epping Here. Keeping current on all the latest technology can be not only time consuming, but COSTLY. Duncan is offering the latest copy of his eBook on vSphere High Availability for free and in several different formats depending on your preferred viewing device. Enjoy!
There was a lot of buzz in the VMware community, throughout February, regarding the new VSAN 6.2 stuff. VSAN and Hyper Converged solutions are becoming more and more economical and common. Therefore, I would argue, that the people that have been putting off learning about VSAN should get on the band-wagon, because it's here to stay! If you're interested, the above link (another one by Duncan Epping) provides all the juicy information on what is new in VSAN 6.2. It contains LOTS of good information.
I'm starting to think we should have put Duncan's name in the title of this post, but regardless, he's provided some more quality information regarding VSAN. Correct sizing of ANY storage solution is hugely important, and when designing a VSAN solution you need to take into account how you're going to configure VSAN caching. Correctly sizing this out can be confusing in some situations, but fear not, this post should help you out, if you're in that very situation.
7. The Use of Erasure Coding in VMware Virtual SAN 6.2
One of the big buzz words in the storage world these days is "Erasure Coding", and with good reason. To quote Christos Karamoanolis, the above article's author, who defined it perfectly…
Erasure Coding is a general term that refers to *any* scheme of encoding and partitioning data into fragments in a way that allows you to recover the original data even if some fragments are missing. Any such scheme is referred to as an "erasure code".
Any mass storage array, or hyper converged solution that we're going to place our data on has to be able to withstand a failure now and then, and some of the new storage technologies coming to market are doing an excellent job of it. VSAN is no exception. This article provides a wealth of information on how the use of Erasure Coding is presented within VMware's VSAN technology and is an excellent read.
For some security-centric organizations it can often be difficult to patch and maintain systems while adhering to company security policies. This includes maintaining your vSphere environment as well. In the case of a vCenter Server Appliance, the machine had to make a direct connection to the internet and grab the patches from the VMware repositories. You now have the ability to download the patches manually onto your network and place them onto a web server of your choosing. This will make doing such updates in the future much easier. Check out the link to find out more.
Wrap Up
Well that wraps up our very first monthly edition of Hot VMware Topics! We hope you enjoyed our favorite highlights and be sure to check in with us again next month for the next edition.
Additionally, if you saw a link or article that you enjoyed, and don't see it mentioned here, be sure to tell us about it in the comments section below!
Cheers!
[the_ad id="4796″]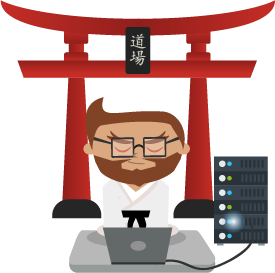 Not a DOJO Member yet?
Join thousands of other IT pros and receive a weekly roundup email with the latest content & updates!