Hello once again everyone! It's that time again, where we put together the list of our favorite Hot VMware Topics from throughout the last month! So, while March was a very busy month on the VMware front, April was a bit on the quieter side. However, that doesn't mean we don't have a ton of good material for you to review. It seems that one of the big topics this month was VMware NSX, and why not. This new software defined networking technology is taking the industry by storm. You almost can't read a VMware based article these days without some sort of mention of NSX. Even with that said however, I have managed to post about a couple of other topics as well.
There is a very common saying in our industry that if you're not learning, you're already behind, and I've found that to be true so far throughout my own career. With that said there is no better way to learn about the upcoming technology than by testing it and helping to shape it. VMware has setup this page to sign up for the upcoming beta, and you can help find and report bugs, while at the same time learning about many of the new great features coming in the next release.
I'm often surprised by the amount of people that still don't know how to manage the current vCenter Appliance. Granted, I know many folks are still running on the Windows Server based vCenter yet, and there are others that are likely not approaching the latest version of the VCSA, but this new version of the VCSA is crazy-easy to manage. That applies to upgrades as well. While this article is a short one, the process is so simple it doesn't need to be long! In this article, vExpert Kyle Jenner walks us through a very straightforward process on howto go about upgrading the VCSA in your environment.
I've always found Hyperconverged technology to be quite interesting. This includes things like VSAN, Microsoft Storage Spaces Direct, and the platform that Nutanix is building. With that in mind, anytime I see some news about the hyperconverged market, I always jump right in. It's always interesting to see what the industry adoption looks like for new technologies (hyperconvergence included) so that I can get a sense of how they are going to shape the industry in the coming years. In this article from Duncan Epping, we get a brief overview as to the adoption of VSAN to date, and considering how long it has been on the market, these numbers don't disappoint.
Have you been wanting to learn about the new upcoming VMware NSX technologies, but you weren't sure where to start? This is the article for you! In this post vExpert Florian Grehl walks you through the basics of setting up a small lab-based NSX deployment for testing. The article covers what you will need to get started, and then slowly walks through the process, step by step. This is certainly a good starting place when your beginning to learn about this technology.
5. vSpeaking Podcast – Episode 10 – NSX Intro and Use Cases
While we're talking about VMware NSX, I wanted to bring up this episode of the vSpeaking Podcast. I really enjoyed listening to this episode, because it's one thing to understand how a technology works, it's another to understand how that technology fits into the real world and how it can be used in your day to day work. This podcast, while an hour long, covers that question exactly, so I highly recommend running this in the background while you eat lunch or work on something monotonous. It really is worth the listen if you're focused on learning NSX. I've included the stream below for your convenience.
I came across this page a couple of weeks ago, and found it quite interesting. It lists and talks about the APIs present and used within several VMware technologies such as, NSX 6.2 and vRealize. While your average IT Pro may not be interested in this information, as more and more of us adopt the DevOps mindset, some of these APIs could be useful to know about. Eventually some of this information could be used in our own scripting and automation tasks, so I always advocate filing this type of information away when you run into it, because chances are, you'll need it someday.
I don't usually like to self promote in these hot topic posts, but I'm quite proud of this script I put together for the community. I won't go too much into the background behind the creation of the script, as I talk about that in the article, but I will say that my main goal with this script was to do something rather complex with scripting, and then I wanted to share it with the community. Additionally one of my secondary goals was to do it in a simple, sequential, well documented order so that people who are still learning PowerCLI could get something out of it as well. What the script does in a nutshell, is deploy 2 VMs, reach into the guest OS, install the desired Windows Roles (AD and File Services in this case), configure them, and prep them for login and general use. Check it out if you are doing deployments on a regular basis, as the script could be of use to you.
I came across this article in my RSS feed and it caught my eye because I used a method very similar to this for reporting current IPs in the script I mentioned above in link 7. This article was put together by vExpert Anne Jan Elsinga and it shows you how to use PowerCLI to pull a VMs assigned IP address from the Extension Data that vSphere collects for each VM via VMware Tools. This is quite useful when you want your script to determine what a VMs current IP is without having to actually log into the machine to do so. Very useful for scripting and this is a great howto on how to get it done!
Wrap Up
So that concludes our list for this month, and if you know of a link or hot post that you feel should be included here, be sure to let us know in the comments section below! We're always on the lookout for great new articles and information that we can pass onto readers.
Stay tuned for another Hot VMware Topics post next month!
Thanks for reading!
[the_ad id="4738″][the_ad id="4796″]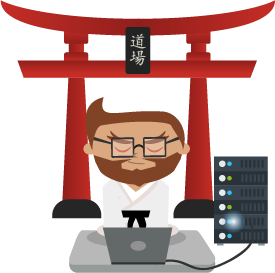 Not a DOJO Member yet?
Join thousands of other IT pros and receive a weekly roundup email with the latest content & updates!