Any regular readers of our blog will know that I like to put together a monthly digest of Interesting links, good howtos, and eyebrow raising news. As 2016 is winding to a close, and I've begun gathering up stuff to share with you, I find myself looking more at 2016 holistically. Where have we been? Where are we going? The end of the year is always a good time for reflection so that we can move into the new year with a clean slate and a new purpose.
With that in mind, I would like to take this time to cover three different areas to wrap up this year on our blog.
Where have we been? How did we start this year and what were the highlights?
Where are we going? What do I think the next 12 months is going to look like?
What Certifications should you be targeting with the new year?
Where have we been?
Looking back on the state of vSphere over this last year, I find this to be an interesting question. In my opinion it's been something of a quiet year for VMware from a product release-perspective. Sure, we got some cool new features in vSphere 6.0 Update 2 and vSphere 6.5 like encrypted VMDK, and the vSphere HTML 5 client, but by no means did we get a major release (*cough* 7.0 *cough*). Additionally, some information and new enhancements were talked about in VMware's container story with PhotonOS and what not, and improvements were made to VMware's already-solid VSAN and NSX product lines. If I sit back and ponder on it, I think what I'm getting at really is that VMware had a quiet bravado throughout the year while continuing to reliably and efficiently host workloads around the world. That's really what we've come to expect from a product suite as tenured as vSphere right? I have to say it delivered in that regard as it always does.
Outside of talk of product releases, I think there is a lot to talk about from a business stand point. When you look at VMware as a business and not a creator of technology, things get much more interesting for 2016. I see two major milestones worth talking about.
I think this deal is the single biggest thing that needs mentioning for the sake of this article. While VMware's public message will say to the contrary, Dell buying EMC has huge ramifications for VMware. While EMC doesn't outright own VMware, it's been said that they (EMC) had upwards of an 80% stake in the company. Short of outright ownership, that's an awful lot of potential influence that Dell will now command over the direction that VMware heads in. I could see this being either good or bad. Again, in my own opinion, if VMware is left to their own devices to operate as they always have, I think they'll do very well. However, if Dell feels the need to demand certain changes, things could get ugly pretty quick.
While quite unlikely to happen, if Dell does something along the lines of preventing VMware from working with competing hardware vendors, we could find ourselves in a situation in a couple years where if we want vSphere within our datacenters, we'll have to go with Dell hardware and storage. While I don't mind Dell hardware, they certainly aren't my first pick when it comes to hardware vendors, and lack of choice in that regard will only serve to damage VMware's brand. I have faith that Dell acknowledges that fact, and will hopefully leave them alone as a result.
Additionally, a positive that I could see coming out of the Dell – Vmware relationship is hardware/license bundling. Many people pick Hyper-V over VMware nowadays simply because they don't want to pay for extra licensing. I think Dell has a real opportunity to move some licensing and product by bundling the two together. I'm sure they've looked at it, and I wouldn't be surprised if there are bundles available out there already as of the time of this writing. Despite all of this, what happens with this market change will only be known in time. It's something to look forward to in 2017 for one reason or another.
VMware and Amazon made headlines with this announcement. Basically, the gist of it is, you now have the ability to run VMware technologies within AWS in technical preview. In my eyes this provides a number of different benefits. Let's talk a little history first though.
Does anyone remember VMware vCloud Air? No? No one raising their hand? Yeah that sounds about right. I really don't mean this in a negative light, but it's a sad fact that vCloud Air just didn't take off. In a world of Amazon and Microsoft led cloud innovation, VMware fell woefully behind. Prior to coming onboard with Altaro, I worked for a fairly good sized regional managed services provider with a fast growing cloud hosting practice. VMware was at the center of everything we did. However, when looking at public cloud partners, vCloud Air just wasn't in the game. It couldn't compete in capabilities and/or price to Azure and AWS at the time. I'm sure it worked well, but it just didn't make sense from a business stand point.
Fast forward to today. I think VMware has realized they've missed the opportunity to host their own public cloud, so a partnership here with AWS makes a whole lot of sense. They obviously can't partner with Azure due to the conflict with Hyper-V, and Google likely isn't willing to play ball, so they found an unlikely friend in Amazon and VMware Cloud on AWS was born.
The potential benefits are huge. One of the big advantages of Azure has always been the interoperability between on-prem and the public cloud. This provides administrators of VMware environments with that same option. Your still managing vSphere infrastructure, but it may be in AWS as well. You don't care because it still shows up inside your same management tools. It's a little thing but immensely powerful in the long run.
What remains to be seen if this solution makes sense from a functional and pricing stand point. If they can maintain VMware's high degree of reliability with Amazon's low cost ceiling, it could be hit. It's another story to keep an eye on going into the new year!
Where are We Going
Now that we've recapped some of the big stuff from the previous year, where are we going? What's going to happen in the world of VMware in the coming year? The first thing I see happening is everyone upgrading to the vSphere HTML 5 Web Client, uninstalling flash forever and rejoicing for weeks on end! While I could see that happening for some people, let me get a bit more serious about what I think things are going to look like.
While Microsoft has put on some serious pressure in product features I never expect vSphere to be behind for too long. If history has shown us anything from the Server 2012 RTM days, VMware and Microsoft are constantly in an arms race with each other in the hypervisor space. While Hyper-V has had a number of pretty nice feature adds, I would expect VMware to up the ante within the first 2 quarters of the year. However, I don't expect them to continue enhancing ESXi like they used too, and I'll tell you why I think that.
As a technology, I think that ESXi, while a great product, has likely innovated as much as it can for the time being. If you think about it, ESXi and vCenter and the product that lead VMware to be the market leader that it is today. They've been riding those coat tails ever since. What I would expect to see is a very concentrated push to improving and adding onto VMware VSAN and VMware NSX in an effort to make both of those products market leaders.
Think about it, they've taken compute abstraction about as far as it's going to go. The only things in the datacenter left to abstract are storage and compute, and the potential benefits are fantastic. We saw quite a bit of innovation in VSAN and NSX in 2016 and I fully expect that trend to continue well into 2017.
In addition to the above, if the AWS deal proves to be lucrative, you can likely expect to see a large number of enhancements to the vSphere suite that are focus specifically on the VMware Cloud in AWS model. If it improves the adoption of vSphere, and it plays to their bottom line, they're gonna improve it.
Training for the New Year
So, with all of this in mind, what areas should you focus your training on for the new year? The new year is always a good time to take stock of your skill set and where it needs to be improved to adapt to a changing industry, and the below would be my recommendations for the new year.
If you don't already have your version 6 VMware Certified Pro Datacenter Virtualization Certification, I would highly recommend getting it, if for nothing more than to stay up to date for what comes next. This is a widely respected certification amongst hiring managers, and it's a good one to have on your resume for 2017.
While not a certification specifically, I've been pushing people to learn as much PowerCLI and Automation theory as possible. It's a very clear fact that many of use are having to do more with less these days, and the more we can automate in our environments the better off we'll be. This is all not to mention that the management direction for many major products today is going to PowerShell route, so it doesn't hurt to learn it.
If VMware's partnership with AWS works well, you can bet that there are going to be a load of hybrid cloud options with AWS. I honestly don't see the day where the public cloud fully replaces the on-prem datacenter, but I certainly see the benefit of hybrid deployments. The public cloud is great for certain things. With that in mind, if you think your environment could benefit from some sort of hybrid cloud strategy, I highly recommend you begin working on AWS certification throughout 2017.
Wrap-Up
To wrap up, I'd like to say, thank you for reading our blog this year! We work hard to provide good solid content that is easily digestible and meaningful for your day to day activities. Please continue to visit us in the new year for a whole slew of new vSphere related content and much much more!
As always, if you'd like to share your thoughts and join the discussion, feel free to use the comments section below this article!
Happy New Year!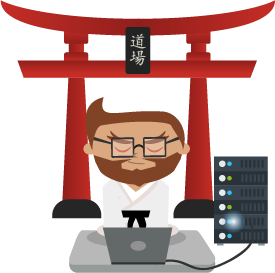 Not a DOJO Member yet?
Join thousands of other IT pros and receive a weekly roundup email with the latest content & updates!