In this article, we're going to be talking about how creative management and Imagination can help you effectively lead your team to victory. We'll start with why these traits are important in leadership, and then get into some tips and an example of how it's helped me personally in the past.
But first, a quote.
"Imagination is more important than knowledge."


–Albert Einstein
How Imagination Applies to Leading an MSP
"That's it!" I thought to myself. "That's what was missing!"
I heard a speaker last night. He certainly had knowledge of a difficult subject, but something was missing. Instead of just sharing the information on slides in a PowerPoint presentation, he could have done a better job connecting the dots. He could have read his audience better. And he just seemed unused to thinking on his feet, even though he has been in his business for many, many years.
I found out later that he knew, personally, a member of the audience…someone whose response to his message was unpredictable…and that made him nervous. But the speaker was knowledgeable, so what was the problem? What feedback could I give him? The speaker lacked imagination. He lacked the imagination that would have aided him in making his presentation more fluid. Imagination might have helped him read his audience and tailor at least his speech, if not his topic, to them.
This is often true of managers, as well; managers who set the culture of their business areas or departments, which then have an impact on the company culture. It isn't enough for managers to have industry knowledge. In fact, I've made a living from often not having industry knowledge. What do I do when that's missing? I listen. And I use my imagination.
I listen to the industry experts; those who are doing the actual work. Those closest to the customers. Those managing the finances. Those drumming up the business. I listen to what is said and not said. I listen to what is said in public and what is said when fewer are listening. I listen to connect the dots. I listen to fill in the blanks. Then, I use the knowledge I've gained – and my imagination – to put together a plan of action. I revisit the subject matter experts at each layer of the industry to share this plan; to check it for accuracy and feasibility. And together we imagine it working. This technique not only requires imagination but flexibility.
Some Tips for Leading with Imagination
The level of need, knowledge, experience, behavior and guidance will inevitable change by day, team member and by project.

[Rick Conlow and Doug Watsabaugh]
Manage accordingly.

Learn to improvise without sacrificing quality.

Remember the project management triangle: Budget, Quality, Timeline. It's a triangle. When one line moves, another line MUST ALSO MOVE.

Learn to navigate the unpredictable in ways that instill confidence in your thinking.
Go with the flow to adapt to your followers' needs WITHOUT forfeiting the things that matter.
A Real-Life Example Where Imagination Won
I'm not always successful right off the bat, and that's humbling. I had an assignment where the needs of the "C-suite" (CEO, CFO, etc.) were laid out for me (as is typical of my assignments), but when I met with the IT Director (to whom I was assigned to support), he told me I was wrong. I understood our job was to stabilize the current environment of the core business application, which was customized and therefore different at each of the plants where it had been implemented. We were to complete the conversion of the most recent company location and bring up the application for a location that was not yet using it. In China, which adds to the difficulty. To accomplish this, we were to stand up a 2nd instance of the application and keep it as close to out-of-the-box as possible, standardizing the operations of all locations to maximize efficiency. The IT Director had different plans.
I managed the project as required by the C-suite, which created direct conflict not only with the IT Director (which you already guessed would happen) but also with his entire staff. (I kept the C-suite informed of all that transpired by meeting with them weekly at a recurring meeting; spontaneously as needed; I had their full support.)
Unfortunately, the weekly meetings with the IT staff deteriorated quickly into weekly opportunities to question my plans, to question my abilities, to question the CEO's vision, motives, and more. The biggest problem, as far as they were concerned, is that I didn't have a concrete plan I could articulate to them and guarantee I would follow. But neither did they. And they had not been successful on their own in their attempts to move forward, which is why I was hired to help. I had a general idea of how to proceed, based on previous successes and the information gathered thus far, but I had a lot to learn (a lot of questions to ask; a lot of listening to do) so I knew the plan would evolve as the project developed and as the stakeholders emerged, but I couldn't promise them a roadmap to follow – I didn't know what detours awaited. They were truly uncomfortable with flexibility. And imagination? All they could imagine was losing their jobs, which they were repeatedly assured was not the plan.
Will you be the leader that refuses to make adjustments accordingly? Or will you be the one leading the pack through the unprecedented territory? Will you expect every member of your team to be on the same page as you at all times and become frustrated when one falls short? Or will you willingly and cooperatively work to understand the unique needs of each team member, so that you can effectively and collaboratively reach your goals together? Is it about you or is it about your team members? [Rick Conlow and Doug Watsabaugh]

I walked the floor of the building I worked in. I talked to people at the other locations. We included stakeholders from the other sites – including China – on our project team. Staff from yet other locations came to HQ to meet their counterparts face to face. I had to hound some members of the project team to complete their assignments. Others not only took on additional responsibilities but recruited their colleagues to assist. We tested. And tested some more. We moved the Go Live date twice. Flexibility was key. And teamwork was key.
In the end, the project was a success. Along the way, one IT staff member left voluntarily to take a job in another state. The remaining staff blamed me; however, never in my career has someone moved to another state to get away from me! And, as you may have already concluded, the IT Director was encouraged to look for another job and was replaced by someone better suited to the corporate culture and vision. The network administrator went rogue and had to be fired. But the most vocal, most emotional, most combative member of the IT staff told me at the end…
"I don't know how you did it, but it works, and we couldn't have done it without you. I'm not sure I could have accomplished what you did."
She stayed with the company.
Wrap Up
Imagination is more important than knowledge. For knowledge is limited, whereas imagination embraces the entire world, stimulating progress, giving birth to evolution.

Albert Einstein's imagination conjured up what later became knowledge. Today we call that "forward-thinking." Where is the focus in your corporate culture? On industry knowledge? Or on imagination?
While this may be a different topic than we normally address on this blog, the option for having an open mind and having the imagination of looking at things differently will ultimately help you in running your MSP.
What about you? What situations have you been in where imagination has helped you overcome a customer issue? Let us know in the comments section below!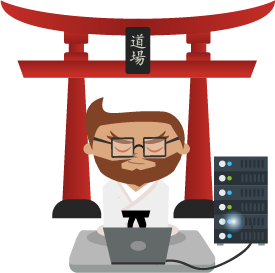 Not a DOJO Member yet?
Join thousands of other IT pros and receive a weekly roundup email with the latest content & updates!