Is your MSP prepared to lose a key member of staff?
No one likes to lose an employee. It's a hassle to go through the hiring and training process. But for MSPs, where there is a significant investment and industry knowledge in an engineer, who is in many ways, the "product", it can be especially impactful on the business. So, you can't simply run your business blindly thinking no one will ever leave (or screw up to the point you need to fire them); you need to be proactively planning for the day it comes. The good news is there are some relatively simple steps you can take to be ready for the day you lose an engineer.
In this first blog in a two-part series, I'll cover the initial two steps, which are about the impact losing an engineer has on the business. In the next blog, I'll cover the last two steps you need to take with the new hire once they're on board.
Step 1: Understand the Implications
This is something you should be doing well before someone puts in their notice. So, there are the obvious ones, like you're down one person and everyone else will need to pick up the slack until you find a replacement, etc. But there are some specific ways losing a key engineer may impact the business:
Customer Satisfaction – you've been sending that engineer out to the same customer for years. They've built a relationship and that engineer was the face of your company to that customer. Putting anyone else at that customer site will be an adjustment. And, since, the assumption is anyone new isn't going to do as good a job as your departing engineer, there are going to be quality issues and complaints.
Revenue/Profit – Regardless of whether your engineer has already left, or if you have time to find someone new and cross-train, there will be some degree of lost revenue. In a cross-training scenario, your old engineer is slowed down explaining the process to the new hire. In the greenfield new engineer scenario, the new hire is obviously going to take some time before they're at a level where they're making you money.
Certifications – You leverage your engineer's industry certifications to maintain partner statuses. With one down, it may affect your ability to do so.
Expertise – Looking beyond an engineer's level of expertise on, say, Windows Server, there is the internal expertise on how you provide services. Some MSPs provide more than just a service and, instead, have created a somewhat proprietary service offering. For example, you may offer white glove DRaaS that includes planning, automation, and, of course, disaster recovery. That's some very specific expertise you need to replace.
Depending on your particular service offerings, there may be additional impacts on your business. The important part of this first step is: you should be working on it well before someone puts in their notice. By doing so, you can also proactively address the second step.
Step 2: Plan Your Business Continuity
Like any business, having an operational contingency plan to keep the lights on is necessary. In some ways, you can think of planning the loss of an engineer like created a business continuity plan. It really is the same thing – just not about data and servers.
Using the potential impacts listed above, let's walk through how to proactively address each.
Customer Satisfaction – Communication is the key here. Plan on having an in-person meeting with the impacted customer(s). Explain what's occurring and how you specifically are planning to address it. Include process, expected timelines, and contingencies (e.g. what happens if you can't find a replacement for a material duration of time). Then listen. Hear any concerns your customer has about the plan and identify any additional steps you may need to take to ensure the customer remains happy during the transition.
Revenue/Profit – There are two factors to addressing this issue. One is having an effective new hire training plan. The other is the capabilities of the new hire. So, this is somewhat "best effort" here. One way to address this is to build the cost of a new hire (the loss of revenue, training costs, etc.) into your hourly rate (making assumptions around how many engineers a year leave). The other way is to simply understand your revenue engine won't be running on all cylinders for at least 3 months.
Certifications – Find out how the certification process as part of a partner status works. Do you have a number of months before you need to renew, or do you lose your status the moment the engineer disassociates themselves from your business? Knowing this will help establish a timeline for you around how quickly you need to find a replacement. Also, identify exactly what certifications can be accepted – your new hire may not be, say, a Microsoft MCSE, but they may have passed the specific exams necessary to maintain a Microsoft Gold Partner status.
Expertise – If you have an individual that knows everything, such that when they leave you're screwed, it's all because you didn't cross-train. Never, never, never put yourself in a situation where only one person has all the knowledge. Proactively implement a cross-training plan that sets aside a number of hours each week or month to have those with senior expertise in a given part of your business train everyone else.
Being Ready for Them to Go
By following the two steps above, you'll put your business in a place where you have a full understanding of just how the loss will impact the business and a general idea of what to do about it now. It's much like true BC/DR planning – you need to identify what you want to protect, and you make a plan on how to back it up so that you can recover when the time comes.
So, we've, essentially, done our engineer BC/DR planning. In the next blog, I'll focus on the "recovery strategy" – the two steps necessary to get your new hire productive and profitable.
When an engineer – the very lifeblood of your operation – leaves the organization, a gap in knowledge, expertise, customer relations, and service delivery is created. You need a plan to fill in that gap as quickly as possible to ensure as seamless a delivery of services as is possible.
In part 1 of this two-part blog series, I covered 2 steps that outline the planning necessary to well before you lose an engineer. In this blog, I want to discuss 2 additional steps you need to take once you've found a replacement.
Step 3: Develop a Training Plan
It should be stated it's unlikely that you'll find a replacement that comes with expertise on both the systems you manage and the way you manage them. It can take anywhere from 3 to 6 months of time before they're truly ready. And, because you will likely find a balance of them being billable mixed with training them, you're going to need to proactively have a plan on how they're going to be trained. Some of the areas they need to be trained on include:
Technology – Your new engineer will obviously have some level of expertise in operating systems, networking, applications, and virtualization (to name a few). But, if you're like most MSPs that standardize every client's environment, you likely have a few specific technologies that the new hire will need to learn. There are plenty of online learning platforms available, so having one chosen and lying in wait is a good plan.
Tools – The business of service delivery involves the use of a lot of MSP-specific tools and your new hire may or may not come with MSP experience. Even if they do, they'll need to be trained on your specific RMM and ticketing applications at a minimum, plus any service-specific applications (e.g. backups). Most MSP-focused tools have training available.
Policy & Procedures – The profitability of an MSP is highly based on predictability. And predictability comes from engineers following the established processes you've developed over the years. This should include both the business-related processes (e.g. how and when to open a new ticket, or how to bill for out-of-scope hourly work), as well as service-related processes (such as
Step 4: Have a Mentoring Plan
Even the best-trained engineer needs to put their education into action. This allows their training to solidify in practice and gives you and your existing team an ability to gauge whether the new hire can apply what they've learned and when are they ready to be responsible for a given set of customers. If you are fortunate enough to still have your departing employee available to provide transitional training to the new hire, all the better. But if you don't, have a plan that involves using some of your other staff to mentor the new hire. Also keep in mind that in either case, your billable hours will decline during this period, as will your profitability.
A simple 3-part mentoring process to take them from training to productive service delivery could be as follows:
1)      Shadowing – Your new hire can follow a seasoned engineer, watching to see how each service is delivered and the problem is solved, working to mentally apply their learning to the field.
2)      Proactive Issues – The new hire can be made responsible for addressing any issues that don't immediately impact your customer. Think backups, patching, updating of antivirus signatures, etc. These are all ways to expose the new hire to the environment, helping them become familiar with how they are configured, how to maneuver about within them, and how to support them. Those mentoring the new hire can review the work done, the documentation provided in tickets, etc.
3)      Reactive Issues – No day is without some firefighting. New hires can be made responsible to address open tickets under the watchful eye of a mentor. A focus on timeliness, accuracy, customer service and communication are key here – this is the last step before you shove them out of the proverbial nest, asking them to fly on their own.
Turning the Loss (of an Engineer) Into a Win
There's no way to avoid some degree of negative impact when an important engineer leaves your employment. Productivity, profit, customer satisfaction, ability to grow, and more all are impacted. Your goal is to minimize the impact by having a plan in place to remedy the "situation" as quickly as possible.
By putting a plan in place that addresses hiring the right person, having training ready for them, and even the simplest of mentoring plans available, you'll shorten the time it takes a new hire to get a lay of the land and become a contributing member of your organization.
You should look at the concept of someone leaving as a given (rather than a possibility). This way, you are motivated to put something in place now – before someone knocks on your door and says "hey boss… got a minute?"
Wrap-Up
How about you? Do you have any of your own strategies or personal tips that you take when a key employee leaves? Let us know in the comments section below!
Thanks for reading!
Get a 30-day trial of Altaro VM Backup for MSPs
Manage all your customer VM backups from a single cloud console, on a monthly subscription. Try Altaro VM Backup for MSPs for 30 days - no strings attached!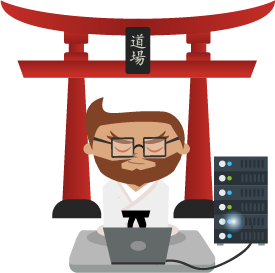 Not a DOJO Member yet?
Join thousands of other IT pros and receive a weekly roundup email with the latest content & updates!