For Managed Service Providers, building trust with customers takes time. However, there are a few things you can start doing right now to build a strong foundation for the future. This article presents 5 simple ways you can strengthen your customer relations and build that all-important trust.
As an MSP, you have visions of customers willing to hand over every part of their technology into your capable hands, generating consistent revenue over long periods of time. Sounds great, but to get there, you need to build up trust. Day one with a new customer is a big step for the customer; they are worried you will screw everything up while hoping that you are technically competent, friendly, efficient, and professional.
To get to that long-term customer, you need to build trust – you do so, literally, one helpdesk ticket at a time. Every time your customer sees you delivering services, realizing they've made a good choice, you increase your customer's trust in you, adding months, quarters, or even years to the relationship.
So, how do you build customer trust?
The following 5 items outline a few ways you can look at the work you do through the lens of how to build trust.  As you'll see, they're relatively high-level and strategic in their thinking.
Treat it like a relationship – Start here. Always. Your success and, therefore, your focus should be on the long-term. As in any relationship, there needs to be give and take. At a basic level, you're providing a service and the customer is paying for it.  But it's much deeper than that. Be flexible enough to make sure the customer is always left happy. Be the first to apologize should something go wrong and deliver on a promise to make things right.
Invest in your customer's success – Continuing off of the last bullet, a relationship that lasts and flourishes is one where both members invest in each other. I typically see the customer investing in me by means of them paying on time. You need to be looking for ways to improve their business – whether it's related to something that makes you money or not! Seriously. Demonstrate that your primary concern is whether they are successful or not (I always tell customers "it's about the relationship and not the revenue"). As your customers realize you care more about their business than yours, they are always going to come back for more.
Provide high-value services – Your customer is looking to partner with a service provider that wants to own the customer's technology. They also want you to be able to grow, scale, and improve their technology as the business itself grows.  So, your services can't be the basic break/fix; doing so only limits how they see you and the duration of your usefulness. The services you provide need to offer value that goes well beyond what the customer could do themselves. For example, don't just offer backups; instead, offer data protection services which includes some level of assurance of performing a disaster recovery.
Address issues before they impact the customer – Take a look at your service processes, specifically around monitoring and problem notifications. If you're seen as always being reactive, requiring a user submit a ticket, you're a break/fix shop to the customer. But, if you are proactively dealing with problems – at least well before someone makes the phone call to you, etc. – your customer knows you have a handle on their business.
Deliver what you promise consistently – You're only as good as your last helpdesk ticket. Carefully define your service delivery and work to ensure your processes are executed consistently. In additional to benefitting you (because a predictable business is a profitable business), this gives your customer the sense that they can continue to leave their business in your hands.
I think the really short version of the steps above is simply to own it: own the part of your customers business (that is, their technology) that they handed you. Take it personally when something goes wrong. Let it bother you that your customer's productivity isn't at its peak. Always be looking for ways to improve their operations, making suggestions as they hit you.
The 5 steps above provide some specific areas on which to focus that each demonstrate your ownership of your customer's technology. But at the end of the day, trust is built by taking the part of the business your customer handed you and making it flourish over time.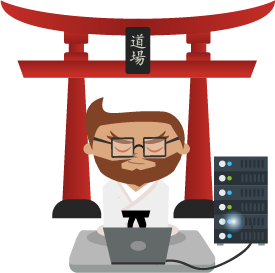 Not a DOJO Member yet?
Join thousands of other IT pros and receive a weekly roundup email with the latest content & updates!