System Center Virtual Machine Manager (SCVMM) provides some great automation benefits for those organizations that can afford the hefty price tag. However, if SCVMM isn't a cost effective solution for your business, what are you to do? While VMM certainly makes automation much easier, you can achieve a good level of automation with PowerShell and the applicable PowerShell modules for Hyper-V, clustering, storage, and more.
Are you looking to get grips with automation and scripting?
Here is the webinar recording for those of you who didn't make it:
In this webinar Thomas Maurer, Microsoft Datacenter and Cloud Management MVP, will show you how to achieve automation in your Hyper-V environments, even if you don't have SCVMM.
Remember, any task you have to do more than once, should be automated. Bring some sanity to your virtual environment by adding some scripting and automation know-how to your toolbox.
About the presenter:
Thomas Maurer
Thomas Maurer works as a Cloud Architect at itnetx gmbh, a consulting and engineering company located in Bern/Switzerland, which has been awarded by Microsoft as "Microsoft Datacenter Partner of the Year for the past three years (2011,2012,2013). Thomas is focused on Microsoft Technologies, especially Microsoft Cloud Solutions based Microsoft System Center, Microsoft Virtualization and Microsoft Azure. This includes Microsoft Hyper-V, Windows Server, Storage, Networking and Azure Pack as well as Service Management Automation.
Blog: http://www.thomasmaurer.ch/
Twitter: @ThomasMaurer
About the host:

Andrew Syrewicze
Andy is a Technical Evangelist for Altaro Software, providing technical marketing and pre-sales expertise. Prior to that Andy spent the last 12+ years providing technology solutions across several industry verticals including, education, fortune 500 manufacturing, healthcare and professional services working for MSPs and Internal IT Departments. During that time he became an expert in VMware, Linux, and Network Security, but his main focus over the last 7 years has been in Virtualization, Cloud Services and the Microsoft Server Stack, with an emphasis on Hyper-V.
Blog: http://syrewiczeit.com/
Twitter: @asyrewicze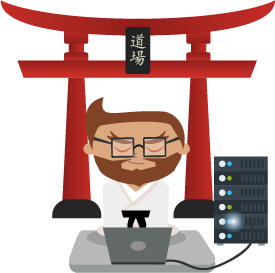 Not a DOJO Member yet?
Join thousands of other IT pros and receive a weekly roundup email with the latest content & updates!