We're warming up for the release of Hyper-V vNext and we've invited Microsoft Hyper-V MVP, Aidan Finn and Microsoft Sr. Technical Evangelist Rick Claus to take you through what's coming up in a new Altaro webinar, hosted by our very own MVP Andy Syrewicze!
Looking to get a good view of what's coming up? Here's your chance!
About the presenters

Aidan Finn
Aidan Finn is a Microsoft Valuable Professional with the Virtual Machine (Hyper-V) expertise. Aidan has been working in IT infrastructure since 1996, and is the Technical Sales  Lead for MicroWarehouse Ltd., a Microsoft value added distributor in Ireland. He runs the aidanfinn.com blog, is the Contributing Editor on Microsoft virtualization at Petri.com, and has written or co-written books such as Windows Server 2012 Hyper-V Installation And Configuration Guide, Microsoft Private Cloud Computing, and Mastering Hyper-V Deployment.
Twitter: @joe_elway

Rick Claus
Rick Claus engages with the worldwide Technical Community on behalf of Microsoft. As a Sr. Technical Evangelist, Rick's role is to support platform awareness for Microsoft Azure  and Windows Server through special events targeting the broad community.
Technical areas of expertise from his 20+ years of experience in the IT Industry include: Windows Server, core infrastructure services, Virtualization technologies of all kinds, systems management and "cloud" 😉
Unofficially, Rick is focused on spreading his enthusiasm, passion and excitement on all things technical to anyone who has the time for a coffee (or pint) and a chat (in English or français – naturellement)
Blog: RegularITguy.com
Twitter: @RicksterCDN
About the host
Andy has spent the last 11+ years providing technology solutions across several industry verticals including, education, fortune 500 manufacturing, healthcare and professional services. Andy's skills include VMware, Linux, and Network Security, but his focus over the last 7 years has been in Virtualization, Cloud Services and the Microsoft Server Stack, with a focus on Hyper-V.
With that said Andy has become quite involved in the Microsoft IT community over the last 2 years via a number of different mediums, such as, various blogs, IT boot camps, and podcasts and has also been named a MVP by Microsoft for contributions to the Hyper-V community specifically. Andy has been featured as a co-host of the Technet Radio shows "Hyper-V from a VMware Admin's Perspective" and "Building your Hybrid Cloud", which have been syndicated on Microsoft's channel9.msdn.com website.
Other notable skills are professional blogging and public speaking. Both of which Andy participates in on a regular basis. Andy has a passion for technology, and greatly enjoys sharing his knowledge with peers, customers, and the IT community at large.Twitter:
@asyrewicze

Blog: 
syrewiczeit.com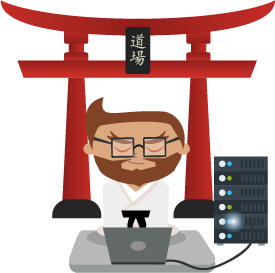 Not a DOJO Member yet?
Join thousands of other IT pros and receive a weekly roundup email with the latest content & updates!