Are you confused by just how virtual machine guest licensing works with Hyper-V 2012 and 2012 R2? I've been reading a lot of blog and forum posts, and it seems like this might be the most confusing subject in the world of Hyper-V right now. It doesn't help that that a lot of people who really don't understand it are doing their best to help others. The phrase, "When the blind lead the blind, they will both fall in a ditch," comes to mind. Let's clear away some of the confusion.
Disclaimer
Most of our posts are technical in nature. Licensing is a legal matter. I am not a lawyer and I did not consult with a lawyer on this post. The contents of this post are intended to be a guideline to help you understand the concepts of a specific licensing detail. It does not constitute legal advice or interpretation. Neither I nor Altaro software are offering legal advice and this post cannot be construed as such. We cannot be held responsible for any negative outcomes of the usage of any of the contents of our post, whether it is through an error on our part or a misunderstanding on yours. For official answers, contact Microsoft Licensing or check with your reseller. Authorized resellers should have someone on staff that can authoritatively answer licensing questions. I have consulted with two resellers extensively on this subject and have never been asked to pay anything for the call. There are very steep fines and bounties associated with licensing violations. It is worth your time to get official answers.
Probably the clearest material that Microsoft publishes on the subject is the Product Use Rights document.
OEM Licenses
This post will deal with Volume Licenses, which are an agreement you make with Microsoft with the assistance of a reseller. OEM licenses can be customized by an equipment manufacturer and therefore might have different rules than you find anywhere else. Do not assume that an OEM license works the same way as a standard volume license. Usually, the greatest difference is that they are not transferable.
The Unbreakable Rule for Windows Server Licensing
At least as far as Standard and Datacenter Editions are concerned, there is one absolutely inviolable rule about Windows Server licensing: a Windows Server license is always bound to a specific piece or group of hardware. The specifics have changed over time, but this fact goes back as far as I can remember. For 2012 and 2012 R2, the bound hardware is one or two physical CPUs in a single motherboard. A single CPU system requires one license. A dual CPU system requires one license. A quad CPU system requires two licenses. This is pretty easy to work out from here.
Virtual machines are not directly licensed. Yes, you have to plug in keys to activate them, but keys are not licenses, they do not represent licenses, and just because you can get a system to accept a key does not mean that it is properly licensed. You can get yourself into a lot of trouble by thinking that your virtual machines are licensed. Why? Because virtual machines can move, that's why. Remember the unbreakable rule: the physical CPUs are what is licensed.
The nice thing about OEM licenses is that the manufacturer usually plops a sticker onto the chassis of the licensed system. That helps you remember where the license belongs. When you get a Volume License, you don't get a sticker. That's because Volume Licenses are transferable. But, as you'll see, the transferability of a volume license isn't a free-for-all. My recommendation is to find some way to clearly denote which physical hardware is getting which license.
The Hyper-V Server License
So, you've downloaded the free Hyper-V Server, and now people are telling you that you don't have a license to run Windows Server guest and you need to install a different management operating system. What to do?
Well, the first thing to understand is that what you get with the free Hyper-V Server license is a license to run Hyper-V Server. That's it. It can have up to 1,024 actively running virtual machines and I have no idea how many turned off virtual machines. Either way, it can probably run a lot more VMs than your hardware can handle. But, it doesn't have a license for any of them, no matter what they are. So, do you actually need to install a different hypervisor? Of course not. You just need to make sure you buy enough licenses to cover the guests running on that host.
You always need to buy enough licenses to cover the guests running on a host. Seems pretty obvious when it's stated like that, but it's really not strange to find people who overthink and miss that.
The Windows Server Standard Edition License
It used to be that when you bought a Windows license, you got a piece of paper. Nowadays, you don't even get that anymore. You get an e-mail that tells you where to go look at a digital copy of your Windows license. But, I can make you a graphic that helps you conceptualize what you get (and helps you understand why I didn't choose graphical design as a career):
What's in the "box" is a license for one physical instance of Windows Server 2012 Standard and two virtual instances of the same. The crude chains with the odd transparency are intended to show that these are permanently tied together. They can never be taken apart. Never, never, never.
We'll come back to this.
The Windows Server Datacenter Edition License
The Datacenter Edition comes in a similar "package", but this time you get unlimited guest instances. You can also downgrade to Standard edition in any of the instances, as shown in this image with slightly less odd transparency:
As with the Standard Edition, the physical and the virtual cannot be split from each other. Not at all. Don't ask, don't try.
What the Chains Mean
Remember the inviolable rule: the licenses are bound to specific hardware. All of them.
You can't split guest privileges across hardware, whether in the same machine or across different machines. If you use one Datacenter license for a quad CPU machine, then you have a problem. Two of the CPUs are unlicensed. Since there's no way to restrict the physical instance or the virtual instances, then you are out of compliance and in trouble. If you have one Datacenter edition license and two physical computers, you have a problem. I think it's possible to have all the guests running on a single host in a pure failover environment, but I'd definitely want a true licensing expert to say if that's legal. One thing is for certain, if you ever Live Migrate from one to the other and have more than one active guest, you're out of compliance. The only way you might possibly be able to work the "pure failover" angle is if the only time guests ever moved was in response to a complete host failure. Even if it's legal, it's certainly dangerous.
If you're struggling with the idea of the license belonging specifically to the hardware, try to remember that the guests aren't actually licensed at all. Let's say you buy a Standard license for physical host SV-HyperV1. You install Windows Server Standard on it. You then install a guest virtual machine with Windows Server Standard. There's nothing wrong with that; everything is fine. Later, you build a new computer, SV-HyperV2, and Live Migrate the guest to it. You are now out of compliance. The virtual guest privilege stays with its hardware on SV-HyperV1. It does not follow the virtual machine, no matter where it goes. The destination system must have a ready and available license.
What the Chains Do Not Mean
The biggest point of confusion I see being circulated now is a myth that there is some magic genie that only comes to life when you install Windows Server as the physical instance, and this wonderful creature grants special licensing powers. This is absolutely not true. You can't separate the physical instance from the virtual instances, but you are absolutely not required to use them all. You can buy one Standard Edition license, install Windows Server as the physical instance, and use only one Windows Server guest. You do not have to use the other virtual instance. But, you also can't use it on another piece of hardware because of the inviolable rule.
Most importantly, you don't have to install a copy of Windows Server in the physical instance to use its rights. You can most certainly buy a Datacenter license, install Hyper-V Server, and still take advantage of your unlimited guest privileges… provided that you don't use that Datacenter license on any other hardware. You are never required to install the licensed physical operating system environment in order to take advantage of its guest virtualization rights.
In fact, you can install any hypervisor you want. The only rule is that you can't split up the physical license and its guest privileges.
What About License Transfers?
You can transfer a license from one piece of hardware to another, but once it moves, it can't move again for 90 days. Exceptions are made in the event of host failures. This 90-day clause is always true for Windows Server. Clusters do not change this rule. Other server products, like SQL Server, have their own rules about how they can move in virtual instances, and these are usually a lot more lenient.
Other Things to Think About
The licenses are stackable. You don't have to choose between one Standard or one Datacenter if you want, say, three virtual machines on a 2-CPU system. You purchase enough Windows Server licenses to get the necessary number of guest privileges. In the case of needing three virtual machines, you can use two Standard licenses. This will leave you with one open slot for another virtual instance of Windows Server Standard edition.
Volume Licensing gives you downgrade and down-edition rights. If you have a Datacenter license, you can use Standard in its place. If you have Windows Server 2012 R2 licenses, you can use Windows Server 2008 R2. This is true for both the physical instance and any guest instances.
If you install any role, feature, or application in the management operating system that is not Hyper-V, related to Hyper-V, or needed to service Hyper-V or its virtual machines in some way (like backup software or hardware management utilities), then the management operating system needs a full license. So, if you have a Standard license and you're running a general file server from the management operating system, you forfeit one of the two guest privileges. I've never seen an official explanation for this, but my assumption is that it's to prevent you from getting a three-for-two license.
The rules don't change for a cluster. Each host needs to have sufficient licenses to run the maximum number of virtual machines it can be realistically expected to ever run. So, if you have six guests in a two-node cluster, then you're going to need three Standard licenses for each host, winding up at a total of six licenses. If you're using Datacenter edition to cover unlimited guests for one host, then you need a separate Datacenter license for the other(s) as well.
Desktop operating systems (Windows 8, etc.) are never covered by guest licensing privileges. Licensing desktop operating systems in a virtual environment is tricky and you're going to want help from an expert on that.
New in Windows Server 2012 R2 is Automatic Virtual Machine activation. This is a feature, and it only works when the Datacenter edition is installed as the management operating system. You still get the privileges even if you don't install Datacenter, but the automatic licensing tool won't be available.
For Hyper-V Replica, the replicas count as distinct virtual machines. That means you must have enough privileges for all the guests on the source host and, separately, enough licenses for all the guests on the replica host. Software assurance erases the need to provide separate licenses to cover the replicas.
More Questions
Ordinarily, we encourage questions. I'll warn you now that we're not going to be as open on this topic, because it's too much like legal advice and we don't want to get you or ourselves into trouble. The point of this post is to clear up the initial confusion a lot of people have on the subject, not to be the final, all-inclusive, indisputable word. If I haven't explained it clearly enough, talk to a licensing expert. Run it through your legal department. Licensing is confusing and not worth making mistakes on. Get an expert on the phone, explain what you have and what you want to accomplish, and you'll have a legitimate answer in very short order.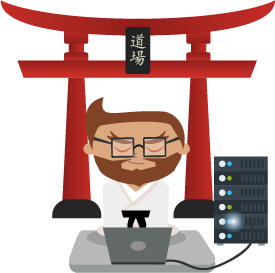 Not a DOJO Member yet?
Join thousands of other IT pros and receive a weekly roundup email with the latest content & updates!