Say Goodbye to Free Hyper-V
We've got Microsoft MVP Eric Siron for a conversation about the end of Hyper-V Server (the free SKU of Hyper-V). Again, to confirm, we're talking about the free SKU of Hyper-V. The normal paid SKUs – the well-known role within Windows Server – will be remaining.
This announcement came abruptly and was something of a shock to many people. Hyper-V Server was the primary test/dev hypervisor for many organizations, not to mention it was great for licensing in VDI scenarios. News of its untimely demise has created some angst in the community. Many IT Pros see this move by Microsoft as a way to takeaway a great free tool and use the situation to start pushing Azure Stack HCI, which many organizations are not ready to adopt at this time.
The good news is that Hyper-V Server 2019 is going to continue to be supported until its extended support lifecycle runs out in 2029. This means that many organizations will have plenty of time to migrate to an alternative.
What do you think? Is this change going to be impactful for you? Let us know!
In this episode on free Hyper-V:
What is Hyper-V Server? – 2:10
Is Hyper-V Server being discontinued? – 11:04
Where do Hyper-V Server users go from here? – 18:15
What are some alternatives to Hyper-V Server? – 21:49
Episode Quotes
Hyper-V Server did a good job of forcing the idea of "Server-Core".
I was a Linux guy in a previous life.
I've seen situations where certain organizations will actually configure a "management domain" in their datacenter.
I've seen a lot of admins swear by it, but mostly I just see admins swear AT it.
It's one more hurdle that the bad guys have to get by…  on paper…
OMG, Microsoft is killing Hyper-V!!… ummmm…. no.
Fun fact about Hyper-V. Hyper-V Actually runs on X-Box as well!
Microsoft has killed some really popular services in the past and they're still doing fine
Really at the end of the day, 90% of organizations using Hyper-V Server today, are going to be ok.
Frequently Asked Questions about Hyper-V:
What is Hyper-V Server?
Hyper-V Server (Not to be confused with Hyper-V) is a free edition of Hyper-V that contains only the needed roles to run clustered virtual machine workloads using Windows Server. The solution comes with no licensing rights, and it has recently been announced that Hyper-V Server 2019 will be the last version of this SKU of Windows Server.
Is Hyper-V Being discontinued?
Yes, see the Microsoft communities thread in the show resources below for more information.
What are some free alternatives to Hyper-V Server?
Some big ones that come to mind are KVM, ESXi, Proxmox, and Virtualbox.
Resources for Hyper-V Server:
Have a question? Want to feedback? Get in touch!

Listen to The SysAdmin DOJO Podcast on your favorite platform. Let us know what you think of it (or how we can improve) by rating or leaving a review!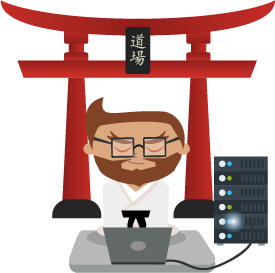 Not a DOJO Member yet?
Join thousands of other IT pros and receive a weekly roundup email with the latest content & updates!