There is a new suite of high availability enhancements available in Windows Server 2019 Failover Clustering. The latest release for Microsoft's private cloud datacenters focuses on hybrid cloud, application platform, and hyper-converged infrastructure (HCI) solutions. These new clustering features enable many of these scenarios by helping administrators and developers to keep their critical services online. Here are the top ten features in Windows Server 2019 Failover Clustering. Do you agree with our list?
10) Cross-Domain Cluster Migration
In previous versions of Windows Server, Failover Clustering is was not possible to change the domain of a cluster, and mixed-domain clusters were not supported. The cluster had to be destroyed and recreated, which meant that every property or every workload needed to be reconfigured and there would be downtime for a critical application. When I worked on the cluster team, we regularly heard this feature request from customers that were consolidating IT departments or phasing out earlier versions of Windows Server. With Windows Server 2019, cluster admins can move nodes and clusters between Active Directory domains, even supporting mixed-domain clusters.
9) Cluster-Shared Volumes (CSV) Improvements
Clusters Shared Volumes (CSV) disks allow multiple cluster nodes to simultaneous write to a shared disk in a coordinated fashion to avoid corruption. CSV in previous version of Failover Clustering supported Hyper-V virtual machines, SQL databases and Scale-Out File Servers. In Windows Sever 2019 it also supports the Microsoft Distributed Transaction Coordinator (MSDTC) role which allows MSDTC to run on Storage Spaces Direct (S2D) with applications like SQL Server. Additionally, the CSV cache will be enabled by default, which means that highly-virtualized workloads will perform even faster.
8) Azure-Aware Guest Clusters
When a Failover Cluster is created using virtual machines, rather than physical servers, it is called a guest cluster. Guest clusters are used to provide high-availability to an application running inside a VM, such as a virtualized instance of SQL Server. Guest clusters have been supported on private cloud deployments and in the Microsoft Azure public cloud for several releases. In the newest version, it is easier to create a guest cluster in Azure because the additional steps of configuring a load balancer were removed. The enlightened guest cluster will also recognize that it is running in Azure and proactively avoid any downtime due to planned maintenance by automatically moving virtual machines between hosts during patching cycles.
7) USB File Share Witness (FSW) for Quorum
One of the ways which Failover Clustering provides high availability while avoiding corruption is by ensuring that only one instance of a workload is running in a cluster, even when the nodes cannot communicate with each other. This is done by a voting process to determine if a quorum (majority) of cluster nodes can see a consistent view of the state of the cluster.
In a cluster with an even number of nodes (and votes), a network file share can also be given a vote to break a tie which was known as the File Share Witness (FSW). This was not a problem for larger IT departments, but for a small business deploying a 2-node cluster this required that they also had to deploy a file server and configure shares. In Windows Server 2019 Failover Clustering a simple USB device plugged into the network switch can now add this extra vote, eliminating the need to set up any extra IT infrastructure.
6) New File Share Witness (FSW) for Quorum Scenarios
In addition to the aforementioned USB File Share Witness enhancement, this release of failover clustering makes this voting mechanism even more resilient. The FSW can now run on drives without disks and under poor network connections. It also gives the FSW the ability to vote in clusters without domains, mixed-domains, or running in a DMZ without access to a domain controller, further enhancing security.
5) Cluster Sets
A new management concept is introduced into Windows Server 2019 Failover Clustering called cluster sets. This is basically a "cluster of clusters", allowing VMs to live migrate between clusters. Although 64-node clusters are supported, they are rarely deployed. Instead, organizations that need this type of scale usually deploy numerous 2-node to 8-node clusters, with each cluster dedicated to a workload, department or region. Cluster sets now allow these enterprises to group all of their clusters into a single logical management set. This makes entire clusters resilient to outages by allowing cross-cluster failover and providing easier live migration between clusters for maintenance or load-balancing. A new distributed namespace on a Scale Out File Server is also created and shared across all clusters. This makes it easier to deploy VMs by using a single address which then places that workload on any available host within the cluster set.
4) Cluster-Aware Updating for Storage Spaces Direct (S2D)
One of the most tedious tasks for cluster administrators is applying software or hardware updates. It requires pausing a node to live migrate VMs or move applications to other hosts, patching the host, restarting, then resuming the node so that it can host workloads again. This has to be repeated on every cluster node which becomes very time-consuming. Cluster-Aware Updating (CAU) is a utility which automatically patches all nodes in a cluster. CAU determines which hosts need which updates, then serially patches them while migrating workloads between the operational cluster nodes. In the Windows Server 2019 release, Cluster Aware Updating patches nodes faster by reducing the number of required restarts. It also supports Storage Spaces Direct (S2D) by ensuring that each node has resynchronized its data during the patching process.
3) Improved Security with Certificates and Kerberos
Earlier versions of Windows Server Failover Clustering could use NTLM authentication, which has been vulnerable to security attacks in the past. Clusters no longer use any NTLM authentication, only Kerberos and certificates are supported. All nodes will now communicate with each other via certificate-based authentication to prevent network traffic spoofing.
2) Windows Admin Center (WAC) Integration
Windows Admin Center (WAC), formerly "Project Honolulu", is a much-anticipated unified management console for small businesses using Windows Server 2019 and earlier versions. It centralizes the deployment, monitoring, and operations of Hyper-V hosts and clusters. Cluster support is currently limited to core operations, so any advanced configuration may require using Failover Cluster Manager for now. WAC lets organizations deploy highly available applications and VMs, manage clusters and workloads, view disks, switches, networks, nodes and run Cluster Aware Updating (CAU).
1) Self-Healing Failover Clusters
More intelligence was built into Failover Clustering in Windows Server 2019 by adding new resiliency features which are hidden to the administrator. These add high availability to the cluster's communications network so that it can quickly discover and repair infrastructure issues. When a node is unable to communicate with the rest of the cluster, new attempts to automatically repair it are made so the node can rejoin the cluster. If a network becomes unavailable, then detection happens quicker, and the traffic can be rerouted through different networks for additional resiliency. If there is any problem with bringing your cluster back online, make sure that you have already backed up the cluster's configuration using a cluster-aware provider such as Altaro. For on-premises situations, you can get free physical server backup with Altaro Physical Server Backup.

It looks like Failover Clustering will be a key piece of many of the scenarios designed to enable hybrid cloud, application platform and hyper-converged infrastructure (HCI) solutions. Do you agree with the top features or is there something else which you would rather see? Download Windows Server 2019 today to take advantage of these great features or see what else is new in the latest release.
Thanks for Reading!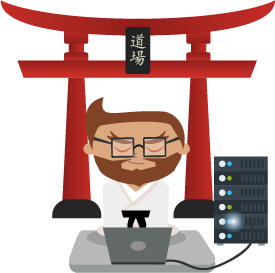 Not a DOJO Member yet?
Join thousands of other IT pros and receive a weekly roundup email with the latest content & updates!