VMware vs Hyper-V – Hypervisor Throwdown | The SysAdmin DOJO Podcast
We're bringing back one of the age-old discussions. Which hypervisor is the king of them all? Both platforms have matured nicely, core features exist on both sides, and both vendors have clear plays in the cloud! Who reigns supreme?
In this episode, our host Andy Syrewicze is joined by Eric Siron, and Xavier Avrillier (both DOJO authors) for a look back at the last year or two of progress in both VMware and Hyper-V. Do config maximums matter anymore? Is licensing still a pain? Is VMware's management story better? These are all questions covered in this edition of The SysAdmin DOJO Podcast!
In this episode
The Contender Lineup – 2:59
What are Eric's favorite recent Hyper-V Features – 5:30
What are Xavier's favorite recent VMware Features – 7:56
CPU vulnerability mitigations in VMware and Hyper-V – 11:24
Does the industry care about config maximums anymore? – 14:40
Licensing comparisons – 19:00
Management and Tooling Differences – 31:49
Hybrid Cloud Integrations – 35:45
Which hypervisor should you choose? – 47:07
Episode quotes
My first IT mentor said the key to IT is Laziness. It sounds horrible, but he's not wrong.
Oh god… here we go again…
The core virtualization services in both platforms are both mature at this point.
There was a free SKU of Hyper-V called Hyper-V Server… not confusing at all right?
If you're not using vMotion, please go use vMotion.
We all know where flash ended up, into the garbage heap of IT history.
The classic answer that no one likes and everyone hates….. "It depends".
VMware and Hyper-V resources
Have a question? Want to feedback? Send us a Tweet!
Listen to The SysAdmin DOJO Podcast on your favorite platform. Let us know what you think of it (or how we can improve) by rating or leaving a review!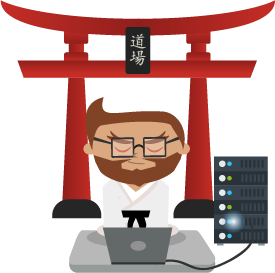 Not a DOJO Member yet?
Join thousands of other IT pros and receive a weekly roundup email with the latest content & updates!