Whether you know it or not, data is increasingly the lifeblood of every organization on the planet. Processes, financials, intellectual property, and even entire (digital) products themselves are composed of data. In any one of these situations, the loss of data would impact a given organization severely, both in the realm of customer perception and the company's bottom line. Data is critical, and protecting it is no longer an optional activity for most organizations, so how do you get started?
If you're new to the world of data protection and you're an individual organization you've probably already heard of our ground-breaking, vendor-agnostic eBook on backup and disaster recovery called The Backup Bible. Did we mention it's free as well?
The Backup Bible has received huge plaudits from the IT community and is a great resource for organizations with internal IT departments and small businesses. However, what if you're a managed services provider that is responsible for the backup & recovery operations of multiple organizations? That changes the equation quite a bit, so we decided to create a special edition dedicated specifically for MSPs!
The Backup Bible for MSPs
As a service provider, your needs and challenges when it comes to backup and DR management for your customers are unique. Instead of worrying about getting successful backups for one organization, you're worried about many. One wrong move could lose you a customer so you need to do things the right way. Challenges are vast and include things like:
Multiple disparate and unique environments
Physical separation of each backup domain
Management of Backup/Recovery operations at-scale
Customers with varying degrees of complexity
Varying regulatory compliance concerns
Required training on multiple backup technologies and services
Mistakes made that can directly impact your bottom line
Proper planning and a solid strategy are key for dealing with these challenges, and with good reason! There is much to be gained by providing effective backup services to your customers! MSPs who successfully provide backup services to their customer base not only create an additional revenue stream for their business, it also helps build trust and drive additional projects by allowing you to be the hero your customers have been looking for. The Backup Bible for MSPs contains the full content featured in the original Backup Bible with an entirely new section written by Andy Syrewicze and Paul Schnackenburg which will help you navigate these challenges, help you define your backup-as-a-service practice, and get your customer's data protected.
Other topics covered in The Backup Bible for MSPs include:
How to choose the right backup application
Pricing and costing considerations
SLAs and updating your Master Service Agreement
How to train your team to provide BaaS Services
Technical considerations for providing backup services at scale
Download Your Copy of the Backup Bible for MSPs
Whether you're a fledgling MSP or a long-established one looking to brush up your knowledge, this eBook is THE definitive guide that will enable you to bring backup services to the masses, while building trust and additional revenue streams at the same time!
Download your free copy today!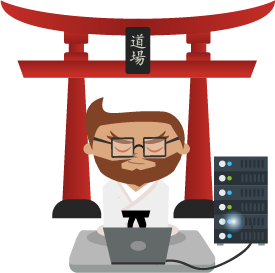 Not a DOJO Member yet?
Join thousands of other IT pros and receive a weekly roundup email with the latest content & updates!