In this article, I share with you my top 5 mistakes that I see tech leaders make daily, and once you master these, I guarantee that your employee engagement will increase, your trust in your team will increase, and the team's output and productivity will also increase!
If you're a technician at heart, it's often the business and people skills where you may struggle with particularly when trying to get a team on board. Many leaders who stem from a technical background ignore the fact that when your team is engaged, they will perform better and your life will become easier.
Unfortunately, this is NOT your comfort zone, and it wasn't always mine either. However, I learned over the years that when my team is switched on and performing at their best, we can all achieve more, my clients are happier and business performance increases. Simple right? Perhaps in theory, but you'll need to avoid common pitfalls to achieve it and that's what we are going through today.
In addition to this article, I had a little chat with Andy Syrewicze about this topic which you can watch here:
At the most fundamental level, from my experience, technical leaders often don't talk and engage with teams and people effectively. I call this an "Expectation Exchange".
It's simple really, as it is all about communication to the human side of the business. Here's where most go wrong and practical ways to put it right.
You Keep Your "Master Plan" in Your Head
It's all very well and good coming into the office every day, but where is the business going from a growth point of view?
By keeping your "Master Plan" i.e The Company Vision, in your head, you will be missing out on inviting your team to be involved in your journey.
By sharing the company vision, helping them to develop the mission, and to understand your core values, will help define the direction of the business and build a strong team with a solid culture.
Your team will instantly feel more included, involved, and will take better ownership of issues and challenges in their day.
ACTION PLAN – Once you have set out your plan at a high level and it is clear in your head, hold an "Engagement Session" with your senior leaders to discuss the direction of the company and also ask them "have we missed anything?". This will help build alignment amongst your key players with the overall vision, mission, and purpose of the business.
You Put off Setting Individual Targets
Historically, for technical leaders, setting team targets is either seen as too complicated and not necessary and on the back of that usually ignored and not completed correctly.
The trick here is to get everyone singing from the same hymn sheet and apply a consistent Leadership approach across the business.
Constructing and assigning individual targets that align with the company's Key Performance Indicators (KPI's) will help increase team ownership and enable you to correctly delegate at a lower level to your team. You will then personally achieve more in your day as your "To-Do List" reduces.
This will free up your time and help you achieve more each day; it will give each team member a PURPOSE for their role and will also help to build a consistent approach to cascading targets and accountability.
ACTION PLAN – Again, hold a company KPI and target setting workshop. Start at the top with the key business measures and then connect and cascade these down through your teams and individual departments. Don't try and complete this all in one sitting. This will take a few goes to get it right!
You Don't Lead by Example
Self-awareness is one of the most important leadership skills of today.
If you are not consciously aware of your behavior as a leader and you don't go out of your way to lead by example in the workplace, then you shouldn't be surprised when your team doesn't do what you want them to do or perform to your highest standards.
I always challenge leaders to consider the "Shadow of the Leader". This is about being aware of the shadow you cast in your organization and team. This is a concept that I learned early on in my leadership career and is probably THE most important element to my leadership success.
How YOU show up every day is how YOUR team shows up.
IF you are inconsistent, weak, manage your team rather than lead your team, unprofessional and trying to be everyone's best friend, then they will think that it is OK to also behave like that.
However, if you live by your company values and are seen as strong, confident, accessible, friendly, approachable, professional, and purposeful, then this behavior will also be practiced by your team and you will even start to see this flow into the way they deal with your customers.
ACTION PLAN – As a senior business leader, periodically take a "Check-In" on your own behavior and persona in the office. The easiest way to do this is when you start to feel stressed or frustrated with a situation, take a step back, breathe and be conscious about how others see you handle this situation. Quite simply, take the time to be self-aware of your actions and perception by others.
You Ask Poor Quality Questions
It's all very well and good asking your team "If they are alright?", letting them reply and then going about your day. But how do you really know that your team is OK?
Correct applied employee engagement is at the heart of every good leader, making sure people are involved in the decision-making process, promoting a great culture of inclusiveness, and being fair is a key area for you to focus on.
When I had a big team, communication was at the heart of how I increased my team's performance. By holding well-structured, meaningful meetings, asking great questions, and doing what I said I was going to do, was pretty much my Bible to leadership success.
Ultimately, practicing these small behaviors yourself will help build trust and gel together a great team of people to help you achieve more each day.
ACTION PLAN – Take a check-in on when you meet and how you communicate with your team. Again, improve your awareness of others' needs and make sure that your actions are consistent with what you are telling others. In short "do what you say you're going to do".
You Assume Team Development is Just About Bigger Businesses
Now that you have everyone aligned and you have built a good level of trust and rapport, it's time to really develop and coach your team to become a high-performing team.
Whether you have a small or large team, it doesn't matter, they all need coaching and support.
Everyone in business needs guidance and they are going to look to you to provide this for them. The secret formula here is CONSISTENCY within you and your senior leaders.
Make sure everyone has goals, a development plan, and plenty of opportunities to voice their opinions, either as a group or on a 1:1 basis. Also, showing the individual members a career path is also important to let them know that you are investing in them as much as they are investing in you and the business.
ACTION PLAN – Schedule time in your calendar to develop your team, create a plan, share it with them, whether it be 1 or 2 people or 10 or 20. Then set regular meetings to check in on progress and follow up with them individually.
Need some guidance on what training to have your team look at? Check out this article on the top certifications for MSPs
Summary
As I mentioned, this isn't rocket science, but you must have a PEOPLE PLAN if you want to build a great team to run your amazing MSP Business.
By avoiding the items above and focusing on the tasks one by one and not trying to do them all at once, will make a huge difference to not only YOUR DAY but also the performance of your team.
Interested in other MSP leadership articles? Check out our C-Suite-focused articles here!
Have a great day and it would be lovely to hear how this article has helped you.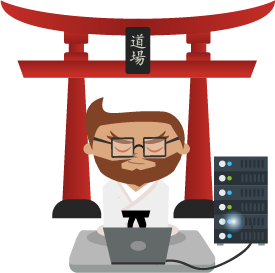 Not a DOJO Member yet?
Join thousands of other IT pros and receive a weekly roundup email with the latest content & updates!