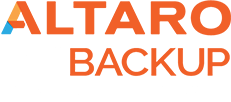 Monitor and manage your
Hyper-V

and VMware Backups with Altaro VM Backup & Connectwise Automate (LabTech)
Altaro VM Backup
Altaro VM Backup is a fast, affordable, high performance backup solution, specially developed for small and mid-market businesses. We've cut the waste and hassle to give you an agile, streamlined solution that is easy to implement, feature-rich, with outstanding support as part of the package.
All your Altaro VM backups can be managed through Altaro's ground breaking Cloud Management Console (CMC). Execute quickly and easily and have complete control over backup/restore jobs in real-time, via a single cloud console.

Multi-tenancy
Designed to monitor & manage multiple hosts, customers (if you're an IT Reseller) or sites.

Real-time Status Updates & Alerts
View live operation activity & backup results as they occur, and set instant email alerts for successful operations, warnings, failed operations and more.

Subscription licensing (for MSPs)
Subscription based automatic payments, you pay per VM usage, per month.
Benefits of integrating Altaro VM Backup with ConnectwiseAutomate (Labtech)
The Altaro VM Backup Plugin integrates with Connectwise Automate and raises Alerts and Tickets for certain events.
The Altaro VM Backup Plugin integrates with Connectwise Automate and raises Alerts and Tickets for the following events:

Altaro VM Backup installation disconnects or stops running
Backup, Restore, Offsite Copy, Sandbox Restore, Verification and Boot from Backup results
Low free space on Backup Locations
Skipped Schedules