Best Hyper-V Management Tools for Hybrid Cloud | The SysAdmin DOJO Podcast
Welcome to the second of a two-part series on the management and tooling ecosystem for Hyper-V, for on-prem and hybrid cloud. In part one, our host Andy Syrewicze and guest Eric Siron discussed the traditional on-prem Hyper-V management tools at length. This included tools such as Hyper-V Manager, PowerShell, and Failover Cluster Manager amongst others.
In part two, the guys peer into the modern era and the future of virtualization management in the Microsoft space. For example, Windows Admin Center is Microsoft's next generation Windows Server management tool, but how does it stack up to managing Hyper-V? Where does Azure Arc fit in? Are they ready for prime-time? All these questions and more are covered in the episode!
Watch webinar (on-demand)
In this episode on best Hyper-V management tools for hybrid cloud
Hyper-V management and Windows Admin Center – 0:52
Where does Windows Admin Center work best? – 8:14
What is Azure Arc? – 12:00
Which Hyper-V Management tool should you use and when? – 14:30
Episode quotes
Windows Admin Center is Microsoft's attempt to get away from MMC
I will not sit here and say that desktop app development has stopped, cause that's a lie
I look at the Windows Admin Center UI and sometimes I feel like I'm working in the Azure Portal
Windows Admin Center has done a good job of GUI-ifying the controls for Storage Spaces Direct
Hyper-V Manager and Failover Cluster Manager are always my fall-back "oh crap" tools, and when those fail it's time for more PowerShell
In fact, you can over engineer things as you well know
You J.J. Abrhams'd that
Resources on Hyper-V management tools for hybrid cloud
Have a question? Want to feedback? Send us a Tweet!

Listen to The SysAdmin DOJO Podcast on your favorite platform. Let us know what you think of it (or how we can improve) by rating or leaving a review!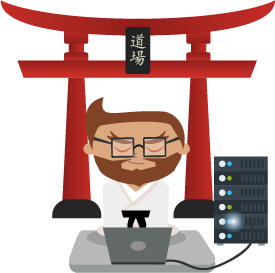 Not a DOJO Member yet?
Join thousands of other IT pros and receive a weekly roundup email with the latest content & updates!