It's with great excitement that I write this post for you today. We here at Altaro have always tried to give back to the greater IT community. This has mostly been done in the form of blogs, webinars, videos, and the occasional community contest. However, we've always felt that those mediums lack a certain conversational style that we've often wanted to foster.
With that in mind, I'd like to take this opportunity to introduce the Dojo Forums by Altaro!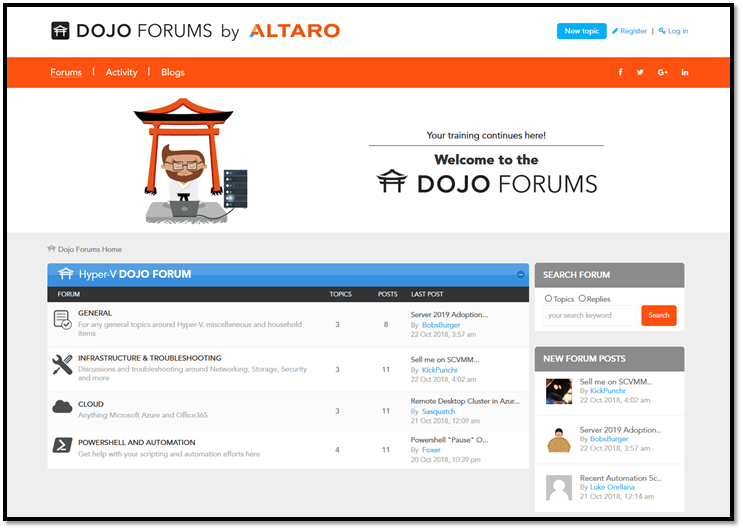 A Dojo for IT Pros
You might have noticed that recently this blog has been re-branded under the same dojo theme as the newly launched forums. After a long planning process, we decided upon the dojo theme because it implies the concept of always learning which we want to embrace with the content we produce. The pace of innovation in IT moves so quickly that anyone working in the IT space has to constantly be learning, and our aim with these forums, along with our blogs, eBooks and webinars, is to create a community where you can hone your skills, share your experiences, and help your fellow IT pros!
As you (hopefully) know from our blogs and webinars, we strive to provide information and insight from a host of community experts who are industry leaders, seasoned experts, Microsoft MVPs, VMware vExperts and more. These same industry experts will be joining conversations on the forums and will continue to provide their high-level knowledge and experience to help you with your day-to-day issues working in IT.
Another thing worth mentioning, the forums are centered around the Hyper-V community from The Altaro Hyper-V Dojo for now, but will soon include sections for our readers from the VMware Dojo, and the MSP Dojo!
Also, have you attended an Altaro Webinar? We've always done a follow-up blog post to each webinar with a full list of the Q & A from that webinar (Like this one). That format worked well for getting the questions out to the community, but it didn't do a great job at enabling further discussion. As a result, we'll be using the forums for Webinar Q & A follow-ups and we'll be using a specific forum tag for each webinar so you can easily find and join the discussion on any questions asked during a particular webinar!
Earn your Belt
Ever wanted to earn your black belt without having to take all the punches? You can do just that at the Dojo Forums!
We know a points system isn't the end all be all on forum participation or an indicator of one's knowledge, but we find it fun to strive towards black belt status, and we find it helps reward those who are active, and we hope you will too!

As you can see above there are a range of different belts you can achieve based on your current point score. Points can be accrued via the below criteria:
Complete Profile: 20 points
New Topic: 5 points
Topic Reply: 1 point
Provide Best Answer: 25 points
Received Upvote for Reply: 3 points
NOTE: These values may change as the forums grow and evolve over time.
Next Steps
As for next steps, it really breaks down to a few different things:
Register on the Forums
Confirm your New Account
Review the Forum Rules
Post in the Introduction Thread if you'd like
Get Started and get involved!
Registration is easy, and what you would expect with a forum. Simply fill out your user account info as shown below and then look for the activation email in your inbox for more info.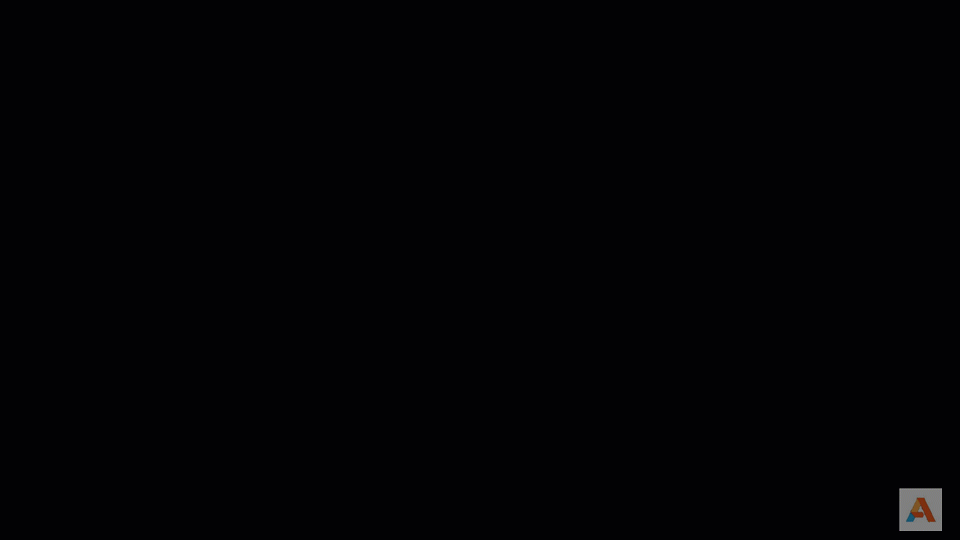 I would then suggest taking a look at the forums rules thread. This topic lays out the usual guidelines of the Dojo forums. The long and short of it being: be a decent person and you'll do fine.
Additionally, we have an "Introduce Yourself" thread. Feel free to make your first post there if you'd like! We'd love to meet you and learn more about our community members!
Once you've looked at the above, it's time to start getting involved!
Also, on final thing I'd like to point out is an integration we have setup between the Altaro Hyper-V Dojo and the new Dojo Forums. As shown below, if you're reading an article on our Hyper-V blog, you now have the option of commenting directly on the blog post itself, or if you have a question/comment that you see becoming a larger thread, you have the option of posting that to the forum instead.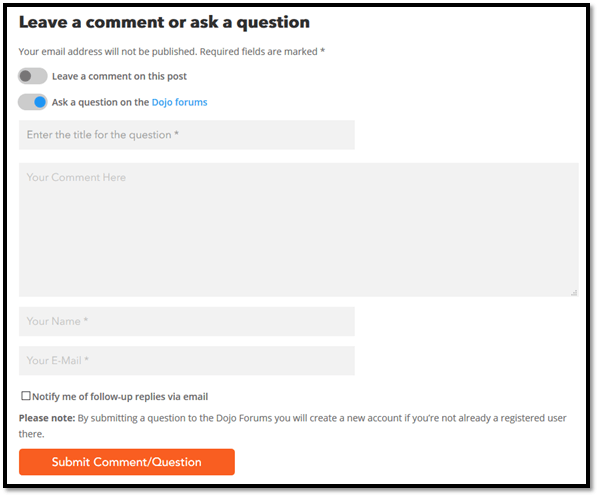 It's a little time-saver but gives the rest of the community a chance to weigh in on your issue/question/comment. This again fosters that sense of community and allows more people to weigh in on your issue!
Wrap-Up
We hope you're as excited about these forums as we are, and we certainly hope you'll join us, other community members, and industry experts around the world on the new Dojo Forums by Altaro.
Hope to see you there!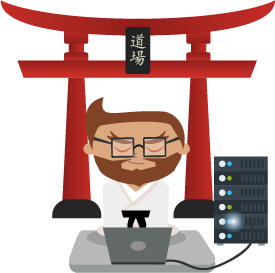 Not a DOJO Member yet?
Join thousands of other IT pros and receive a weekly roundup email with the latest content & updates!