Windows Subsystems for Linux Matters | The SysAdmin DOJO Podcast
It's an open source kind of episode! Andy and guest Mike Nelson talk about Windows Subsystem for Linux (WSL) and what it means for IT Pros! The discussion also includes example use cases, tips and tricks and resources for getting started!
That all said, you may be wondering what WSL is! Andy and Mike cover this in detail, but the short version is, WSL is a feature for Windows that allows you to run Linux CLI and GUI applications within Windows. This is useful for developers and IT Pros for a number of reasons. Listen or watch to find out why.
Hope you enjoy!
In this episode
What is WSL (Windows Subsystem for Linux)? – 7:20
Who is WSL for and what problem are we trying to solve with it? – 10:50
We can now run Linux GUI apps in Windows? – 16:18
Is this leading us to Android apps on Windows? – 20:45
Custom distributions on WSL with Distro Builder – 22:10
What are the current supported Linux distributions for WSL? – 25:09
How do SysAdmins manage this feature? – 28:10
What kind of hardware access does WSL have? – 32:00
Episode quotes
WSL isn't this "Cool New Thing" that recently came out anymore (It's mature now)
If you told me 10 – 15 years ago that I'd be able to run Linux apps in Windows I would have told you that Hell had frozen over!
The Open Source tools I used in UNIX way back when, are still relevant today
I was. I was almost a band teacher before going down this IT route!
Back in the day Steve Ballmer had come out and said that Linux was a Cancer
Linux is the number one operating system in Azure today
I'm still a sucker for VIM after all these years
At least you're not one of those weird EMACS people
It's just another integration that people said would never happen
Resources for WSL
Have a question? Want to feedback? Send us a Tweet!

Listen to The SysAdmin DOJO Podcast on your favorite platform. Let us know what you think of it (or how we can improve) by rating or leaving a review!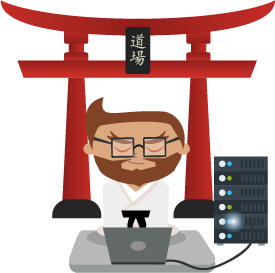 Not a DOJO Member yet?
Join thousands of other IT pros and receive a weekly roundup email with the latest content & updates!