Your Azure Stack HCI Questions Answered | The SysAdmin DOJO Podcast
Carsten Rachfahl and Andy Syrewicze hosted a webinar focused on Azure Stack HCI and Hybrid Cloud. The webinar covered several aspects regarding Azure Stack HCI, including:
What is Azure Stack HCI?
Installation
Networking and Storage Considerations
Example Use-Cases for Azure Stack HCI
And more!
The other thing the guys discussed was some of the findings from our recent survey on hybrid cloud technologies and adoption. One of the most interesting aspects was the fact that most IT Pros see hybrid cloud as a permanent destination and not necessarily a temporary state. This showed in the amount of questions that were asked during the webinar as well! In fact, we had so many questions that Andy and Carsten wanted to use this podcast to expand on some of the most interesting questions from the webinar!
Read responses to the full list of questions.
In this episode on Azure Stack HCI
How can I get up to speed with Azure Stack HCI while spending little to no money? – 3:30
What are my options for migrating existing workloads to Azure Stack HCI? – 7:17
Can Azure Stack HCI run in a disconnected fashion? – 11:23
Does the $10/Core/Month cost include guest licensing for Windows Server? – 15:15
Am I able to host multiple different customers within the same Azure Stack HCI Cluster? – 21:27
Would you recommend Azure Stack HCI for small business? – 25:27
Is Hyper-V Replica supported with Azure Stack HCI? – 30:52
Is it possible to upgrade a Windows Server Cluster to Azure Stack HCI via cluster rolling updates? – 31:36
Can you mix different versions of Azure Stack HCI in the same cluster? – 33:31
Can you install Azure Stack HCI on uncertified hardware for testing purposes? – 36:12
Episode quotes
Who knows… maybe we'll see Azure Stack HCI SBS edition? *Loud Laughter*
Azure Stack HCI is NOT Windows Server. It's a different Operating System.
When I think about migrating VMs, I don't think of Robocopy.
Some places on earth… there is still no internet!
You're asking tough questions man, that's not all positive… lol
First, I have to protect us both…. we are not Microsoft Licensing Experts.
Resources for Azure Stack HCI
Have a question? Want to feedback? Get in touch!

Listen to The SysAdmin DOJO Podcast on your favorite platform. Let us know what you think of it (or how we can improve) by rating or leaving a review!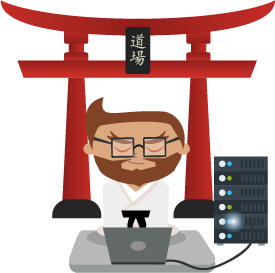 Not a DOJO Member yet?
Join thousands of other IT pros and receive a weekly roundup email with the latest content & updates!